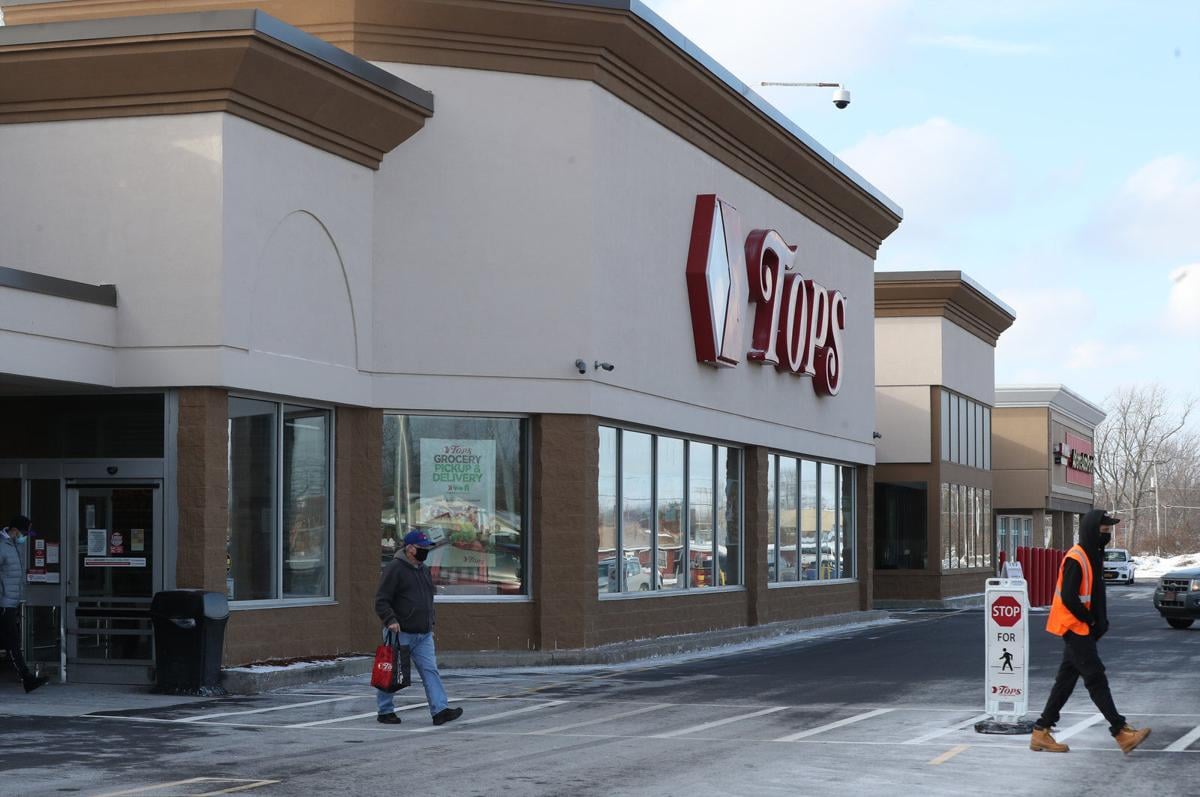 In the grocery business, bigger is better. And that's a big reason why Tops Markets agreed Monday to combine with Price Chopper/Market 32.
The deal between the two major upstate supermarket chains takes a highly leveraged company – in Tops – that reorganized in bankruptcy two years ago and combines it with a business – in Price Chopper/Market 32 – that is on more solid financial footing.
What brought them together was a common realization that both needed to be bigger.
The deal creates a supermarket company that stretches across upstate New York with little overlap in their major markets, while also expanding each chain's presence in New England and Pennsylvania.
Together, the combined company will have nearly 300 stores – a level that executives from both companies and analysts agreed will give it greater buying power with suppliers and more heft to compete against national and regional retailers from deep discounter Aldi to Walmart and Wegmans.
The deal will create a supermarket chain with nearly 300 stores that will stretch across upstate New York and into New England.
"Scale is absolutely necessary in this business," said Frank Curci, Tops' chairman and CEO. "We get a bigger seat at the table when we're talking to the trades and our vendors and we're negotiating."
It also should put Tops in a better position to make its 162 supermarkets more competitive after being cash-starved for so many years. That could mean more store upgrades, fueling stations being added to more stores and other improvements.
"There's a huge upside opportunity," said Burt Flickinger, a Buffalo native who is the managing director at New York City retail consultant Strategic Resource Group.
"Tops has good management and good people," Flickinger said. "It just didn't have enough capital."
That's because even after restructuring its business in bankruptcy more than two years ago, Tops still was saddled with interest payments that sucked an estimated $55 million out of its business right off the top. That was $55 million that it didn't have for sprucing up stores or opening new ones in a highly competitive grocery market.
In light of its new merger, take a look back at Tops Markets' history.
Now, it's combining its business with a Schenectady-based partner that has been controlled by the Golub family since the 1930s and also was looking for ways to broaden and add scale to its operations.
"This is about getting stronger and better together," Curci said. "The biggest thing for us is to be able to be part of a bigger organization and to have that scale that is going to allow us to continue to grow and serve our customers better."
Those customers now have plenty of places to shop for groceries at competitive prices.
"Amazon/Whole Foods, Walmart/Sam's, Target, Costco, BJ's, Aldi, Dollar General, Dollar Tree/Family Dollar, Walgreens, CVS and Ahold/Hannaford continue to use their enormous size and very low cost of capital to make extraordinary investments in their powerful, ubiquitous store and online grocery ecosystems," said Scott Moses, the head of the grocery, pharmacy and restaurants unit at investment banker PJ Solomon, which advised Price Chopper/Market 32 on the deal.
"It is ever more critical for regional grocers to build the scale required to enable them to also invest in price, people, marketing, technology and growth, albeit far less given their relative size," he added.
Price Chopper/Market 32 has been in the grocery business for nearly a century, led by generations of one family.
The combined chain will be based in Schenectady, outside Albany, while Tops will maintain its main office in Amherst and will manage its local stores from there. Tops will continue to run its local stores under the Tops name, said Kathleen Sautter, a Tops spokeswoman.
"Keeping them separate and operating on their own really goes a long way in ensuring that the local presence and local decision making and the customer experience that both companies are known for stays intact," said Scott Grimmett, the president and CEO of Price Chopper/Market 32.
Grimmett will be the CEO of the combined company and will serve on its board of directors. Curci is stepping back from the business. He will be on the board of the combined company and a consultant during the transition. John Persons, Tops' president and chief operating officer, will oversee the Tops business.
The deal will bring together two supermarket companies that are similar in size. Tops has more stores, with 162 locations across New York, Pennsylvania and Vermont, while Price Chopper/Market 32 has 130 Price Chopper and Market 32 stores in New York, Vermont, Connecticut, Pennsylvania, Massachusetts and New Hampshire.
What made the deal even more enticing is that there is little overlap in the two companies' markets. Tops, for instance, has 44 stores within 25 miles of Buffalo. Price Chopper/Market 32 has none. Tops has 17 stores within 25 miles of Rochester. Price Chopper/Market 32 has none.
Unions representing workers at Tops Markets reacted cautiously to the company's planned merger with Price Chopper, a nonunion chain.
In contrast, Price Chopper/Market 32 has many more stores in the Albany and Utica areas than Tops does.
"We really do have almost perfectly contiguous operations," Curci said.
The deal comes a little more than two years after Tops emerged from a bankruptcy reorganization that reduced its stifling debt burden but still left the company in a highly leveraged financial position.
Tops management stayed in place throughout the bankruptcy and after, but the company was under the control of its bondholders, who likely were anxious to cash out their investment after more than two years.
"We're in a much better place today than we were a couple of years ago, and it will be a great relief to be part of an organization that has the scale to compete in today's marketplace," Curci said. "That's really what makes this deal happen."