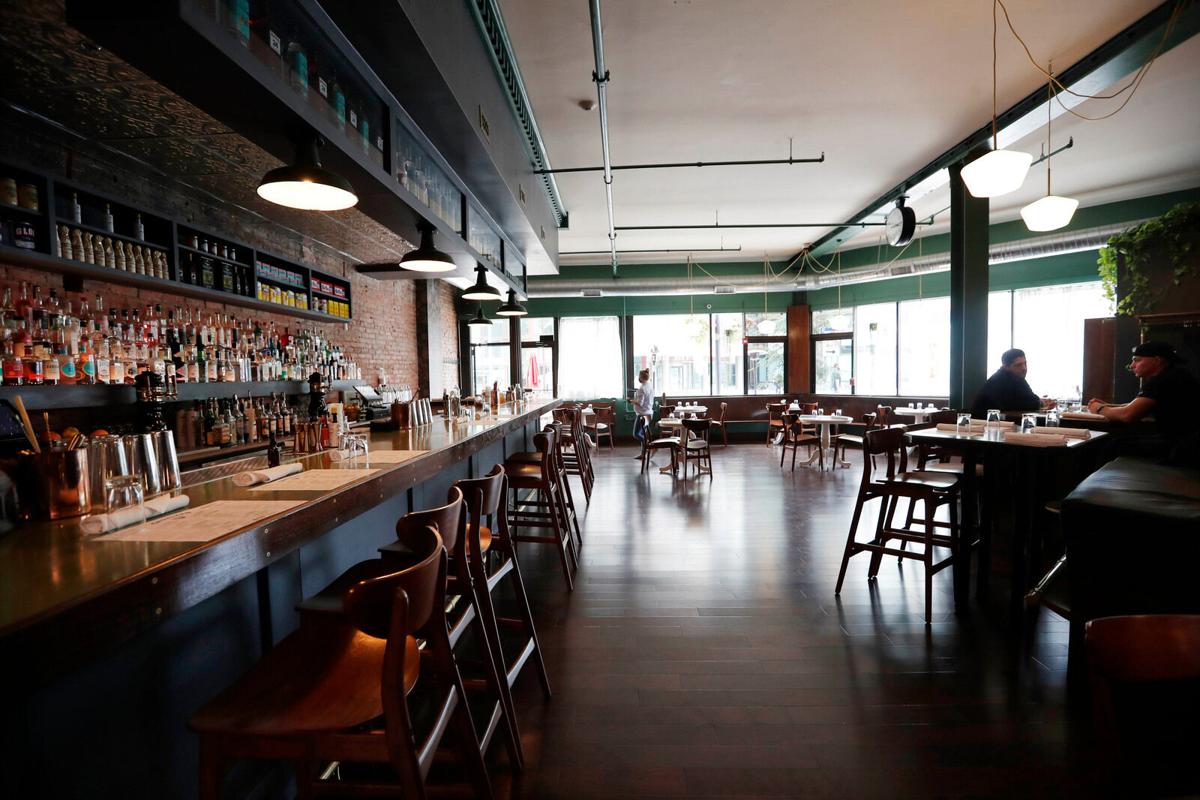 Whenever we get back to normal, the Buffalo Niagara economy will look a lot different than it did before the coronavirus pandemic.
Whether that's good or bad for the region won't be clear until the pandemic plays itself out. But a little more than six months into the Covid-19 recession, it is clear that the currents that have badly battered the Buffalo Niagara job market will have a lasting impact.
"We're seeing a shift in the structure of our economy," said Fred Floss, a SUNY Buffalo State economist.
That's not unusual during a recession. Manufacturing, for instance, has traditionally taken severe hits during downturns and never recovered from the losses. During the first year of the Great Recession, for example, nearly 1 of every 7 local factory jobs disappeared, and we only recovered a little more than half of those jobs during the ensuing 11 years.
But this recession has created ripples that have devastated a much wider portion of the economy and caused structural changes that aren't going to be easily reversed by bringing the virus under control.
"It will continue to cascade through different industries," said Julie Anna Golebiewski, a Canisius College economist. "Parts of our economy look different after this."
And like the manufacturing job losses from the Great Recession, it's likely that many of the jobs lost during the current reshaping won't come back.
"There are some bells going off in some areas that we've got to be concerned about," Floss said.
Business travel, which has largely stopped during the pandemic, may never come back to its pre-pandemic levels now that we've grown more comfortable doing business with video calls and online meetings.
Bed tax revenues in Erie County – a good indicator of how much is being spent on hotel rooms – have plunged 61% during the first nine months of this year, according to a report from the Erie County Comptroller's Office this week.
"Businesses now are realizing that they can do things virtually." Golebiewski said. "I do expect business travel to slow down."
That's bad news for the hotels that had been playing an expanded role in the local job market and the restaurants that counted on business travelers with generous expense accounts. Workers who continue to do their jobs from home aren't stopping at restaurants near their offices for lunch or morning coffee, further squeezing businesses that already are stressed by rules that limit capacity to 50%.
"Hospitality and leisure was a hot spot, but will business travel come back?" Floss wondered.
Over the decade leading up to the pandemic, leisure and hospitality was one of the region's employment hot spots. The region added 9,000 jobs at hotels, bars and restaurants – enough to push the leisure and hospitality sector's share of the local job market up to 11.5% in 2018 from 10.3% in 2010. That may not sound like much, but it's a significant shift in a job market where changes happen in baby steps.
Now, after losing a quarter of those jobs during the pandemic, leisure and hospitality is down to just 9.3% of the region's job market – a stunning drop in such a short time, reversing all of the gains from the past decade and then some.
Local stores, already reeling from the growing popularity of online shopping, have been devastated by the lockdown and operating restrictions imposed because of the pandemic, not to mention the reluctance of consumers to crowd into malls and stores.
The shutdown of the Canadian border locked out an important group of customers from local malls. It's not clear whether they'll return once the border reopens, now that so many stores have closed and they, too, have grown more accustomed to buying what they need online.
"This may be the end of retail as we know it," Golebiewski said.
Construction employment has held up fairly well, down just 6% from a year ago. But Floss suspects much of the activity this summer was on construction projects that were already well underway by the time the pandemic hit.
What happens next year, Floss wonders, when work on those existing projects wraps up? Will there be enough new ones to keep construction workers on the job, or will the Covid-19 slump hit building projects in 2021, rather than 2020, especially if the economy continues to sputter because of the pandemic? Who's going to build an office building when companies that have learned how to effectively work remotely can save big money by downsizing their office space?
Other changes are coming, especially in government employment, which had held up fairly well until a steep drop in July centered mostly around local schools, which have faced delays and uncertainty because of the pandemic.
But with sales and income tax revenues dropping fast, all levels of government will be facing big budget problems in the coming months that could lead to a new wave of job cuts in the public sector.
"People have to start to think about how they're going to be saving money," Floss said.
It's not all bad, though.
Local manufacturing – which traditionally takes the biggest beating during a recession – has held up remarkably well this time. There actually are 2,000 more factory jobs now than there were in March, making manufacturing the beacon of strength for the Buffalo Niagara economy.
Financial services – a strong suit for the region over the past decade – also has held up well during the downturn, losing just 500 jobs since March.
If the pandemic causes companies to become more lenient about employees working remotely, or convinces them that big cities aren't the best – or safest – places to be, it could make it appealing to shift jobs to small- or mid-sized cities, like Buffalo.
"Nobody is going to want to be packed in," said Thomas Kucharski, the president of the Invest Buffalo Niagara marketing and economic development initiative.
That could open the door to a different type of sales pitch to both companies, and workers who have been granted the flexibility to work from wherever they please. Our below average housing costs suddenly become a powerful selling point. Our lower wages – where a $15-an-hour job can be workable – stacks up well against expensive places, like New York City and Los Angeles, where the coronavirus outbreak still is troublesome.
It's a sales pitch that has helped turn the region into a center for back-office banking over the last 20 years. It could resonate even more in the coming years.
"We're very different from what we used to be," Kucharski said.
And when we get through this, the changes will be even more striking.