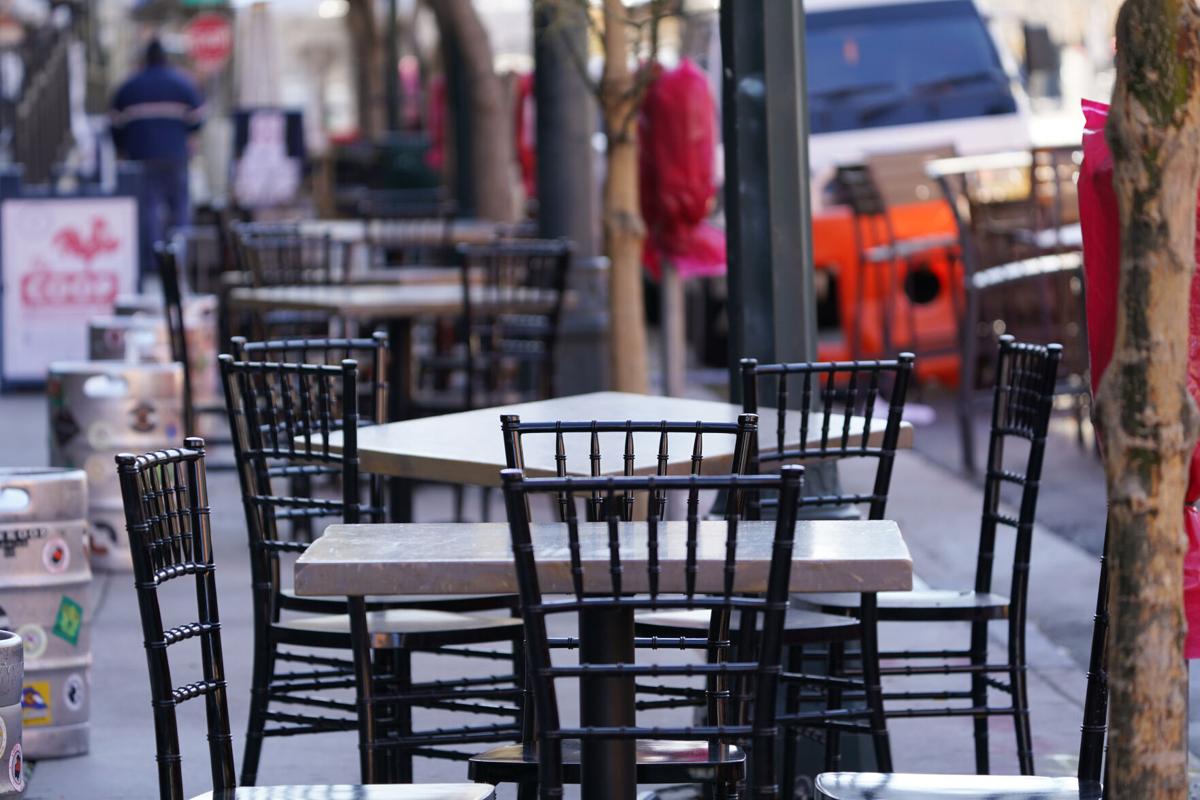 When nearly 120,000 people lose their jobs – some permanently, others for weeks – as it did when the Covid-19 lockdown took hold in the spring, it takes a big bite out of a local economy.
That's how much the Buffalo Niagara region lost in wages when the Covid-19 lockdown hit this past spring, according to new federal data.
A big chunk of those wages were replaced by the enhanced safety net created by the stimulus package that provided displaced workers with an extra $600 a week on top of their regular unemployment benefits during the first four months of the pandemic.
But when a single event wipes out roughly $1 of every $11 earned by workers across the Buffalo Niagara region, it's easy to see why this recession has been such a grind on the local economy, especially now that a second wave of job cuts swept over the region after orange zone limitations were imposed on many businesses during Thanksgiving week.
By then, we had recovered about three of every four jobs that went away during the initial stages of the lockdown. But the recovery stalled in late October and early November, so the latest job cuts, which claimed more than 15,000 jobs in just three weeks, are coming at a time when the local job market was merely treading water.
While the Buffalo Niagara unemployment rate fell to 5.9% in November - a stone's throw from the pre-pandemic jobless rate of 5% in March - the drop is for all the wrong reasons.
In a healthy economy, unemployment falls when more people are employed and the labor force is growing - both signs of strong demand for workers.
Today, the Buffalo Niagara jobless rate is dropping because workers are dropping out of the labor force because they are discouraged or wary of working for health reasons. More than 10,000 local workers have stopped looking for a job, according to the State Labor Department.
At the same time, the number of unemployed people has surged by 40% to more than 31,000, while 20,000 fewer workers now have jobs - a 4% drop from a year ago.
All are signs of a sick economy, and fewer jobs means workers, as a whole, are earning less.
We don't know what the wage gap is now – and we won't know until next spring – but we can make an educated guess. If we recovered 75% of the lost wages – matching the recovery in jobs – then we're still looking at about a $150 million shortfall in earnings.
That's still a big hole in the local economy – and since July, it hasn't been offset by supplemental unemployment payments. More help could be coming with an extra $300 weekly payment if last week's stimulus deal is signed by President Trump.
The good news is that the vaccines are rolling out, but it likely will take until late spring or early summer to reach enough Western New Yorkers to ease the pandemic that has upended so much since March.
"We can see the light at the end of the tunnel now – which is a positive thing – but the trouble is the road has become more hazardous," said Julie Anna Golebiewski, a Canisius College economist.
Hazardous because businesses are short on cash and they are looking at another six months or so of rough times. Hazardous because many displaced workers have been drawing down their savings.
"We're really not going to get out of this until May or June," said Fred Floss, a SUNY-Buffalo State economist. "The question is: Can we hang on until May or June?"
More detailed job data recently released by the federal government indicates that the job losses this spring were more severe than the initial reports showed.
The region lost nearly 120,000 jobs during the first month of the lockdown – a nearly 22% plunge, or about 5,000 more jobs than the preliminary figures in federal government's monthly jobs report indicated.
The number of jobs across the Buffalo Niagara region is still about 7% less than a year ago. That's a big improvement from the initial plunge, but the decline is unprecedented in its severity.
At its worst moment, the nationwide job losses during the Great Recession – the worst downturn since the Great Depression at that point – totaled only 6%, Deitz noted. This downturn, at its low point, was more than three times worse. And it's still worse today.
"We are still in a very serious situation," he said. "These job shortfalls are extremely large."
The early stages of the recovery also were not as robust as initially reported. By June, the Buffalo Niagara region still was down about 84,000 jobs from a year ago. That's a 15% shortfall, and much steeper than the deficit of a little more than 70,000 jobs that the monthly jobs report indicated.
We also know just how costly those job losses were to the region: Total wages earned by workers across the Buffalo Niagara region during the second quarter were nearly $619 million lower than a year ago.
The lowest-paid workers have been hit the hardest. Economic researchers at Opportunity Insights estimate that low-wage jobs in Erie County – paying less than $27,000 a year – are still down 21% this year, while mid-level and high-paying jobs have recovered all their positions lost during the early days of the pandemic and have actually increased.
"This shock has been particularly hard on lower-skilled workers," said Richard Deitz, an economist at the Federal Reserve Bank of New York's Buffalo branch.
Total wages among workers in leisure and hospitality fields – which covers bars, restaurants and hotels that were closed for much of the spring or operating at vastly reduced capacity – plunged by almost 43% in the second quarter. That's almost five times greater than the nearly 9% drop in total wages region-wide.
Then again, almost 60% of all leisure and hospitality jobs vanished in April and were still down by almost 45% in June as the reopening began. They are still down 22%, according to the most recent preliminary job data.
Other parts of the economy rebounded better. Construction wages plunged by almost 15%, but building quickly resumed. While 40% of construction workers were off the job in April as work stopped on projects deemed non-essential, the shortfall improved to less than 10% by June, and by last month employment had recovered to where it was a year ago.
Manufacturing, which has held up fairly well during the downturn, even took a hit. Total factory wages dropped by 13% in the second quarter as manufacturing jobs fell by 17% in April. By June, though, employment was down just 7% and preliminary job data from November indicated that factory jobs are now up by 2% from a year ago.
Warehouse workers – who benefit from online orders and the uptick in grocery shopping – also have fared fairly well during the pandemic. Total wages in the wholesale trade sector actually rose by 6% in the second quarter in a sector where job losses were about half as severe as the overall economy.
More low-paying jobs vanish
While the total amount of wages is way down, the average weekly wage earned by the workers who kept their jobs jumped by 12.4% during the second quarter to an all-time high of $1,086.
How does the average weekly wage soar while total earnings are dropping? The job losses eliminated more low-paying jobs than higher-paying jobs, economists said, pushing the average wage higher.
The wage data also is influenced by how many hours someone works, so if a company cuts staff but the remaining workers pick up extra hours, it pushes the average weekly wage higher. That – and the early trend to give front-line workers temporary pay increases – helped push up average weekly wages by 20% for leisure and hospitality workers and by 12% for retail employees.
"With those middle-income jobs, we're holding our own," Floss said. "We're just not coming back in areas like retail and leisure and hospitality."