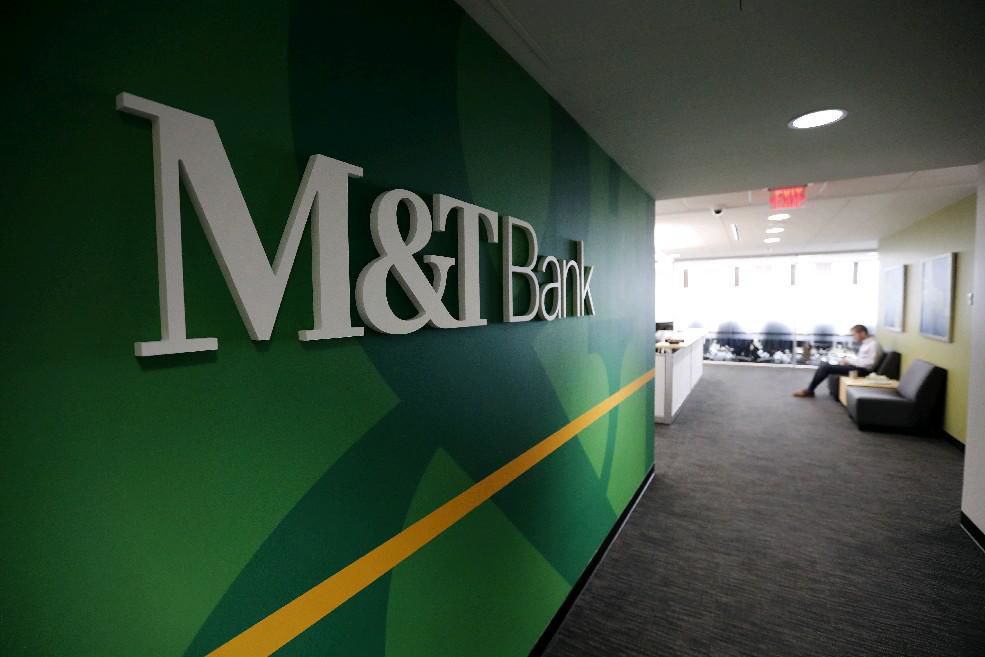 It's still a waiting game for M&T Bank, with its planned acquisition of Connecticut-based People's United Financial.
M&T Bank has targeted completing the $7.6 billion, all-stock deal in the fourth quarter. The acquisition will expand M&T's presence throughout New England. But state and federal regulators still need to give it the greenlight.
"We're ready, we just need that approval," said Darren King, M&T's chief financial officer. "The close will happen promptly after regulatory approval."
The deal was announced in February, and shareholders of both banks have approved it. During the third quarter, M&T recorded about $9 million worth of merger-related expenses, after incurring $4 million of those expenses in the second quarter.
As M&T released its third-quarter earnings Wednesday, King shared his insights on the economy:
Labor force. The worker shortage remains a dominant issue. "Supply of labor is constraining growth in many cases," King said.
Like the Great Recession, businesses during the pandemic hunkered down and managed their expenses relative to their revenues, he said. 
"As things start to pick up, they're looking for clear signs that it's sustainable," King said. "In the absence of that, they tend to build capacity through people, rather than through equipment. And the challenge they face right now is you can't get people, because there's less people in the workforce, and the pricing's high."
Supply chain. Supply chain bottlenecks are also a hot topic. Those constraints impact M&T's loan growth, King said.
"Inventory will cause you to use your working capital line," he said. "And if you don't have inventory, then you're not drawing on that line as much."
Businesses "also have lots of cash, so you see the cash sitting on the balance sheet," he said.
Wage inflation. M&T and its customers are experiencing wage pressures similar to other employers around the country, King said. "The number of folks exiting the workforce is really putting a strain on those that are looking for those who are still in the job market.
"We're seeing our (employees) being coveted by others, which isn't necessarily new, but seems to exacerbated right now." King said. That's particularly true for information technology workers, but the competition is "spreading to other parts of the bank as well," he said.
Hotels. The hotel industry is "recovering," but the extent of the recovery varies depending on the type of customers a hotel serves, King said.
"If you look at hotels you can drive to, and ones that are more suburban, they look a lot more like in 2019 [in performance]," he said. Vacation-based hotels like resorts, especially in the South, are doing very well. King said.
"If you are inside major cities, hotels that rely predominantly on business travelers and conventions and even weddings, they're better, but not back to where they were pre-pandemic," he said.
Restaurants. Restaurants that have managed to open and have staff "are doing great," King said. "The issue is, there's not enough staff."
Third-quarter performance. M&T's net income was $495 million, up 33% from $372 million a year ago. That was also M&T's best quarterly total so far this year.