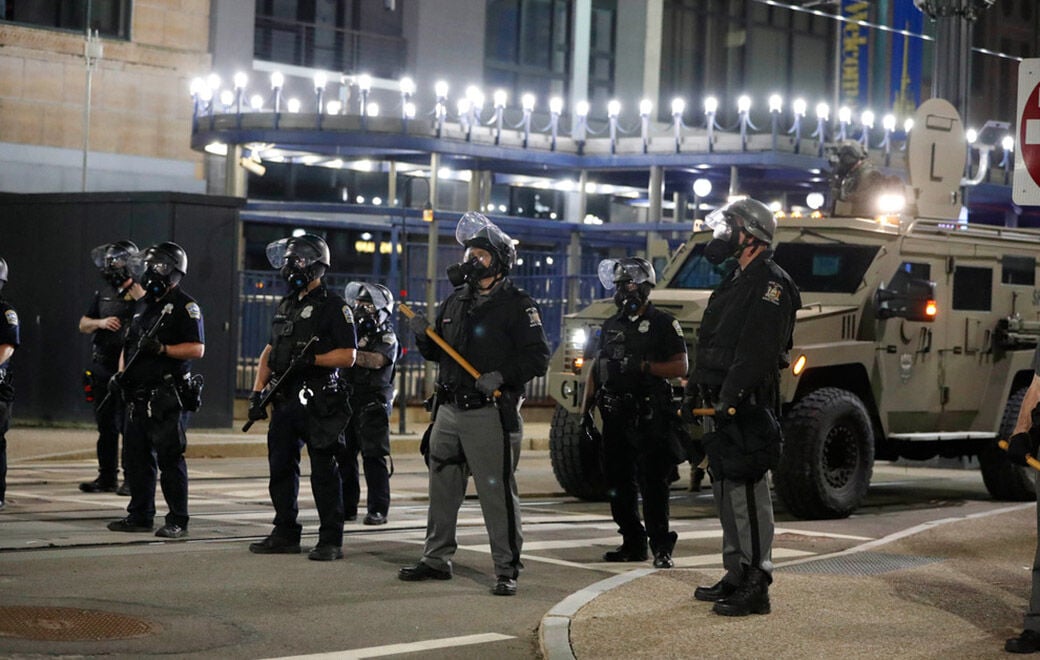 Erie County District Attorney John J. Flynn made a point Sunday afternoon to note that "the overwhelming majority" of the people arrested Saturday night amid protests and unrest in downtown Buffalo were not African American.
"Just so you know, the majority, the overwhelming majority, of the 10 individuals who were arrested last night were white," Flynn said during a news conference on the steps of Old County Hall at 92 Franklin St.
"The African Americans who were downtown here last night, were peacefully protesting, doing the right thing, as I have seen all across the country. ... It is white individuals who are the agitators. And that is true here in the City of Buffalo.
Five out of the nine adults arrested Saturday and early Sunday amid protests and unrest in downtown Buffalo were not residents of the City of Buffalo, according to arrest records. A 10th arrest that was made involved a minor whose residence is not known.
"It's important to note that it's the African American community who has been bearing the brunt, and bears the brunt, of what we've seen across the country, in Minneapolis, in Georgia," the district attorney said.
The arrests were made in Niagara Square, which was the scene of protests sparked by the death of George Floyd, who died after a Minneapolis police officer knelt on his neck for nearly nine minutes. The Buffalo protests began with a raucous but mostly peaceful march that later grew violent.
Flynn said several additional investigations are underway, including the following:
An arson attempt in which an individual threw an object on fire through a City Hall window.
The beating of a 29-year-old female who was pulled from a vehicle on Delaware Avenue in front of Statler City. She has a "serious head injury" and is hospitalized at Erie County Medical Center, Flynn said.
General property damage throughout the City of Buffalo, mainly around Niagara Square and on the West Side, Flynn said.
A WIVB-TV photographer was struck and injured Saturday night, Flynn said.
Flynn said his office was "looking into who the organizers were of this protest." Flynn said he has discussed with U.S. Attorney James P. Kennedy Jr. that if crimes were committed, and if they were committed by individuals from out of state, that he will forward those to federal prosecutors.
Flynn also said that incidents of property damage in Kenmore, Amherst and Cheektowaga are being investigated.
Among the people arrested was a 21-year-old Kenmore man accused of looting an Elmwood Village liquor store and throwing bottles at police.
Daniel D. Hill was arraigned before Buffalo City Court Judge Betty Calvo-Torres on one count of first-degree reckless endangerment, second-degree riot and resisting arrest, Flynn said Sunday morning.
The District Attorney's Office described Hill as a protester. Prosecutors allege that just after 10:30 p.m. Saturday, Hill "and other unknown individuals" broke into Hodge Wine and Liquor, which was closed at the time, and threw bottles and other objects toward both responding officers and nearby civilians on Elmwood Avenue near West Utica Street.
Prosecutors say officers suffered minor injuries after being hit with the glass bottles, and that when officers attempted to place Hill under arrest, he punched, kicked and elbowed the officers.
Hill is scheduled to return to court for a felony hearing at 9:30 a.m. July 15; he was released on his own recognizance. If convicted on all charges, Hill faces a maximum of seven years in prison.
Charged with a violation of disorderly conduct for refusing to comply with an order to disperse were:
Kevin Callahan, 30, of Randolph
Michael J. Modrzynski, 31, of Buffalo
Bryan Shalke, 31, of Amherst
Jeffrey Pike, 26, of Ransomville
Camryn Fisher, 18, of Grand Island. Fisher was also charged with a misdemeanor count of resisting arrest.
Also, a 16-year-old girl from Buffalo was charged with a misdemeanor count of obstructing governmental administration.
It was not clear where the above six were arrested but it's believed to be in or around Niagara Square.
Two arrests were also made at Main and Lasalle streets in the University District.
They were Tyrese D. White, 20, and Paul D. Minor, 22, both of Buffalo, who were each charged with a felony count of third-degree criminal mischief for causing property damage in excess of $250. Minor was also charged with a misdemeanor count of third-degree criminal trespass.
Flynn said that the 10th arrest was that of a juvenile who was held at the East Ferry Juvenile Detention Center Saturday and whose case will be adjudicated in Erie County Family Court.
In extended comments during the news conference, Flynn, a member of the executive boards of both the New York and national district attorney's associations, spoke of the need for district attorneys to "do better ... and we will do better."
Flynn said that he will work throughout his next term on the local level as well as to "play a role statewide and nationwide to heal this country, whatever I can do." Flynn is running unopposed in November and said Sunday he will not run for re-election in 2024.
"Here's the bottom line up front: We can sit here all day and talk about how outraged we are, which I am, by what I saw in Minneapolis, what I saw in Georgia, by what I've seen the past 200 years," Flynn said. "It goes back 200-plus years, where African Americans have been lynched, and county sheriffs and county DAs did nothing about it.
"The bottom line is that we in law enforcement need to continue what we're doing. And what we're doing is holding those accountable that commit a crime and doing what we can to heal the divide in this country and in this community."
Flynn referenced the death of Floyd, as well as the shooting death of Ahmaud Arbery in Georgia, as he stressed the important role of the district attorney.
"Our community wants to see action," Flynn said. "They want justice. I am justice. DAs across the state, and across the country, we are justice. We need to do justice. And we are. Mike Freeman in Minneapolis did justice. ... The DAs down in Georgia didn't do justice at first ... hopefully justice will be done down there as well."
The Buffalo News: Good Morning, Buffalo
The smart way to start your day. We sift through all the news to give you a concise, informative look at the top headlines and must-read stories every weekday.