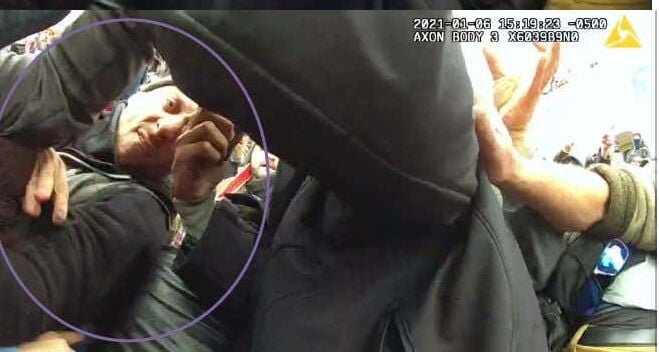 WASHINGTON – As Amherst resident Thomas F. Sibick remains in custody on charges connected to the Jan. 6 insurrection at the U.S. Capitol, the police officer he is accused of assaulting told a congressional committee Tuesday of the brutal beating he suffered that day.
Defending the Capitol from what he called "an armed mob," D.C. Metropolitan Police Officer Michael Fanone said: "I was grabbed, beaten, tased, all while being called a traitor to my country. I was at risk of being stripped of and killed with my own firearm, as I heard chants of: 'Kill him with his own gun.' I can still hear those words in my head today."
Fanone never mentioned Sibick by name during an emotional retelling of the events of Jan. 6, when a violent mob of more than 9,000 stormed the Capitol in hopes of somehow keeping then-President Trump – defeated in November's election – in office.
But the gray-haired, bearded police officer, dressed in a blue uniform next to three other witnesses dressed in blue, described what happened that day in harrowing detail. He then took to task Republican lawmakers who have since tried to minimize the event or trivialize the trauma.
Fanone said he and Officer Jimmy Albright rushed to the Capitol on Jan. 6 upon hearing on their police radio that the Capitol was under attack.
"You could hear the tone of the individual officers' voices," Fanone said. "They were scared."
When Fanone and Albright arrived on Capitol Hill, they could see why. They encountered hundreds of angry Trump supporters who taunted them as they neared the Capitol.
There, Fanone and Albright made their way to the Capitol basement, where they found a line of police officers trying to hold off a mob determined to enter the building through a tunnel.
Fanone fought his way to the front of the tunnel and the entrance to the Capitol, where he welcomed a quick breath of fresh air. Before long, though, he felt himself pulled out into the crowd.
"I heard someone scream: 'I got one' as I was swarmed by a violent mob," Fanone said. "They ripped off my badge. They grabbed and stripped me of my radio."
Sibick is charged with those offenses. And at its first hearing, the House Select Committee to Investigate the Jan. 6 Attack on the U.S. Capitol played footage from Fanone's body camera that shows his badge and radio being snatched from his uniform.
But that was just part of what the crowd did.
"They seized ammunition that was secured to my body," Fanone said. "They began to beat me with their fists and with what felt like hard metal objects. At one point I came face to face with an attacker who repeatedly lunged for me and attempted to remove my firearm. ... I was electrocuted, again and again and again with a Taser."
Hearing one rioter suggest that he be shot with his own gun, Fanone, a father of four, desperately shouted: "I have kids!"
That prompted some of the rioters to back off and help Fanone return to the tunnel entrance where other officers rushed to his aid, he said.
By that point, Fanone was unconscious. Body camera footage aired at the hearing shows his partner, Albright, looking in on him and saying: "Mike, stay in there, buddy. It's Jimmy. I'm here."
Fanone had suffered a heart attack, a concussion and a traumatic brain injury, and went on to suffer from post-traumatic stress injury.
After the insurrection, Sibick, 35, was charged with 10 felony counts, including assault. Two other men – Albuquerque Cosper Head, 41, of Kingsport, Tenn., and Kyle J. Young, 37, of Redfield, Iowa – were also indicted in the attack on Fanone.
At the hearing, though, Fanone and the members of the committee focused not on individuals who participated in the riot, but on what motivated them.
Near the end of the 3 1/2-hour hearing, the panel's chairman, Rep. Bennie Thompson, a Mississippi Democrat, asked all the officers who testified for their recommendations for the panel's investigation.
Fanone replied by saying that Trump, members of Congress and others appeared to use rhetoric that motivated the rioters. Trump and his backers, without evidence, said the election was "stolen" for Democrat Joe Biden, and the Jan. 6 rally was billed as an effort to "stop the steal."
"What I'm looking for is an investigation into those actions and activities which may have resulted in the events of Jan. 6, and also whether or not there was collaboration between those members, their staff and these terrorists," Fanone said.
What Fanone doesn't want is the whitewash he's starting to see. One Republican, Rep. Andrew Clyde of Georgia, later dismissed the riot as a "normal tourist visit." Another, Rep. Elise Stefanik of New York's North Country, Tuesday alleged without evidence that House Speaker Nancy Pelosi, a Democrat, "bears responsibility" for what happened on Jan. 6.
Fanone is having none of it.
"What makes the struggle harder and more painful is to know so many of my fellow citizens – including so many of the people I put my life at risk to defend – are downplaying or outright denying what happened," Fanone said. "I feel like I went to hell and back to protect them and the people in this room. But too many are now telling me that hell doesn't exist or that hell actually wasn't that bad."
Fanone then punctuated his point by pounding on the witness table as he said: "The indifference shown to my colleagues is disgraceful."