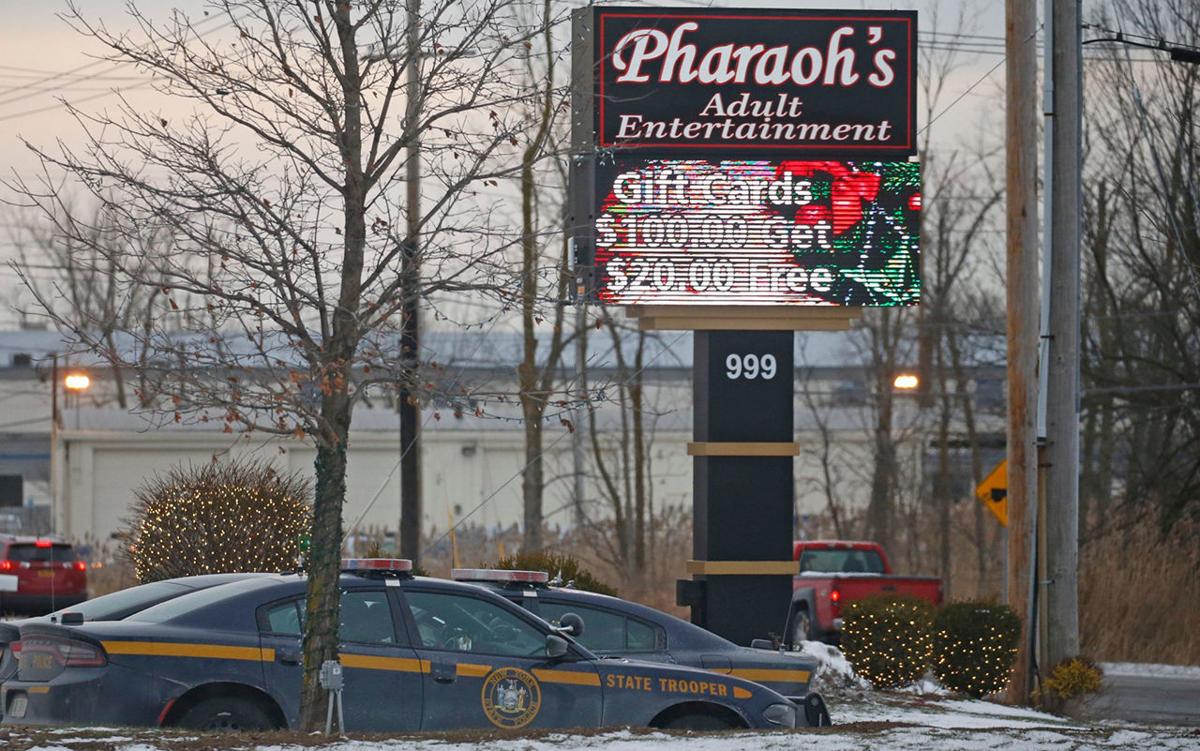 Lap dances, of course, are out of the question.
But a Cheektowaga strip club owner – already abiding by lower occupancy caps and social distancing rules to fight the spread of Covid-19 – has asked a State Supreme Court justice to stop the New York State Liquor Authority from prohibiting exotic dancing on his stage.
The authority last weekend issued a summons to Peter Gerace, the owner and president of Pharaoh's Gentlemen's Club, because it said the establishment violated the state's pandemic-related ban on exotic dancing.
"I'm not breaking any laws," Gerace said. "I'm a businessman trying to stay in business. I closed down for three months when they told me to close down. And when we were able to reopen, I followed all the rules. It's not fair."
Justice Frank Sedita III called the state's pandemic-related ban on advertised and ticketed shows at the Sportsmen's Tavern and other venues an unconstitutional abridgment of free speech.
Without live entertainment, the club faces "a grave and substantial risk" of going out of business, according to the lawsuit.
The lawsuit comes as Western New York marked nine straight days of 200-plus Covid-19 cases, including an all-time high of 576 on Tuesday. The region's seven-day positive test rate – 4.3% through Tuesday – is at its highest level since the end of May. That rate has doubled over the past two weeks, prompting Gov. Andrew Cuomo to designate much of Erie County as a precautionary "yellow zone," which imposes restrictions as part of the state's microcluster program.   
The ban on dancing came before the stricter rules for bars and restaurants announced this week.
In Gerace's view, the crux of the case centers on his constitutional rights to free speech and equal protection. The state Liquor Authority allows performers to sing on stage in front of a crowd at establishments it licenses, he said. So why can't a dancer perform on stage while wearing a mask?
"Singers without face coverings are singing, often loudly, toward the crowd, with droplets being expelled with each breath," said lawyer Steven M. Cohen, who represents Gerace, in court papers. "Exotic dancers typically perform silently ... wearing a mask at all times, and perform on a stage that is at least 12 feet from patrons."
While Covid-19 precautions are required of the entire business community, no other industry faces the kind of discrimination Pharaoh's and similar businesses face from the SLA, Gerace said. 
"Right now our business has been pretty much destroyed," Gerace said. 
Last month, Pharaoh's and eight other Buffalo-area businesses lost in federal court when a judge upheld Gov. Andrew Cuomo's executive orders halting or limiting activity at their establishments. The businesses claimed Cuomo overstepped his authority. The judge ruled against the businesses, saying the state's actions, based on scientific advice, shouldn't be "second-guessed."
U.S. District Judge William M. Skretny called it the state's role to determine and implement, with wide latitude, the emergency measures it deems reasonably necessary for protecting the public against the disease. 
In its new state court lawsuit, the Cheektowaga business targets the state Liquor Authority. It contends no executive order issued by Cuomo expressly prohibits live exotic dancing in bars and restaurants.
The ban on exotic dancing is only contained in the form of answers in the "Frequently Asked Questions" section on the authority's website, "which unquestionably falls short of an enforceable order," according to the lawsuit.
The state Liquor Authority said the governor's executive orders expressly state that restaurants and taverns are subject to guidance issued by the Department of Health and the state Liquor Authority, both of which have made it clear that people in restaurants and taverns should be there for a dining experience only and that dancing is not permitted.
"In an effort to protect New Yorkers from Covid-19, exotic dancing has been banned statewide since March -- and a federal judge dismissed a similar case from the exact same establishment last month, finding that the courts should not second guess logical public health decisions during a global pandemic," according to a statement from the authority. "We expect the same outcome in the state court."
There is an inherent difference between live incidental music performances — which are an ancillary attraction, are stationary, and can easily ensure 12 feet of distance from customers — and performances like exotic dancing, which are an establishment's main attraction, and are often more active, not stationary, and in closer proximity to patrons, the authority said. Licensed businesses are only allowed to provide incidental music -- music that is not the main attraction, but complements dining -- if it is allowed on their liquor license.
Pharaoh's reopened June 28.
Since then, the establishment at 999 Aero Drive has not had any Covid-19 infections among its dancers, cooks, bartenders, servers, security staff or anyone else on the payroll, Gerace said.
On Wednesday, he laid off 17 of his employees – about three-fourths of his bartenders, servers and managers.
"I have a lot of loyal employees who are crying right now," Gerace said. "That hurts the most."
The layoffs came as Cuomo ordered bars to close by 10 p.m., just two days after the state declared a large swath of Erie County a "yellow zone," which meant bars and restaurants were told they couldn't seat more than four to a table. Restaurants are limited to curbside, food-only pickup after 10 p.m. and must close by midnight.
In interviews with local officials around the state already living in the kind of yellow zone now in place in Buffalo and surrounding communities, life in such a zone is not without its effects.
"We make most of our money between 11 p.m. and 3 a.m.," Gerace said. 
"We follow all the same rules all day long," Gerace added. "Why close before midnight or 10 o'clock? If you order a beer or order chicken wings while wearing a mask, are you going to get Covid after midnight but not before midnight?" 
In the past four months, Pharaoh's passed seven inspections by government agencies for Covid-19 safety measures. The only citation came for the exotic dancing. 
"Common sense would suggest that allowing musicians, including singers, to perform poses more of a risk of spreading Covid-19 than an exotic dancer," according to the lawsuit. "There is no valid or sound scientific or medical rationale for distinguishing between different forms of live entertainment as has been done by the SLA."
The "resulting content-based discrimination" violates the First Amendment, according to the lawsuit.
When Pharaoh's reopened, it implemented social distancing and capacity rules and safeguards.
Installing full-length plexiglass barriers between the stage and the tables to prevent any potential contact between dancers and patrons;
Spacing the tables from the stage and each other, beyond the required distance;
Spacing the seating at tables beyond the required distance;
Placing hand sanitizer and other disinfectants at every entrance, in all bathrooms, in the kitchen and in the bar area;
Requiring employees and patrons to wear face coverings;
Limiting occupancy to the mandated limit; 
Enacting a zero-tolerance policy of sending home any employee who coughs or sneezes while on the premises.
"We complied with every single requirement given to us by the governor, the SLA and health officials," Gerace said. "We spent $20,000 on plexiglass, chemicals and masks for everybody. We have cleaning crews in here seven days a week."
The club also established a policy for dancers "mingling" while offstage.
With table dances now curtailed, "substantial revenues are derived from table conversation," according to the lawsuit.
Patrons seated at tables may invite a dancer to join them. Patrons must give the dancers consent to join them. While seated at the table as a member of the party, the dancer must maintain appropriate distances from the patrons, with no physical contact between the dancer and the patrons. Even while seated at a table, the dancer must wear a face covering.
Only one dancer can join patrons at their table at a time, and the dancer cannot eat or drink. The tables never exceed the maximum number of people allowed by state guidelines, according to the lawsuit.
Initially, the guidelines for live indoor entertainment dealt with patrons remaining seated, standing patrons wearing face coverings and performers being 12 feet from patrons.
But then the authority modified the guidelines to prohibit exotic dancing, according to the lawsuit.
Cohen said the authority's discriminatory content-based rule sanctions one form of expression over another: singing and music over dancing.
The authority showed no findings, studies or evidence to support the distinction between performances of live music and live dance, Cohen said.
The lawsuit asks the court to declare that the state Liquor Authority's ban on exotic dancing at bars and restaurants violates the right to free speech and equal protection and seeks an injunction to keep the state from banning dancing at Pharaoh's.