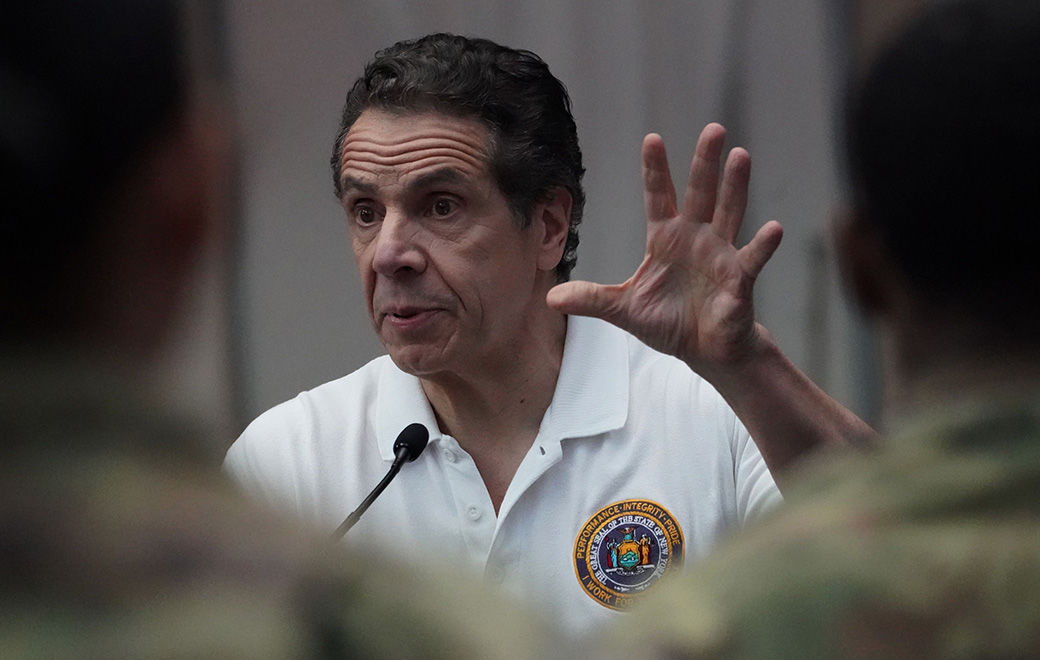 Gov. Andrew M. Cuomo said Saturday that he hopes to redeploy about 500 ventilators from hospitals statewide to downstate Covid-19 hot spots in preparation for the coronavirus battle projected to hit its apex in about seven days.
In his daily briefing from Albany, Cuomo said that taking 20% of the "unused and available" ventilators from state hospitals to assist downstate would be a "significant" help.
Cuomo on Friday drew criticism from Western New York leaders after he announced the redeployment of medical equipment, saying he would be dispatching National Guard troops to pick up ventilators, masks and gowns from hospitals in areas not yet hard-hit by the spread of Covid-19 and deliver them to New York City.
Cuomo spoke Saturday of New York's ongoing struggle to obtain ventilators, saying that a state order with a China supplier for 17,000 ventilators did not go through, yielding only 2,500. He also said that the federal stockpile only includes 10,000 ventilators.
"What do we do? We find what equipment we have, we use it the best we can," the governor said. "If you ask hospitals today what ventilators that you have that are unused and available, that they don't need in the short term, and take 20% of that number, that's 500 ventilators.
"Five hundred ventilators is a significant number."
Cuomo said that there would be a conference call Saturday with all hospitals "to coordinate equipment redeployment."
The governor did not further address the issue of redeploying ventilators from upstate hospitals to downstate.
Apex in about a week
Earlier this week, the governor said projection models used by the state predicted the apex of the coronavirus as being at the end of April, but Saturday he said projections for the apex were now in about a week.
"Our reading of the projections is we're somewhere in the seven-day range," Cuomo said. "Nobody can give you a specific number, which makes it very frustrating to plan, but we're in that range.
"By the numbers, we're not yet at the apex, but we're getting closer."
Cuomo said some models put the apex within four to eight days, while some put the apex at 14 days.
"The apex is the point where the number of infections on a daily basis is at the high point, and that is the ultimate challenge for the health care system: Can we handle that number of cases at the high point of the curve?"
NY Covid-19 deaths exceed 9/11's
Cuomo announced that the total number of New York State deaths from the coronavirus reached 3,565.
The one-day increase in deaths was 630, which pushed the state's death toll past that of the entire death toll of the Sept. 11 attacks in 2001, which was 2,996. It also was the highest one-day increase since the outbreak began, surpassing Thursday's 562.
Of the deaths, state officials said that 2,624 have come in New York City.
The state's total of confirmed cases is 113,704, with 808 of those from Erie County. There were 10,841 cases Friday.
The total number of people hospitalized in the state is 15,905, with 4,126 in intensive care. Cuomo said that two-thirds of the people who have been hospitalized for Covid-19 have been discharged.
While most of the state's cases remain in New York City, the percentage there was decreasing due to an increase on Long Island from under 20% to now up to 22%.
Westchester and Rockland counties accounted for about 7% to 8% of the state's cases, with upstate accounting for 4% to 5%.
"Long Island is an area that is growing," Cuomo said. "For us this is about tracking the virus and deploying as the numbers suggest."
China donates 1,000 ventilators
Cuomo said that New York would be receiving a donation of 1,000 ventilators from China, for which he thanked Jack Ma and Joe Tsai, founders of the Chinese tech company Alibaba, as well as the Chinese government.
"This is a big deal and this is going to make a big difference for us," he said.
The state of Oregon also donated 140 ventilators to New York.
"It's astonishing and unexpected," Cuomo said of the donation from Gov. Kate Brown. "I want to thank Gov. Brown. This was unsolicited. The 140 ventilators will make a difference. It was kind, it was generous, and it was smart. New York will return the favor."
"We're all in this same battle, to stop the spread of the virus."
Cuomo said the Jacob K. Javits Convention Center that has been repurposed into a temporary hospital will be staffed by the federal government and will be a Covid-19 facility. Originally the Javits Center was to be an overflow hospital for noncoronavirus patients.