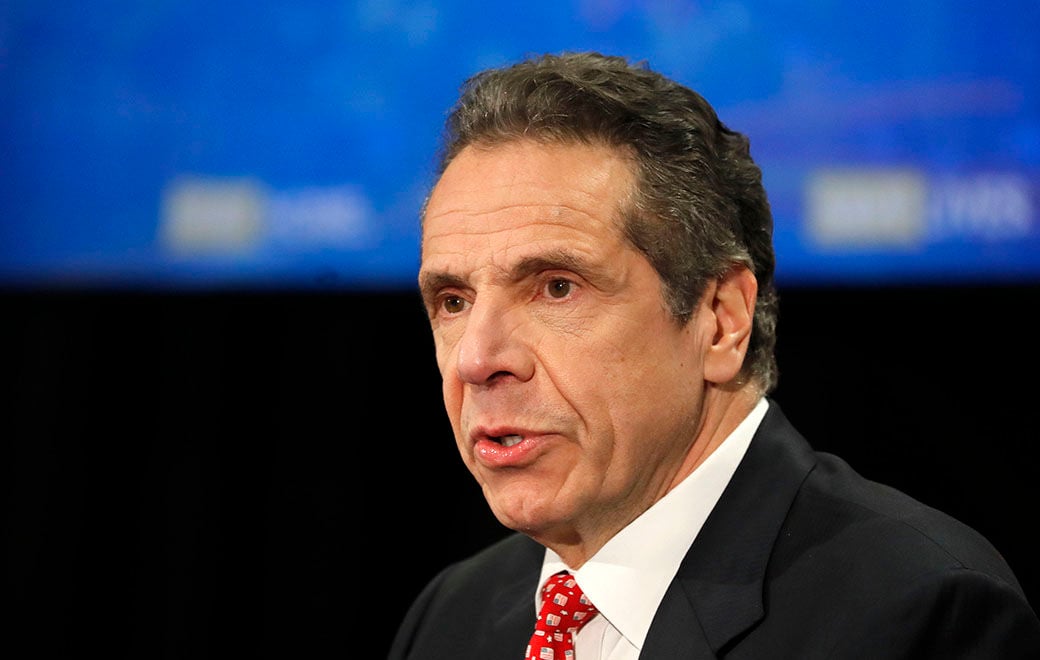 Gov. Andrew M. Cuomo Wednesday outlined plans for an "army" of people tracing the contacts of those exposed to the coronavirus, all in hopes of stopping its spread – and Sen. Kirsten E. Gillibrand wants to build such an army nationwide.
During his daily briefing in Albany, Cuomo said former New York Mayor Michael Bloomberg will lead the contact tracing effort in the state.
"One of the most critical pieces of getting to a new normal is to ramp up testing, but states have a second big task – to put together an army of people to trace each person who tested positive, find out who they contacted and then isolate those people," Cuomo said.
But states need federal help to do that, Gillibrand, a New York Democrat, said as she outlined her proposal for a federal "Health Force" to handle contact tracing.
"This would be one of the most ambitious and expansive public health campaigns in our nation's history, it would employ thousands of Americans in a national effort and it would make such a difference," said Gillibrand, who is pushing for her proposal to be included in the next coronavirus relief bill that Congress will develop in the coming days.
The twin efforts would aim to prevent a "second wave" of coronavirus infections by doing something that wasn't done quickly enough before the first wave: finding infected people to prevent them from spreading the contagion.
The state's contact tracing effort would build upon the state-federal agreement to double the number of Covid-19 tests done each day in the state to 40,000.
"Once you do all those tests, for every positive, you have to go back and trace," Cuomo said. "This entire operation has never been done before, and we've never done it before to this scale. It is an intimidating exercise, but so what? It's what we have to do now."
Bloomberg volunteered to lead the effort and donated $10.5 million from his charity to get it started. He said the increased testing and contact tracing "will help us drive the virus into a corner – saving lives and allowing more people to begin getting back to work."
While the tracing effort will be statewide, it will focus heavily on New York City and downstate counties working with neighboring states New Jersey and Connecticut.
Many more contact tracers will have to be hired under the effort. Cuomo said that there are currently 200 tracers in the New York City area, 140 in Suffolk County, 60 in Nassau, 50 in Westchester, 40 in Rockland and 200 throughout the rest of the state.
Cuomo also said that the state will be working with 35,000 medical students within the State University of New York and City University of New York systems who can serve as tracers.
He said there would be a need for many more, "because the numbers get very big, very quickly."
Gillibrand's proposal, which she introduced with Sen. Michael Bennet of Colorado, aims to address that need. She said their Health Force would employ hundreds of thousands of people nationwide at a time when many people are out of work.
"These workers would be dedicated to combating the coronavirus, carrying out testing, tracing and, eventually, vaccination," she said. "The federally supported and locally managed force would deploy workers to the frontlines of the coronavirus response, where they would amplify the work and expertise of state and local public health agencies."
These new health workers could also debunk myths about the pandemic, help with data entry and lighten the load on hospital workers by delivering medical supplies and connecting people to the proper health services, Gillibrand said.
Creating such a health force is an urgent matter, Gillibrand said, which is why she and Bennet are pushing for Congress to include the proposal in a bill likely to be finalized relatively soon.
"This will make all the difference in the world to solving this epidemic," she said of the proposal.
Gillibrand's proposal comes at a time of increasing pressure to reopen businesses – a temptation that Cuomo said should be resisted.
"This is about truth and facts," Cuomo said. "Don't make the decision based on political pressure. I'm not going to do that. This is a profound moment. We make a bad move, it's going to set us back. Frankly, this is no time to act stupidly, period. I don't know how else to say it."
Cuomo said New York had 474 deaths due to the coronavirus on Tuesday. That was the third straight day the state daily death toll was in the 400s after it had been as high as the 700s in the last two weeks. He again cited continued reduction of hospitalization and intubation rates.
Concerned about COVID-19?
Sign up now to get the most recent coronavirus headlines and other important local and national news sent to your email inbox daily.