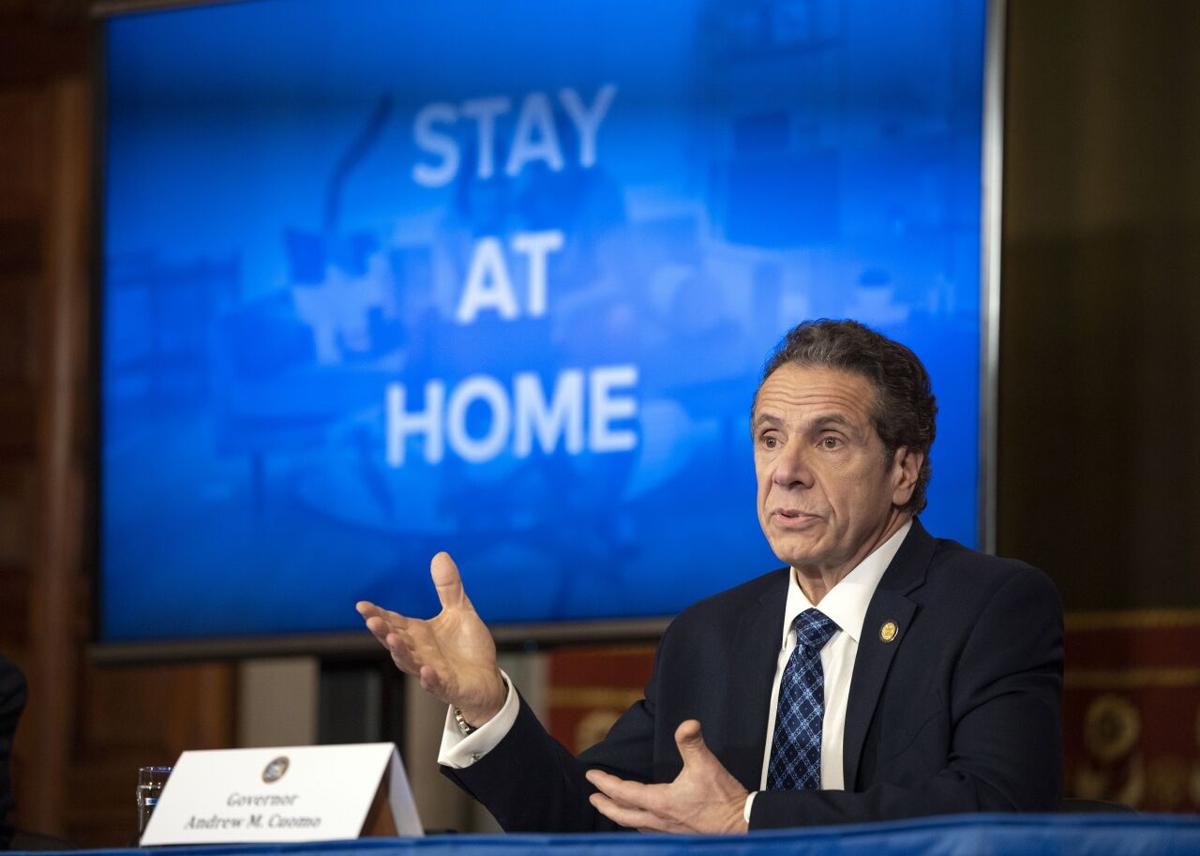 Gov. Andrew M. Cuomo said Friday that the state's projected revenue shortfall was more than $13 billion due to the coronavirus crisis, and he continued to deride Kentucky Sen. Mitch McConnell for his suggested solution to it.
He blasted the Senate Majority Leader for saying that states could declare bankruptcy, revisited what he called the previous day "a really dumb idea." On Friday, Cuomo pointed out that it's illegal for states to declare bankruptcy and he "dared" the Senate Majority Leader to pass a bill to make it legal.
"Forget the morality of it and the ethics of it and the absurdity of it and the meanness of it: Legally, a state can't declare bankruptcy," Cuomo said during his daily coronavirus briefing from Albany. "That's your suggestion, Sen. McConnell. Pass the law, I dare you. Pass a law allowing states to declare bankruptcy, then go to the president to sign this bill.
"You want to send a message to the markets that this nation is in real trouble? You want to send an international message that the economy is in turmoil? Allow states to declare bankruptcy legally because you passed that bill. I dare you to do that."
Cuomo said that New York State's projected budget shortfall due to the coronavirus crisis is $13.3 billion, a 14% decrease.
The governor also said that projections show a $61 billion shortfall over the fiscal years from 2021 to 2024.
"New York State was not quote-unquote, in trouble, before this happened," Cuomo said. "Our economy was growing at a very high rate."
"The state's finances were very, very strong," Cuomo said Friday. "And then this economic tsunami hits, and you shut down all the businesses, everybody stays home, they're not getting a paycheck, they're feeling economic anxiety. The consequence is, revenue projections are way down."
Other news from Cuomo's briefing:
Absentee ballots – The governor issued an executive order asking the Board of Elections to send every New York voter a postage-paid application to receive an absentee ballot for the state's June 23 primary.
"It makes no sense to me to tell people you have to put your life at risk, and violate social distancing to come out to vote," Cuomo said.
State law includes a "temporary illness" provision that allows residents to request an absentee ballot. Earlier this month, Cuomo issued an executive order that established that the the risk of contracting Covid-19 is covered under the temporary illness provision.
Secretary to the Governor Melissa DeRosa said that under the state constitution, the state cannot send all New Yorkers an absentee ballot; so instead the state is mailing the postage-paid application for an absentee ballot to all residents.
"Every registered voter gets one, they can fill it out, they send it back in," she said.
Polls would still be open for voters.
Declining deaths – There were 422 deaths Thursday, a third straight day that that figure declined and a fifth straight day in the 400-range. "It's dropping somewhat, but it's still devastating news," Cuomo said.
He also said the number of new Covid-19 patients entering hospitals continued to be in the 1,200 to 1,300 range.
School closings – In response to a question regarding school closings, Cuomo said that a decision regarding whether schools would reopen or close this school year would be coming in about one week.
Lessons on travel bans – Citing research on the early stages of the novel coronavirus, Cuomo reviewed a timeline of the federal flight bans and said that, in retrospect, the flights from Europe should have been stopped earlier.
Cuomo said that published reports of research showed that from January until the European flight ban in March, 13,000 flights from Europe landed at New York and New Jersey airports, carrying 2.2 million people.
"The horse had already left the barn," Cuomo said. "We closed the front door with the China travel ban, but we left the back door open. ... What is the lesson? An outbreak anywhere is an outbreak everywhere."
A selfless gesture – At the close of his remarks, Cuomo read a letter from a Kansas farmer who sent the governor a mask to give to health care worker.
"Enclosed, find a solitary N95 mask, left over from my farming days. It has never been used. If you could, would you please give this mask to a nurse or a doctor in your state. I have kept four masks for my immediate family. Please keep on doing what you do so well, which is to lead," read the letter signed "Dennis and Sharon."  
"How beautiful is that? How selfless is that? How giving is that?" Cuomo said. "It's that love, that courage, that generosity of spirit that makes this country so beautiful, and makes Americans so beautiful."
I received this letter from a farmer in northeast Kansas. His wife is ill and he is aging.

He sent me 1 of 5 N95 masks he has from farming to pass on to a doctor or nurse in New York.

This is humanity at its best. I share his letter as inspiration. pic.twitter.com/Fa4h5LH9rL

— Andrew Cuomo (@NYGovCuomo) April 24, 2020