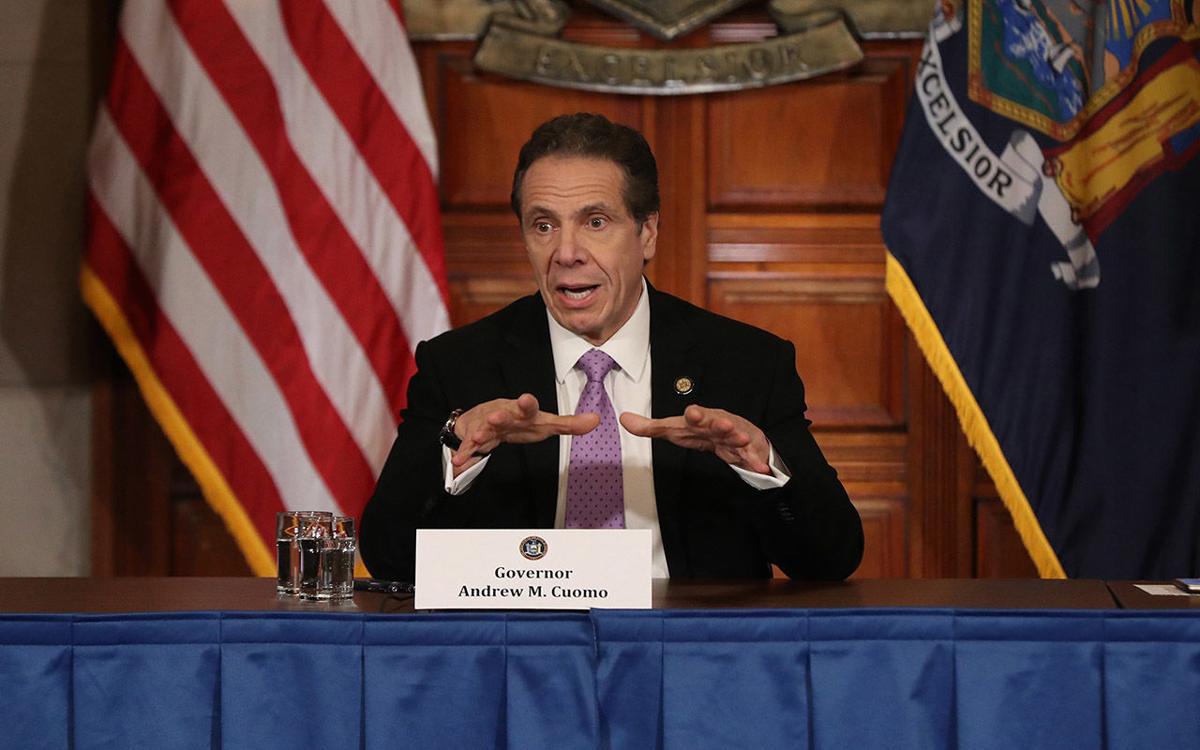 The coronavirus health crisis in New York is projected to reach its peak at the end of April, according to projection models used by the state, Gov. Andrew M. Cuomo said Wednesday.
"Which means another month of this," Cuomo added from Albany.
That's especially bad news for Western New York, since modeling used by Erie County Executive Mark Poloncarz shows that this region is 20 to 30 days behind downstate New York, with the peak locally expected to be in 40 to 45 days.
Nearly 2,000 New Yorkers had already died from the virus as of early Wednesday.
The apex of the Covid-19 pandemic is being closely watched by all government leaders because that is when the greatest number of people are expected to become ill and potentially overwhelm the hospital system.
The extreme measures being taken now, such as business closures and quarantines, are meant to spread out the infection rate over a longer time period so that the number of patients requiring hospitalization do not exceed the number of available beds and ventilators.
Cuomo projected that 110,000 hospital beds and 75,000 ventilators would be needed at the peak of the health crisis.
Poloncarz said more than 20,000 hospital beds would be needed locally when this region hits its peak.
The model Cuomo is using, compiled by McKinsey & Company, factors in several projections into one.
"One of the great variables is, how effective is the social distancing?" he said. "Are people complying with it?"
Cuomo said that a model in which there is a high compliance with social distancing would reduce the demand for hospital equipment but would not alter the time frame.
If measures such as people staying at home, not congregating in groups and staying 6 feet from others in public are followed, the number of needed hospital beds would fall to 75,000, Cuomo said. The number of ventilators would be reduced to 25,000.
"And that is what we want, because this all comes down to, at the apex can your hospital system manage the volume of people coming into the system?" he said.
Another model, funded by the Gates Foundation, projected the total number of deaths for the country and for New York. It had a national total of 93,000 and 16,000 for New York. Federal officials projected a possible 100,000 to 200,000 total coronavirus deaths on Tuesday.
Cuomo noted that the Gates projection "suggests you would have a high death rate through July."
That does not necessarily mean that no one will be able to leave their homes or go to work for that entire period of time, however. Once more rapid-testing models become available, Cuomo said, he was optimistic that the extreme measures being taken now will be loosened and more people will return to work.
At the Erie County media briefing on Wednesday, Poloncarz said he has also seen Covid-19 death estimates for the region.
"If the worst case scenario happens, we'll have thousands of people die," he said. "I know people want me to be as positive as I can be, but that's why I've been spreading the message about, 'You have to stay home.' If you're going to go out you gotta be out by yourself and only with your family members."
He did not give specific numbers regarding death projections.
"The thought of deaths in the thousands is enough to keep me up at night," Poloncarz said.
Cuomo said that New York's Covid-19 positive cases total is 83,712 and that 1,941 people have died, which is an increase of 391 from Tuesday's total.
New York has tested more than 220,000 people, Cuomo said, later emphasizing that more testing will help the battle against the coronavirus because it helps separate those who are infected from those who are not.
There were a total of 12,226 hospitalizations in New York, which is up 1,297 in one day. Of those, 3,022 are in intensive care. A total of 6,142 have been discharged, which includes a high daily total of 1,167 discharges Tuesday.
"In this war, we must plan forward for the next battle," Cuomo said. "The next battle is the apex, the next battle is the top of the mountain. That's where the enemy either overwhelms our health care system, or we're able to handle it."
Cuomo announced that he is closing down New York City playgrounds, while leaving open spaces available. He said the New York Police Department would enforce the restrictions and also criticized those who continue to endanger others by not adhering to social distancing.
"Who else has to die," Cuomo asked, "for you to understand you have a responsibility in this?"
The Buffalo News: Good Morning, Buffalo
The smart way to start your day. We sift through all the news to give you a concise, informative look at the top headlines and must-read stories every weekday.