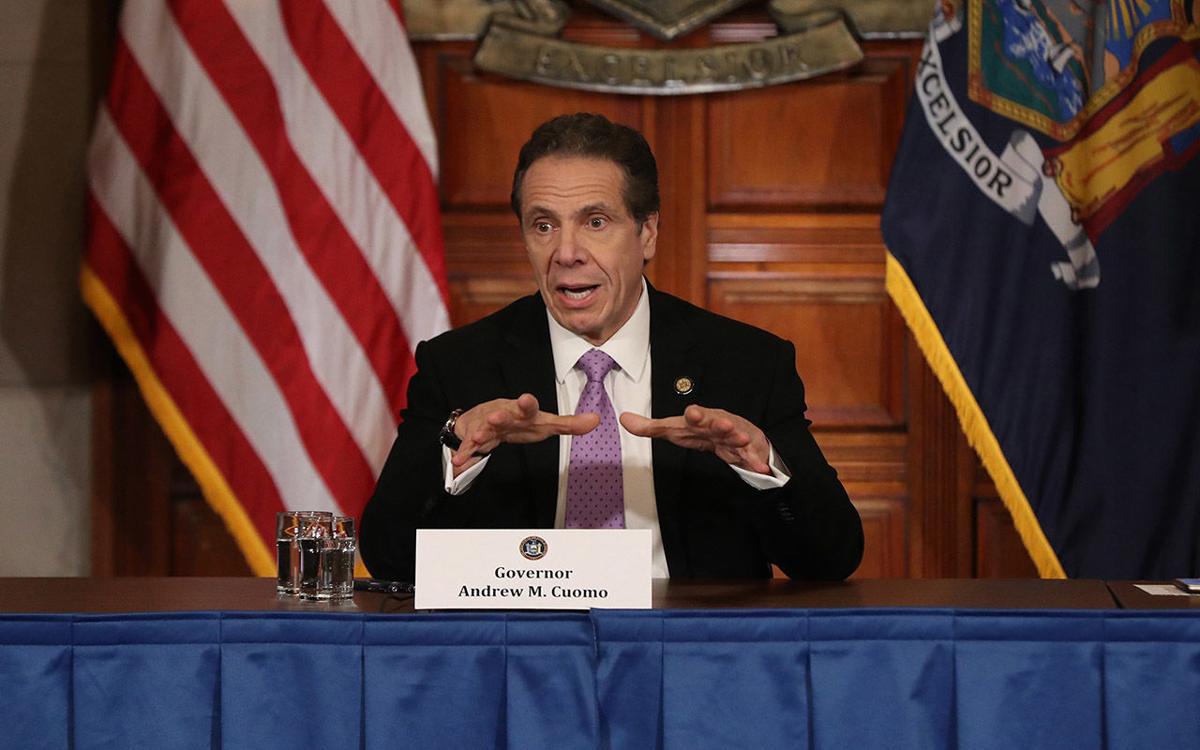 Gov. Andrew M. Cuomo said a decision on whether schools will reopen this year will come Friday.
May 15 is also the date that the "NY Pause" order is set to expire. Cuomo has previously said that some regions of the state may be reopened at that time.
During his daily coronavirus briefing from Albany, the governor announced details on major undertakings that he has often outlined in any plans to reopen the state: regular disinfecting of the New York City transit system and the organization of a contact tracing network.
Cuomo described the tracing initiative as a "monumental undertaking" and the logistics of daily cleaning of the transit system as a "massive undertaking ... something that people would say is impossible."
"We're doing things all across the board that have never been done before," Cuomo said.
Cuomo said the state would need a "tracing army" of 6,400 to 17,000 tracers statewide, depending on the number of cases. Tracing involves taking people who test positive, finding out who they had close contact with in the last 14 days, locating them and having them tested, and placing anyone who tests positive in isolation.
Cuomo said the state is conducting 30,000 coronavirus tests per day, with a goal of increasing to 60,000, and that 4,681 people tested positive Wednesday.
"Now, how do you communicate with 4,681 people, trace back all the people they've been in close contact with the past 14 days, and contact those people.
"Today, we'll have another 4,681 people. Just think of the scale of the operation. It's of a scale never been done before, and, by the way, we need it tomorrow.
Former New York City Mayor Michael Bloomberg, who last week was named as the state's coordinator for the contact tracing operation, said the tracing operation was vital to the reopening process.
"One of the most important steps we have to take to reopen the economy as safely as possible is to create a system of contact tracing," he said. "When social distancing is relaxed, contact tracing is our best hope for isolating the virus when it appears, and keeping it isolated."
Disinfecting subway cars 
Cuomo said New York City subways would be closed nightly from 1 to 5 a.m. so that every subway car could be disinfected. The closings would begin in the early morning hours of May 6.
The governor said that any essential worker who needs transportation during those overnight hours would receive it without cost, via bus, vans or for-hire vehicles.
Cuomo lamented that the subways were becoming unsafe and unsanitary due to many of New York City's homeless gathering in the cars.
"You had more homeless people on fewer trains, and fewer people to outreach to homeless," Cuomo said, "and, at the same time, we need our essential workers to go to work.
"Let's disinfect those trains and buses every 24 hours. That's the best way to protect the health of our essential workers. ... And it makes sense if you don't want the infection rate to go up in your society."
Cuomo said the plan will require the MTA, the city and the New York City Police Department to coordinate the closing of stations.
New York City Mayor Bill de Blasio, who joined Cuomo by videoconference during the briefing, said the undertaking was also a way to confront the city's homeless issue, and provide more outreach services to the homeless.
Death totals drop 
The state's daily Covid-19 death total for Wednesday was 306, the sixth-straight day of overall decline and fifth-straight day in the 300-range.
The statewide hospitalization rates continued their descent, with new Covid-19 hospitalization cases at 933. That is the first time in weeks that figure was below 1,000.
On Wednesday, Cuomo blasted Washington for favoring stimulus funding of corporations rather than state and local governments. He reiterated that stance Thursday when asked a question that referenced upstate Rep. Elise Stefanik inquiring about whether summer camps would be open.
"What you can say to Representative Elise Stefanik and all of our great Washington representatives: We could provide rental assistance for people who can't pay rent, we could provide child care for essential workers like we are now," Cuomo said. "You know what it takes? Money. Funding. Money.
"They passed a bill. You know how much they gave New York State to do any of the things we're talking about? Zero. Zilch. Nada."