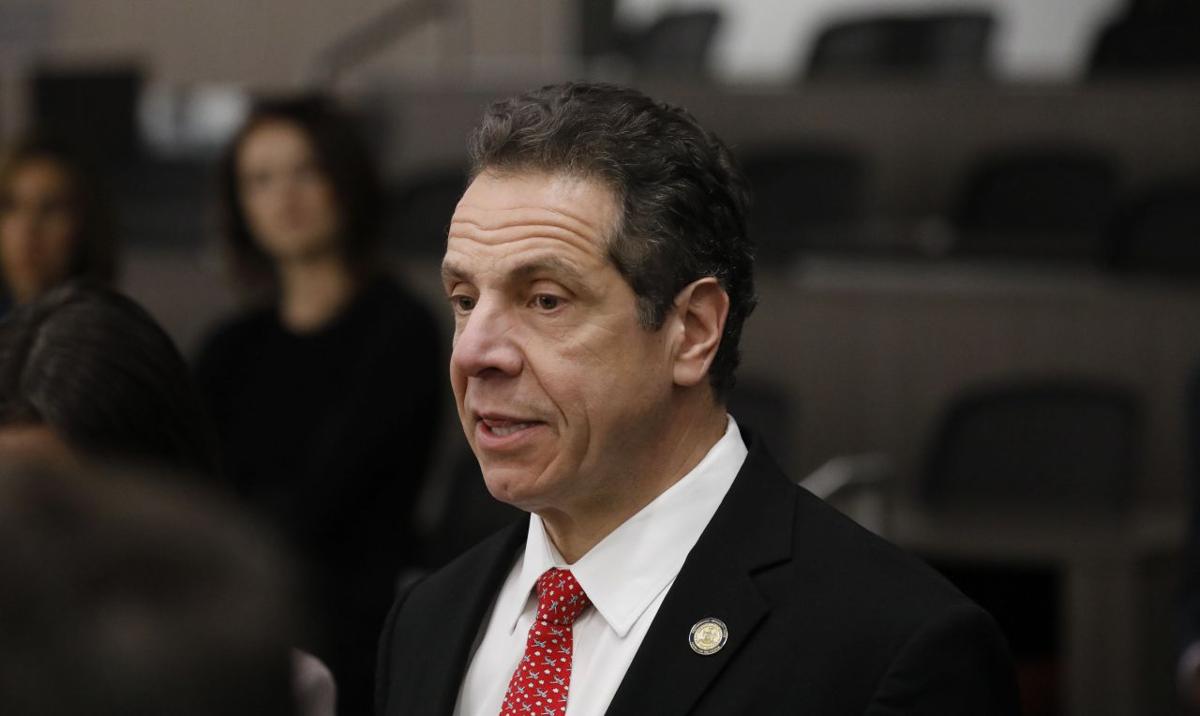 ALBANY – The Cuomo administration has amended its marijuana legalization proposals to include new efforts pertaining to regulating the drug market, the taxation of suppliers and how to prod illicit marijuana suppliers to join a legalized system.
"We've looked at lessons learned," said Norman Birenbaum, the state's director of cannabis programs, in an interview after Gov. Andrew M. Cuomo last week unveiled his second bid in two years to legalize the growth, sales and use of marijuana in New York.
Those lessons include what's been happening in states that have legalized marijuana – including various problems with everything from taxation and regulation to road safety – as well as input from state lawmakers and border states with New York that are eyeing marijuana legalization as well.
But there is one point on which the Cuomo administration has not moved: where to direct $300 million in projected marijuana excise tax revenues, an amount legalization opponents say is overly rosy.
Like most other tax revenues, Cuomo wants the money to flow into the state's general fund with decisions about spending those proceeds being made on an annual basis as part of the budget.
Lawmakers, though, have in mind everything from specially earmarked accounts for drug treatment and prevention efforts, to law enforcement efforts to get high drivers off the roads, to steering money to a variety of programs in poorer neighborhoods that were disproportionately targeted for marijuana arrests over the years.
"I'm optimistic we can get this done in 2020," said Sen. Liz Krueger, a Manhattan Democrat and sponsor of the Senate's legalization legislation.
But she said if the effort can't be done "the right way" as part of upcoming state budget talks, as Cuomo prefers the matter to be settled, it can be done before lawmakers end the session in early June.
While lawmakers have acknowledged Cuomo's new budget plan includes some movement on marijuana legalization efforts, they note his failure to firmly side with them on the revenue distribution question, which could be a deal breaker.
"We're not moving forward unless we can get the commitment on how the revenue needs to be spent," Krueger said at the Capitol last week as she appeared with Westchester Democratic Sen. Pete Harckham, who recently moved from the "undecided" column of lawmakers to supportive of Krueger's measure because of the revenues that would be dedicated to drug treatment, prevention and education efforts.
Cuomo did move on one important area: how the program would be regulated. Last year, he proposed creating a single marijuana czar, who he would appoint with vast powers over setting potency levels of marijuana that could be sold in the state, where the cannabis plants can be grown and who gets the licenses to distribute and sell on a retail basis.
In his new budget plan, Cuomo is proposing a five-member board to set an overall marijuana regulatory scheme and to oversee a new state Office of Cannabis Management. The board, however, would be all Cuomo appointees; such a move is largely seen as a negotiating tactic for Cuomo in dealing with lawmakers in upcoming budget talks.
The governor's plan also would have a deputy director in the new office charged with handling social equity type issues that many minority lawmakers say is needed to address past law enforcement efforts pertaining to marijuana possession in black and Latino communities. Also, a chief medical officer would be appointed to handle various issues, including the state's much-criticized existing medical marijuana program that eligible patients say is too costly and unwieldy to navigate.
In releasing his 2020 budget plan last week, Cuomo vowed that this is the year for marijuana legalization. His plan, his budget states, "establishes a regulated adult-use cannabis program that protects public health, provides consumer protection, ensures public safety, addresses social justice concerns and invests tax revenue."
Cuomo in December lured Birenbaum to New York from Rhode Island, where he ran the state's medical marijuana program.
In an interview last week, Birenbaum outlined a number of changes from Cuomo's 2019 plan that are reflected in the new effort this year. They include:
An additional method to tax marijuana based on its weight not just in a dried state but in the "wet" form that some manufacturers use for processing the different ways in which marijuana products are now sold. He said the new plan is designed to "make sure we're not forcing the industry (into) what would be a labor-intensive process of drying and trimming" marijuana plants.
A new penalty method – an option for a tax department-imposed fine instead of potential criminal sanctions – for some illicit marijuana operators. He said the idea gives some "flexibility" for the state to try to reduce the illegal drug market. "This is a way to make sure we have proper incentives for people to operate in the legal market,'' Birenbaum said. The idea is also being considered in Massachusetts and California.
Arising out of the lung illnesses and deaths that began surfacing last summer among some people who used marijuana through vaping, Birenbaum said Cuomo's new budget plan also includes new power for the state to regulate everything from consumer packaging to specific kinds of vaping devices. It will also deal with issues surrounding accidental ingestion that can occur with marijuana candies and marketing or product designs that could appeal to teens or children. The new proposal explicitly gives the state authority over marijuana marketing and advertising programs.
New provisions to provide parity between existing alcohol impaired driving laws so that police could take similar enforcement actions – such as administrative suspension of a driver's license – when breathalyzer-type products are on the market to test people who are suspected of driving high. Such devices, Birenbaum said, are expected to be on the market in one to two years. Additional traffic safety provisions are also contained in the new plan to increase resources to law enforcement.
The new Cuomo budget plan has also amended his 2019 proposal to provide additional ways for the new cannabis office to drive money to low-income communities, such as through priority marijuana distribution or sales licensing for people or companies from such areas.
The Cuomo administration believes it would take 18 months before any legal marijuana sales would occur in New York State, if the governor and lawmakers agree on a package this year. The governor's new budget, however, banks on receiving $20 million in the coming fiscal year and $63 million the year after.
State budget officials said the revenues are expected as licensing fees from existing medical marijuana operators who would be permitted to join a broader, adult-use marketplace.
Besides revenue distribution concerns by lawmakers as an obstacle to Cuomo's new effort, opponents to legalization are gearing up for another effort to halt the push. They include law enforcement, a trade group for doctors, an association of county health commissioners and the state PTA, among others. They say supporters have failed to take into account a whole series of public safety, health and societal harms that will come with legalization, not to mention a thriving illicit market that would lure people to marijuana with cheaper, untaxed products.
"Increases in marijuana-impaired driving and fatalities, thriving black markets, sustained social injustice and increased youth use are just a handful of the ill effects commercialization breeds. And no matter how many states try, pot does not bring the promised 'windfall' of revenue," said Kevin Sabet, president of Smart Approaches to Marijuana, an anti-legalization group, in a written statement last week.
A new Siena College poll out last week said 58% of New Yorkers now support marijuana legalization, with 28% opposed. The responses are sharply divided along partisan lines: 69% of Democrats say they support it, while only 31% of Republicans favor legalization. Among independent voters, 61% say marijuana should be legalized in New York, the poll found.
Get local news delivered to your inbox!
Subscribe to our Daily Headlines newsletter.