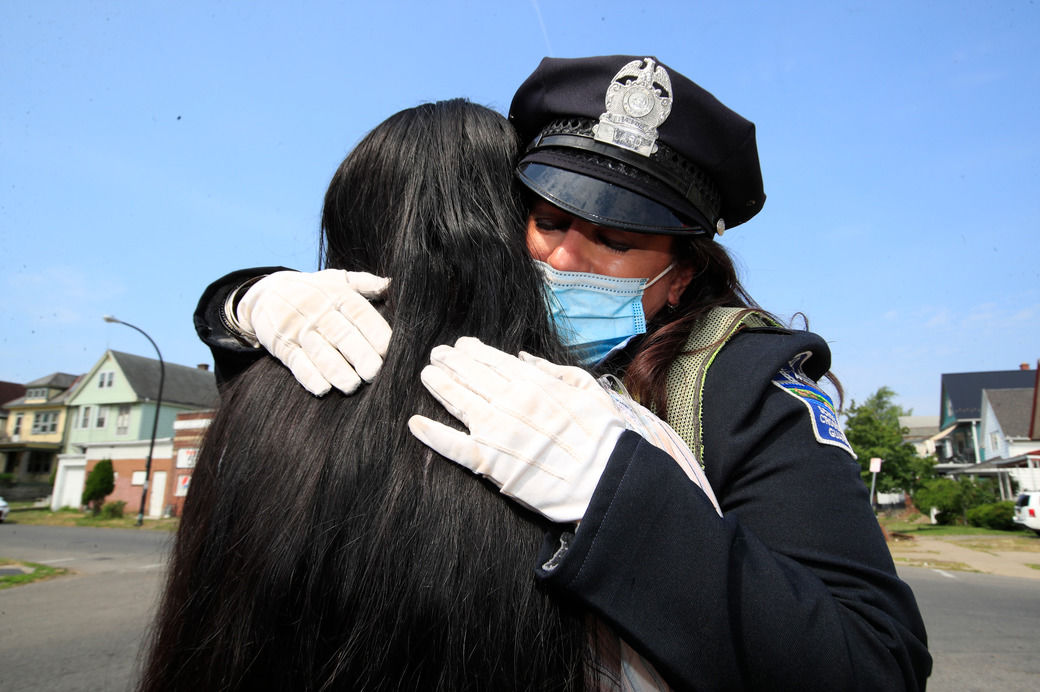 In her 11 years as a crossing guard, Gina Tomaselli-Hernandez has worked through sleet, blizzards, rain and hail, all in the name of ensuring the safety of children walking across Auburn Avenue and Hoyt Street to Buffalo Public International School 45.
This week, she also had to work through her emotions to say farewell to her students, including one who has become like a family member. But she came through again.
On Monday, the 51-year-old mother of two was up before dawn preparing for the drive-by graduations of 111 eighth-graders. It would be the first time she would see the children since mid-March, when Buffalo closed its public schools due to Covid-19.
It would also be the last, and even though she was not working, Tomaselli-Hernandez dressed in her uniform and reported to her post just to say goodbye to "her kids." By her side was a bucket of roses and on the hood of her vehicle a big box of Tootsie Pops to give to the graduates.
"I never thought it would be that special, actually," she said. "You're seeing these kids every day, and they look for you and you look for them. You could have the worst day ever, and when you get to that corner, you know you'll feel better by the time you leave."
More than 70 countries are represented and 40 languages are spoken at International School 45 at 141 Hoyt St. In addition to English, the top five languages among the school's 1,115 students are Karen, Arabic, Somali, Burmese and Nepali, according to information on the school's website.
Eighth-grader Paw Set Say, whose name means "moonflower" in her native country of Thailand, is a special graduate for Tomaselli-Hernandez. The crossing guard made her a going-away poster showing photos of Paw Set and her family since the girl started in prekindergarten at the school.
Paw Set could not stop smiling as she presented Tomaselli-Hernandez with a bouquet of flowers.
"There are a ton of memories," Paw Set said. "Like this is where I made all of my friends. I learned a lot and made mistakes. It's kind of like a second family, but it's a little sad leaving the school because this is where I grew up."
Tomaselli-Hernandez gave her young friend a bouquet of roses.
"This little girl here is my sunshine. I just adored her from the minute I saw her when she was 3 years old, and now she's 13," said Tomaselli-Hernandez, who has treated Paw Set and her siblings to many outings.
She's taken the children to their first movie, "Sing." She's also taken them for ice cream, to play miniature golf and she's had them to her house to go swimming. "They tell me that it's better than a birthday party," Tomaselli-Hernandez said.
Tomaselli-Hernandez never expected she would become a crossing guard. She had worked in banking for 12 years but stopped when she and her husband started their family. After her boys were in school, she took a part-time job as a teacher's assistant at St. Mark's Elementary School.
One morning, a crossing guard on the street caught her eye, and she thought of her days at Nativity School and a crossing guard named Amy. "I always loved my crossing guard. She was the best," recalled Tomaselli-Hernandez.
Tomaselli-Hernandez is in her 11th year as a crossing guard. She works daily from 8:30 to 9:10 a.m. and from 3:30 to 4 p.m. On Monday, as she stood on the corner, many vehicles with graduates participating in the drive-by celebration stopped to say goodbye.
Principal Lynn Piccirillo looked on from the graduation command post directly in front of the rambling brick school. She greeted this year's graduation with a bittersweet emotion, she said.
"This class has really been special during their career here at School 45. I came here in December 2010 when they were pre-k. Every teacher said it was a great class. Some have said it was their best class of their whole entire careers," said Piccirillo.
In addition to the diploma, each graduate received a lemon-yellow tee congratulating the "Quarantine 2020 Graduating Class."
They also got one more day with their crossing guard.
"I don't know what it is about these kids," said Tomaselli-Hernandez. "They come from all over the world. Certain ones you bond immediately with. You just click. The kids lift you. They give you a lot of hope."
Get local news delivered to your inbox!
Subscribe to our Daily Headlines newsletter.