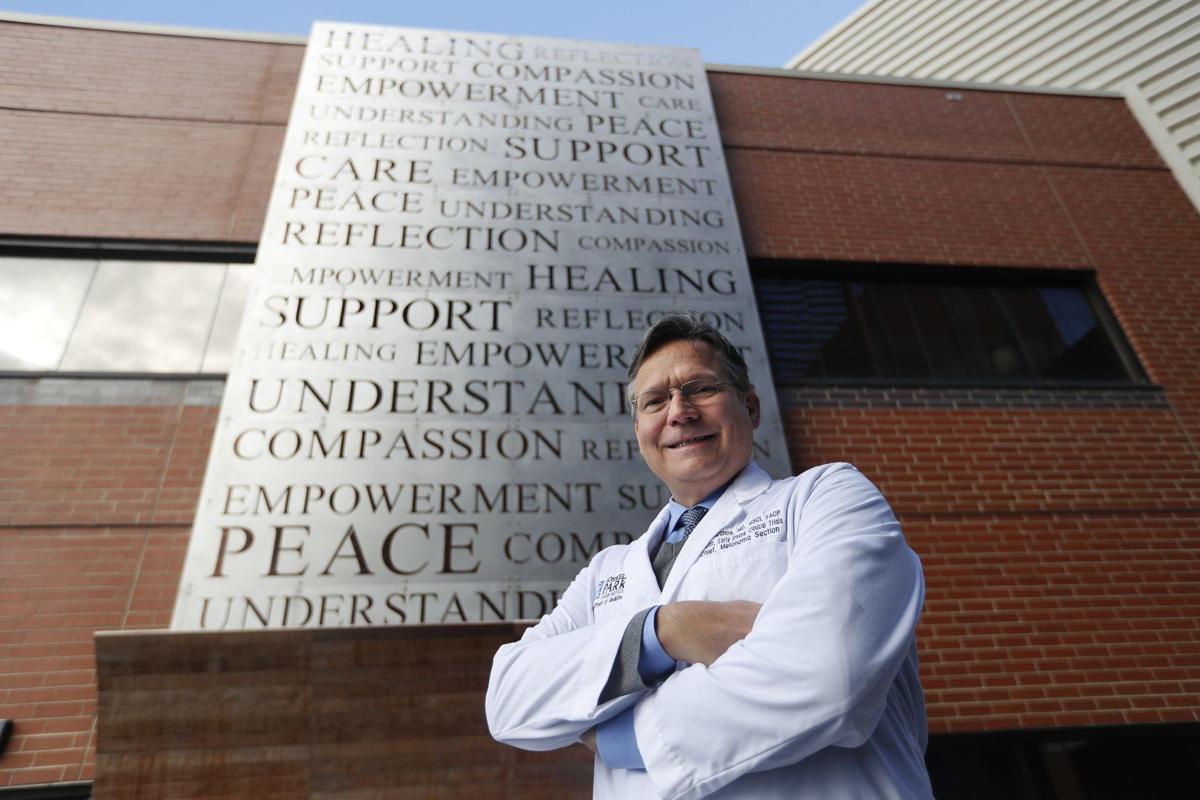 Critically ill Covid-19 patients at Buffalo hospitals will start receiving an experimental treatment involving an arthritis drug that showed promise in bringing some patients back from the brink of death in China.
The Food and Drug Administration Wednesday gave permission to researchers at Roswell Park Comprehensive Cancer Center and the University at Buffalo to help lead a clinical trial study of the drug, sarilumab, which they hope will prevent inflammation that chokes off breathing for those on ventilators.
"We literally heard about this study on Saturday, and what normally takes six months took a matter of four days with an incredible effort," said Dr. Timothy Murphy, one of several leading researchers involved in the effort.
Hospitals in the Buffalo Niagara region are among a select few in the U.S., Italy, Spain, Germany, France, Canada and Russia that will initially test the drug on patients with Covid-19, according to drug manufacturer Regeneron Pharmaceuticals Inc. of Tarrytown, N.Y.
The initial trial will involve up to 400 patients worldwide, including those at Buffalo General Medical Center, Erie County Medical Center and Millard Fillmore Suburban Hospital.
Sarilumab (brand name Kevzara), an injectable drug, treats rheumatoid arthritis by blocking an inflammatory response. Researchers hope it will short-circuit the way the body's immune system overreacts to the novel coronavirus, inflaming the lungs, causing pneumonia and, in the most severe cases, causing a deadly condition called acute respiratory distress syndrome.
The existing drug now becomes one of several that doctors in intensive care units across the world have started to give patients in last-ditch, life-saving efforts.
"There are probably dozens of drugs being tested. Most researchers are probably taking an anti-viral approach as opposed to an anti-inflammatory approach," said Murphy, a SUNY distinguished professor and senior associate dean for clinical and translational research at the UB Jacobs School of Medicine and Biomedical Sciences.
Dr. Igor Puzanov, director of the Early Phase Clinical Trials Program at Roswell Park, and Gene Morse, a distinguished UB pharmacy professor, will lead the trial in the Buffalo Niagara region.
Puzanov is a nationally known cancer researcher. Morse is co-director of the SUNY Global Health Institute and director of the UB Center for Integrated Global Biomedical Sciences.
Four of five patients that health providers deem eligible for the study will get the drug. Two will receive 200 milligrams of sarilumab, two will get 400 milligrams and a fifth will receive a placebo. If results show it works at one of those dosages, a greater number of patients will start receiving the drug.
The effort is being launched after Chinese researchers described giving about 20 patients the drug with good results, a number far too small for scientists to see the treatment as something that should immediately become widespread.
Those who treat the most serious Covid-19 cases describe some patients who improve slightly, then face an overexuberant inflammatory reaction that researchers suspect sarilumab may be able to address.
"There are probably 40 or 50 patients right now in the Kaleida Health facilities that would be eligible for this trial right now," said Murphy, an internist who specializes in infectious diseases.
He leads the UB Clinical and Translational Research Center on the Buffalo Niagara Medical Campus. The center functions as the hub of the Buffalo Translational Consortium, comprising the five university health sciences schools, Roswell Park, clinical partners UBMD, Kaleida Health, Erie County Medical Center and the Veterans Affairs Medical Center in Buffalo, along with several specialized research institutes and community partners.
The National Institutes of Health announced in February that it awarded nearly $22 million to continue the momentum of this five-year-old effort for another half decade.
Roughly three-quarters of all research studies never reach completion, often because of a lack of research participants, Murphy said.
"From the time that a first drug target is identified to FDA approval generally takes an average of 14 years and costs $1 billion to $2 billion – with a 95% failure rate of those initial targets," he added.
Because sarilumab is an existing drug – and Covid-19 wreaks havoc as part of a global epidemic – the Buffalo researchers, along with others around the world, say existing drugs used to treat other conditions could potentially stop the novel coronavirus more quickly.
Morse said new drugs generally are tested first in laboratory cultures, move to animal studies and then are used in a growing number of patients to determine that the treatment outweighs side effects and other challenges over time.
Side effects such as serious liver and kidney disease are less likely in this case because the drug already has gone through rigorous study for treatment of arthritis, the regional researchers said, but unintended consequences remain, which is why the study still needs to be expedited carefully.
A data safety monitoring board will gauge the progress of sarilumab and other drug treatments as they are given to hospital patients.
The drug treatments that show promise with acceptable side effects would become more widely manufactured and distributed in a process would still likely take several months, Murphy said.
"This is a different circumstance," he said. "But it also shows that when people put their mind to it, and when there's a collaborative effort, they will to try to come up with something that will benefit our community and change this pandemic."