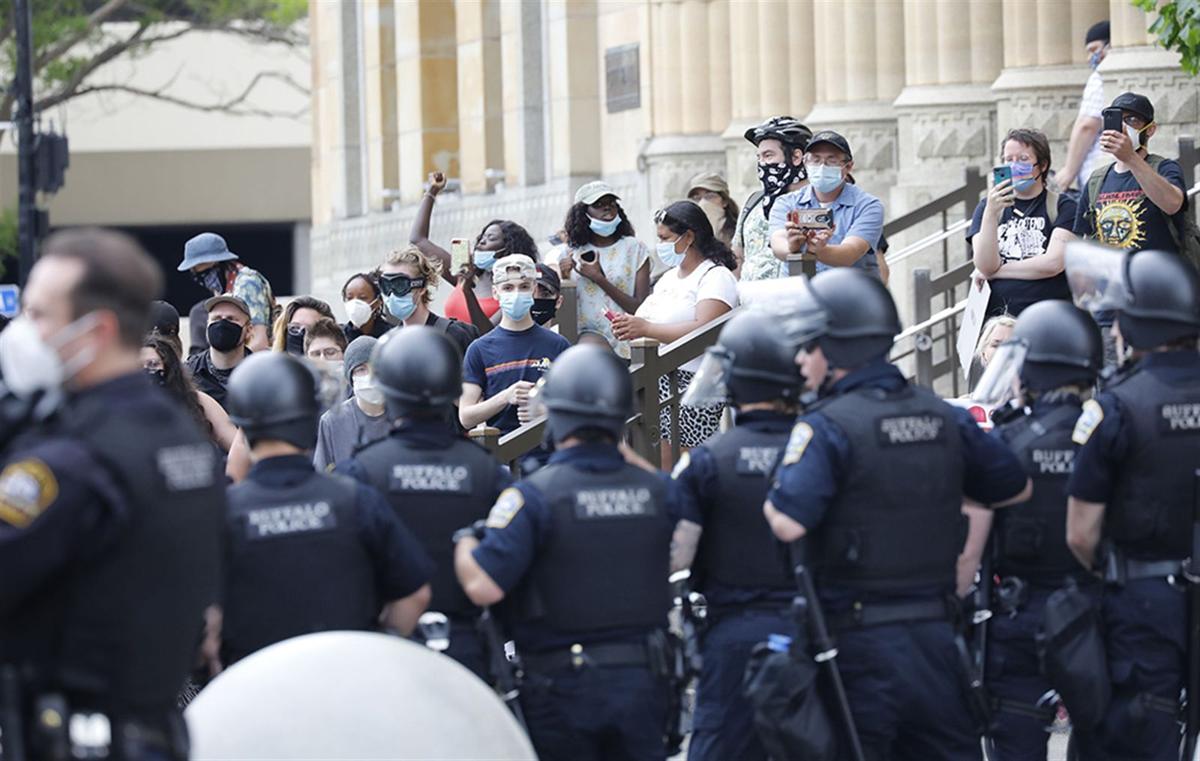 That left the Buffalo Police Department without a dedicated riot squad.
Then on Jan. 6, the world watched in horror as hundreds of President Trump's supporters stormed the Capitol building as Congress met to certify the election. Police were overwhelmed and five people were killed, including a police officer who was hit in the head with a fire extinguisher.
While there's no indication of specific, imminent threats in the Buffalo area related to the Capitol attack, the city and region has been the site of numerous protests of all varieties since the beginning of the pandemic, from groups demanding an end of Covid-19 restrictions on businesses to Black Lives Matter demonstrations against police brutality and racism. On a few occasions, the protests have taken a violent turn.
Demonstrators joining in nationwide protests against police brutality occupied Niagara Square Saturday before spreading to other neighborhoods late into the
But with no ERT, is Buffalo prepared for a full-scale riot?
Law enforcement officials here say they are.
"We respond to threats as they arise," said Buffalo Police Capt. Jeff Rinaldo, the department's chief of staff. "Every patrol officer is properly trained in crowd control, not only at the academy level but also in-service training. Additionally, we rely on mutual aid from outside agencies, local, county, state and federal agencies to assist us as needed."
The department routinely coordinates with other local law enforcement, from the Erie County Sheriff's Office and State Police to federal agencies, Rinaldo said.
U.S. Attorney James P. Kennedy Jr. said all levels of law enforcement based in Buffalo have been in daily contact with each other about possible threats as well as information from the public about people suspected of having taken part in the siege on the Capitol.
Starting Friday and through "at least" President-elect Joe Biden's inauguration on Jan. 20, the FBI Buffalo office will have a command post to monitor any potential violent activity related to the inauguration or other protests.
"It's not a matter of one side or the other. It's anybody that might commit a crime," Kennedy said.
"We will continue to monitor activity, as we have been doing throughout, by going through all the social media, monitoring certain individuals, just making sure nothing nefarious happens," Kennedy said. "People have their First Amendment rights and we respect that ... However, we will not tolerate acts of violence."
On the night of June 4, as protests in Buffalo sparked by the death of George Floyd in Minneapolis had begun to calm down, Buffalo police officers and state police in riot gear were clearing Niagara Square. The citywide 8 p.m. curfew had gone into effect a few minutes earlier.
In front of City Hall, Martin Gugino, a 75-year-old protester, approached the police, who then pushed him. Gugino fell backward and hit his head, leaving him with a cracked skull. The incident was captured on video by a WBFO reporter and posted to Twitter, where it was viewed by millions around the world, drawing swift condemnation. Two Buffalo police officers, Aaron Torgalski and Robert McCabe, were suspended without pay that night, and the officers were later charged with felony counts of assault. The cases are still pending in court.
On June 5, the union representing Buffalo police officers told its rank-and-file members that the union would no longer pay for legal fees to defend police officers related to the protests, in particular members of the Emergency Response Team and SWAT team. The union was upset with the treatment of the two suspended officers and blamed police department leadership, especially Deputy Commissioner Joseph Gramaglia, for ordering Niagara Square to be cleared.
That prompted all 57 members of the Emergency Response Team to resign from the unit. They did not quit the department. Members of the ERT had received special training in crowd control, including riots and protests.
After that, Buffalo Police scaled back its visible response to protests.
Seven months later, there is still no Emergency Response Team and there appear to be no plans to bring it back.
But Buffalo police officials say they are ready to handle out-of-control situations. Rinaldo said that the former members of the unit are still police officers. 
"They still have that training. They can be called upon in the event that something happens. It's not like they suddenly forgot their training," Rinaldo said.
Also, the gear that the ERT members had used, including helmets and shields, have been reallocated to the department's five police districts to be used by patrol officers, he said.
John Evans, the president of the Buffalo Police Benevolence Association, said in the event of a "catastrophic situation" the other officers would look to former ERT member "for guidance, for leadership."
He also said it is quite likely state police would be brought in to assist.
The Erie County Sheriff's Office is "ready and able to assist area law enforcement agencies, similar to last summer, if an incident arises," said Scott Patronik, chief of special services, in a statement.
Kennedy said the community should feel confident that law enforcement agencies in Buffalo are closely monitoring for potential violence.
"I would say we're always concerned about the safety of our community but we'd be foolish not to take notice of the events of last week and to act upon them," he said.