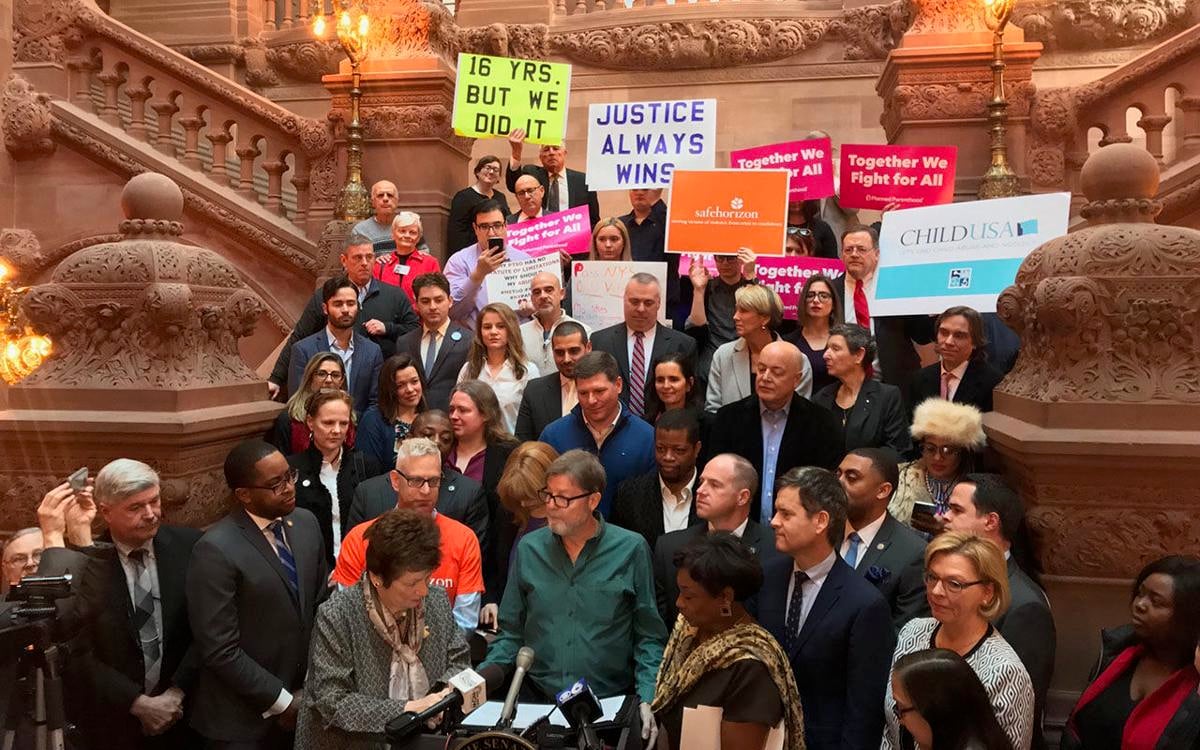 The Child Victims Act languished for more than a decade in a Republican-controlled New York State Senate. But as soon as Democrats won a Senate majority in November, the bill moved to the fast track.
It passed both the Senate and the Assembly on Jan. 28, just two weeks into the 2019 legislative session. When signed into law, the Child Victims Act will extend the statute of limitations for prosecuting child molesters and suspend it altogether for one year in civil cases.
The complicated legislation prompts lots of questions. Here are some answers.
What does the Child Victims Act mean for childhood victims of sexual abuse?
The current statute of limitations in sex abuse cases in New York allows childhood victims of abuse until their 23rd birthday to sue their abusers or the institution that employed their abuser. Under the Child Victims Act, the age will change to 55. What's more, childhood victims who didn't previously sue by the time they were 23 will now have a limited opportunity to do so.
That's a response to evolving understandings of how difficult it is for many victims to come to terms with the abuse until years, even decades, later. A 2018 German study of 165 childhood sex abuse victims found that, on average, it took 24 years from the time of the abuse to disclose it to anyone. Another German study in 2014 of 1,050 childhood victims found the average age for reporting the abuse was 52.
When will victims who were previously time-barred from suing be allowed to sue?
Gov. Andrew M. Cuomo said he will sign the bill into law. Six months from the date he does, victims will get a one-year "look-back" period to file lawsuits.
What other states have opened look-back windows allowing childhood victims abuse to sue?
Nine states have enacted some form of window legislation, according to Child USA, a Philadelphia-based organization that advocates for statute of limitation reforms and other legal changes aimed at protecting children. Those states are: California, Connecticut, Delaware, Georgia, Hawaii, Massachusetts, Michigan, Minnesota and Utah.
The legislation varied. For example, Michigan in 2018 enacted a statute of limitations waiver that allowed victims of Larry Nassar, the USA gymnastics national team physician convicted on sex assault charges, 90 days to file a lawsuit, while Connecticut's 2010 law revived expired sex abuse claims up to a victim's 48th birthday.
What institutions might get sued?
Pretty much any organization that works with children and had a child molester as an employee or volunteer, including churches, public and private schools, the Boy Scouts, day care centers, etc.
Does the Child Victims Act make it easier for victims to win lawsuits?
The legislation will make it possible for some victims to sue when that possibility didn't exist before. However, it doesn't lessen the burden of proof victims must meet in convincing a jury that they were sexually abused and that a diocese knew or should have known that a priest was a molester. Liability still must be proven by a "fair preponderance of the evidence." It's a lower threshold than "beyond a reasonable doubt" in criminal cases. Winners in civil cases present evidence that is more persuasive than what the other side presents.
Nonetheless, critics of suspending the statute of limitations for a year worry that institutions like the Catholic Church will be defenseless against victims alleging abuse from 50 years ago or more, when witnesses who could contradict the claims are deceased and written records no longer exist.
Some legislators said the Child Victims Act will cause Catholic dioceses in New York to file for bankruptcy. Is this correct?
It's possible, but far from certain. Since 2003, several states adopted legislation similar to New York's Child Victims Act. Nineteen dioceses filed for Chapter 11 bankruptcy or declared their intention to file, due to the size of sex abuse claims they faced, according to BishopAccountability.org, a website that chronicles the Catholic Church's scandal. Minnesota, for example, adopted a three-year window for bringing old sex abuse cases. The window closed in 2016, and five of the six dioceses in Minnesota have filed for bankruptcy or intend to do so.
What makes dioceses in New York different from dioceses in other states that filed for bankruptcy protection?
The biggest difference is that dioceses in New York in recent years introduced a new way to shield themselves from the prospect of big jury awards when they established compensation programs for victims.  The programs give money to childhood victims of clergy sex who qualify. In return, those victims sign away their rights to sue the diocese.
The Archdiocese of New York City, the dioceses of Rockville Center, Brooklyn, Syracuse and Ogdensburg so far have paid out $200 million to nearly 1,000 victims. So those are nearly 1,000 victims diverted from filing potentially much more expensive lawsuits.
What about the Buffalo Diocese and its compensation program?
The Buffalo Diocese last March announced its program, which is ongoing. The News has learned that the diocese so far has offered at least 50 people about $8.2 million in its compensation program. It's not clear yet how many of those awards have been or will be accepted.
When asked in November about the prospect of bankruptcy, Bishop Richard J. Malone said it was unlikely, "because we have hopefully the resources to be able to handle those claims."
Will parishioner donations be used to pay compensation and lawsuits?
Indirectly, yes. The Archdiocese of New York City took out a $100 million loan to cover the cost of its claims. The archdiocese will rely on the generosity of donors to pay off the loan. Meanwhile, Malone has said the Buffalo Diocese will use investment and self-insurance reserves for its program, while also selling the longtime bishop's residence and another valuable downtown property. Both properties are under contract, but the sales haven't been finalized.
All of those sources for the compensation awards trace back to the wallets and pocketbooks of people in the pews. The diocese's self-insurance plan and its premiums for excess liability coverage are funded primarily by contributions from parishioners. Its investments grew out of parishioner gifts. And its buildings were constructed, purchased or donated thanks to the generosity of Catholic donors.
How many lawsuits are likely to be filed against the Buffalo Diocese or other dioceses?
We don't know how many children were sexually abused by Catholic priests working in dioceses in New York. It's possible that despite the compensation programs, many lawsuits will surface.  The Buffalo Diocese might be particularly susceptible to more lawsuits because Malone has given no indication he will broaden its compensation program.
In addition, some victims already have indicated that instead of a quick settlement, they're more interested in using the courts to force dioceses into revealing how they protected and covered for abusive priests. Their lawyers can subpoena church documents that dioceses in New York have been able to keep under wraps for decades.