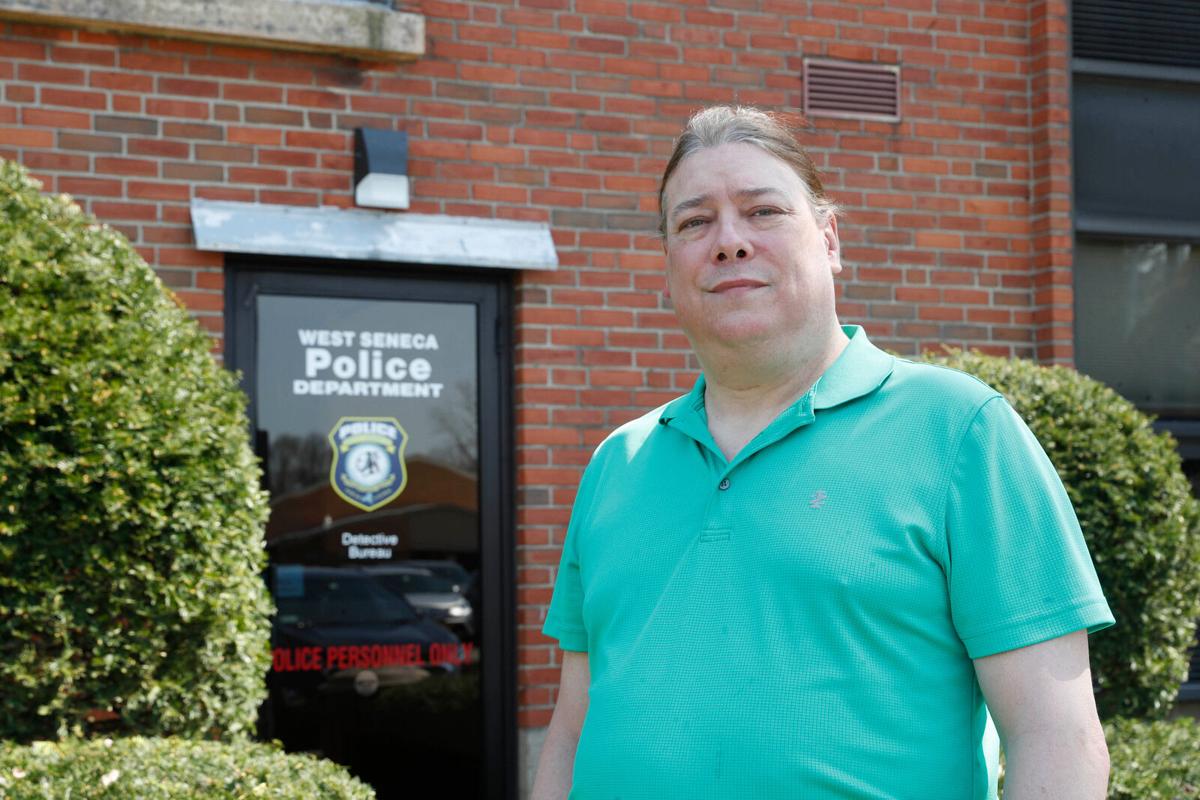 Moments after a postal carrier delivered a package to his West Seneca home, John R. Andrews Jr. was face to face with a garage full of police and federal agents.
Inside his piece of mail was a legal accessory for a gun.
At the time, in January 2020, Andrews ran a business selling partially assembled firearms.
After police found guns and some gun parts in a raid of his home, Andrews spent a year fighting six felony charges.
But Andrews now is a free man – and planning a civil rights lawsuit – after a State Supreme Court judge ruled law enforcement officers were reckless in how they got the search warrant they used to enter his home.
Any American who cares about the Constitution "should be very concerned about that," said R. Anthony Rupp III, Andrews' civil attorney.
Partially assembled firearms form the basis of so-called "ghost guns," functional-yet-typically-untraceable firearms because they lack serial numbers that allow them to be tracked by law enforcement agencies. Making and selling partially assembled firearms – usually sold as "80% receivers," meaning 80% complete – is legal because they aren't considered to be firearms under state and federal law.
Earlier this month, President Biden announced a series of executive actions on guns, including a move to crack down on ghost guns.
Proposed state legislation in Albany would make it illegal for anyone besides a licensed gun dealer to possess a ghost gun. It would also require purchasers to be subject to background checks.
The gun accessory Andrews got in the mail was a solvent trap, which can be converted into what is known as a silencer or suppressor.
Traps and silencers 'remarkably similar'
Andrews, 52, said he bought the solvent trap in early November 2019 after seeing an ad online.
"I'm like, 'Oh, cool.' It was 29 bucks for it," he said. "So I said, 'Well, that would be interesting and be something I could use for my gun cleaning.' "
Solvent traps are cylindrical firearms accessories with an opening on one end that are used to collect fluid during the process of cleaning a gun. They are legal to possess.
But with some work, the items can be turned into silencers, used to muffle the sound of a gunshot.
Silencers are illegal to possess in New York State. In states where possessing a silencer is legal, federal law requires an application and approval by the Bureau of Alcohol, Tobacco, Firearms and Explosives before a person can legally convert a solvent trap into one.
ATF approval is also required before a person can legally make his or her own silencer or suppressor.
There were 285,087 federally registered silencers in the United States in 2010, a number that grew to more than 2 million by April 2020, according to the office of U.S. Sen. Dianne Feinstein, D-Calif.
The online market for "de facto" silencers was booming in 2019, according to a report by the Trace, a nonprofit journalism outlet focused on gun violence issues, and the Verge, a technology news site. Purchasing a solvent trap and turning it into a silencer is a quicker alternative to waiting for federal approval, according to the report.
A 2017 report by the Trace said the ATF was shutting down websites that sold solvent traps.
Solvent traps and silencers are "remarkably similar," and converting a solvent trap into something that works like a silencer requires "someone with minimal machine skills" to drill a hole in one end, said Eric Murray, public information officer with the ATF's New York Field Division.
"I wouldn't say it's particularly difficult," Murray said.
Andrews' online order, shipped from China, was flagged by Customs and Border Protection agents in California, according to a West Seneca police report.
The shipping label described the package's contents as a "gear shift knob." Federal authorities deemed it to be a silencer and contacted West Seneca police. They set up plans to make a "controlled delivery" of the package to Andrews' residence.
That happened early in the afternoon of Jan. 7, 2020. Police came armed with a search warrant from West Seneca Town Justice Shannon Filbert. In addition to West Seneca police, there were agents from Homeland Security Investigations, ATF, Immigration and Customs Enforcement and the U.S. Postal Inspector's Office, according to the town police report.
Shortly after the mail carrier handed Andrews his delivery and he went back in the house, there was a loud knock on the front door.
When police went inside the Queens Drive home, they found guns that served as the basis for eight felony weapons possession charges against Andrews.
The problem with the warrant a West Seneca police detective got for Andrews' home, which was based on information supplied by federal agencies, was this: they told a town justice Andrews was getting a "silencer" shipped to him, not a solvent trap.
"The choice of words used by the police in the application were persuasive and wrong," Justice Christopher J. Burns wrote in his Jan. 14 decision. "As a result, this court must find there was a reckless disregard for the true nature of the item and must suppress any items recovered through the search warrant."
Homeland Security Investigations and West Seneca police officials declined comment for this story.
After initially being charged with eight felony counts of weapons possession, an Erie County grand jury indicted Andrews on six gun felony charges. After initially facing two charges for possessing silencers, a grand jury did not indict on those charges.
Andrews also has prior misdemeanor convictions, at least one of which would typically preclude him from legally owning a gun in New York State.
In New York State, some misdemeanor convictions considered "serious offenses" prohibit gun ownership.
But Andrews and his attorney said they have a certificate of relief from disabilities, a form obtained through the courts, which restored his gun ownership rights.
After Burns decided the search warrant was invalid, he dismissed the criminal case on Feb. 16.
Andrews and his attorney say they don't know what was really behind federal agents and police showing up at Andrews' home.
"I do think that ATF and Homeland Security have decided that people who buy these solvent traps are very good candidates to be people who might have guns or be intending to do something with them," Rupp said.
Andrews is also still trying to get his guns and gun parts back from West Seneca police. He plans a separate lawsuit for that purpose.