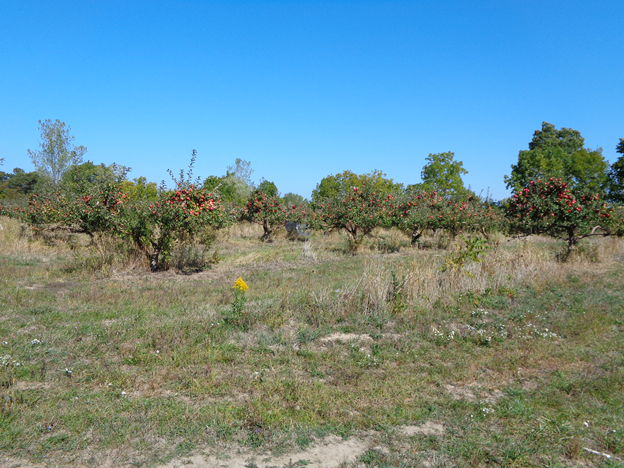 Last month, workers headed out to one of Sanger Farms' apple orchards to pick Honeycrisp apples. 
When they arrived, about half of the apples were gone.
"We were shocked," said Mike Tuck, who owns the Lockport Road farm in Youngstown of Niagara County.
The larceny of what Tuck estimates was at least $5,000 worth of apples is currently being investigated by the New York State Police. 
The theft occurred between Sept. 7, when they were last sprayed for insects, and Sept. 21. 
"My pickers that I hired went to go out to pick them on Sept. 21, and I went out to check on them and see their progress," Tuck said. 
"When I got there, they said, 'When did you pick the bottom apples?'
The apples on the bottom of the trees apparently had been picked by thieves walking through the 120-tree orchard, which left only the apples at the top of the trees, which are about 10 feet tall and require a ladder to pick.
"This is the first time this has ever happened to me," said Tuck, 59, who bought the family farm with his late wife, Sandra, from his late father-in-law, Glenn Sanger, in 2013.
Tuck said that the honeycrisp orchard usually yielded enough apples to fill 13 to 15 totes, each about 4-feet high. 
"We only filled up eight this year," he said. 
Each tote holds about 800 to 900 pounds of Honeycrisp apples, Tuck said, which translates to about 40 half-bushel baskets per tote. Tuck sells the Honeycrisp apples at $30 per half-bushel, for $1,200 per tote. 
Tuck estimated his loss as at least $5,000, since the total amount varies yearly.
The area of the farm where the orchard is located is not open to the public and is about a half-mile from the main building. 
"You've got to understand how far away from our main building this orchard is – my father-in-law planted it that way," Tuck said. "The public doesn't know it's there." 
Tuck said that a neighbor mentioned – after the larceny – that he saw a vehicles' headlights out near the orchard one night, but they thought it was farm workers.   
Tuck said he believes the thieves visited on multiple occasions. 
"I figure it was a couple of nights, two to three nights at least," he said. "They knew what they were doing, they knew where to go, they knew it was isolated."
State police noted in a news release that the apples were picked clean, meaning that no apples were left on the ground – which is common when the general public picks their own apples.
Tuck said whoever is behind the theft must have had some knowledge of the farm's layout.
"The road to the orchard is not easy to find or easy to travel on for a passerby or a pedestrian. You wouldn't drive down there unless you knew exactly where to go," he said, adding: "Somebody must have had a buyer or something. ... It's pretty eye-opening."
Tuck said that he will be installing poles equipped with motion detector lights and cameras at the Honeycrisp orchard. 
The State Police are asking anyone with information about this incident to contact its plainclothes detective unit, the Bureau of Criminal Investigation, at (585) 644-6200 and reference report No. 9835913.