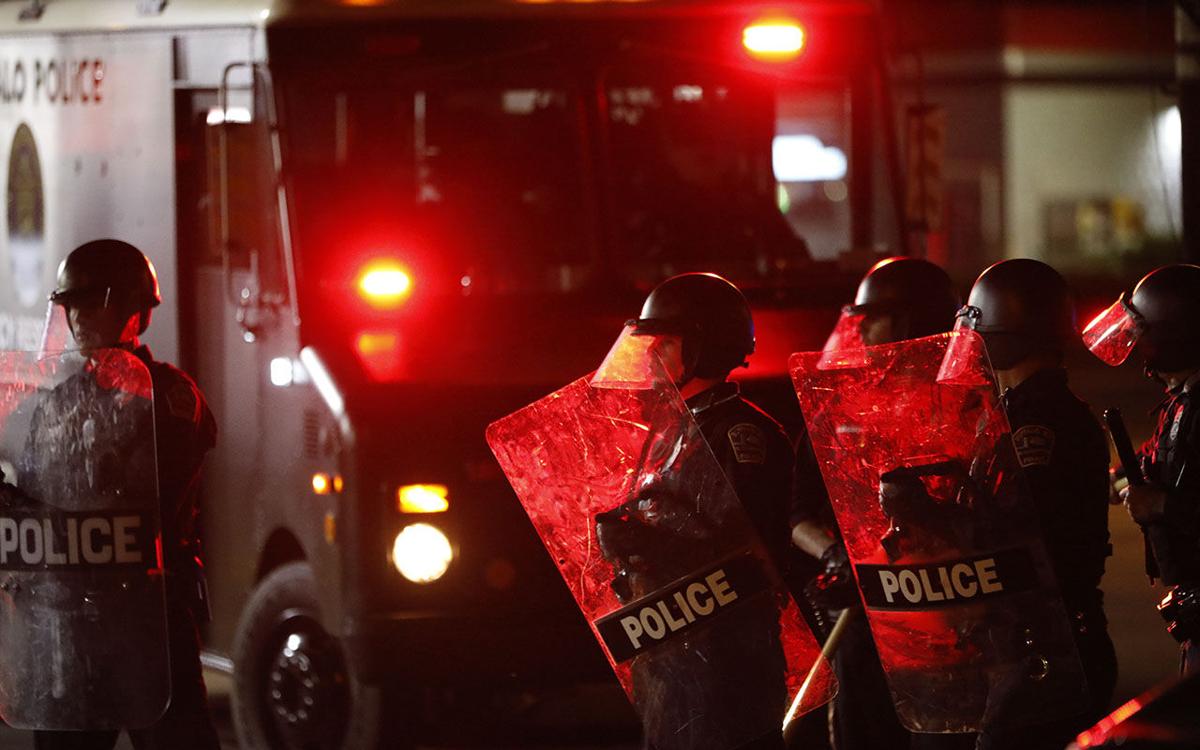 A New York State trooper who was run over in 2020 during racial justice protests on Buffalo's East Side has filed a lawsuit in state court against the Buffalo Police Department and the driver who struck him.
Trooper Ronald L. Ensminger Jr., who was seriously injured in the early morning hours of June 1, alleged that city leaders should have taken steps to ensure that peaceful protests over the murder of George Floyd did not devolve into chaotic rioting.
The female driver of an SUV has been charged with striking two state troopers and a police officer but questions remain about the
"It didn't have to get to the point that it eventually ended up at," said Ensminger's attorney, Thomas J. Grillo Jr. "There's certain standards, procedures and tactics that could have essentially curtailed the whole thing."
That night, a nonviolent march from downtown ended in front of the Buffalo Police Department's Northeast District Station on Bailey Avenue. Other people drawn to the protest stayed after the formal protest. People threw rocks toward heavily armed police who surrounded the police station, police said. Nearby, trash cans were set on fire and several stores were looted. Buffalo police and State Police in riot gear fired tear gas and formed a line across Bailey Avenue.
In a moment captured on multiple videos, the line of Buffalo police and State Police headed south on Bailey, firing pepper balls and tackling a protester as he was being interviewed by a TV news crew. During that chaos, an SUV drove through the line. 
Prosecutors say Ensminger was struck by a vehicle driven by Deyanna J. Davis, a Buffalo woman who was indicted by a grand jury earlier this year on assault charges relating to the crash.
Davis, who faces up to 25 years behind bars, was shot twice by troopers as she drove through the police line. Davis' supporters have portrayed her as a loving mother who accidentally crashed into the trooper in the chaos of the moment. Erie County District Attorney John J. Flynn Jr. has said that video evidence shows otherwise.
The Buffalo woman who has been charged with aggravated assault of a police officer for allegedly driving an SUV through a line of riot police on June 1, was shot
In papers recently filed in State Supreme Court, Ensminger's lawyer, though, said the incident could have been avoided had Buffalo police leaders taken proactive steps to engage community leaders "to apprise themselves of the underlying problems that could, would and did lead to the community unrest, protesting and eventual rioting."
Once riots began, the lawsuit alleged, Buffalo police failed to follow written policies for civil disturbances, including:
• Calling for sufficient reinforcements.
• Securing the perimeter by sealing off to traffic not only Bailey Avenue but side streets to the north and south of Bailey.
• "Rigorously" enforcing the existing curfew put into place by the mayor.
• Employing a chain of command that was "clear and unambiguous with reporting only to one superior officer."
Deyanna Davis was indicted by a grand jury on two charges of first-degree assault. If convicted, she faces up to 25 years behind bars.
"These are just not local policies," Grillo said. "These are national standards that they didn't adhere to in this particular situation."
Buffalo police spokesperson Michael J. DeGeorge did not respond to a request for comment on the lawsuit.
At the time, it was reported that Ensminger suffered a shattered pelvis and a broken leg. The lawsuit stated that the trooper was "catastrophically injured" in a way that caused parts of his head, limbs and nervous system to become disabled.
The woman accused of running over a state trooper last week as she drove through a police line at a police brutality protest was denied the right to make a phone call for four days after she was arrested, according to her mother. Deyanna Davis was shot eight times during the incident on Bailey Avenue on June 1, her
"The outlook isn't great," Grillo said. "He's been unable to return to work and it's unknown whether he'll ever be able to resume doing the job that is his passion and what he loved to do. He certainly still has a long road of recovery ahead of him."
Davis was released on $200,000 bail in March. She did not respond to a message seeking comment for this story.