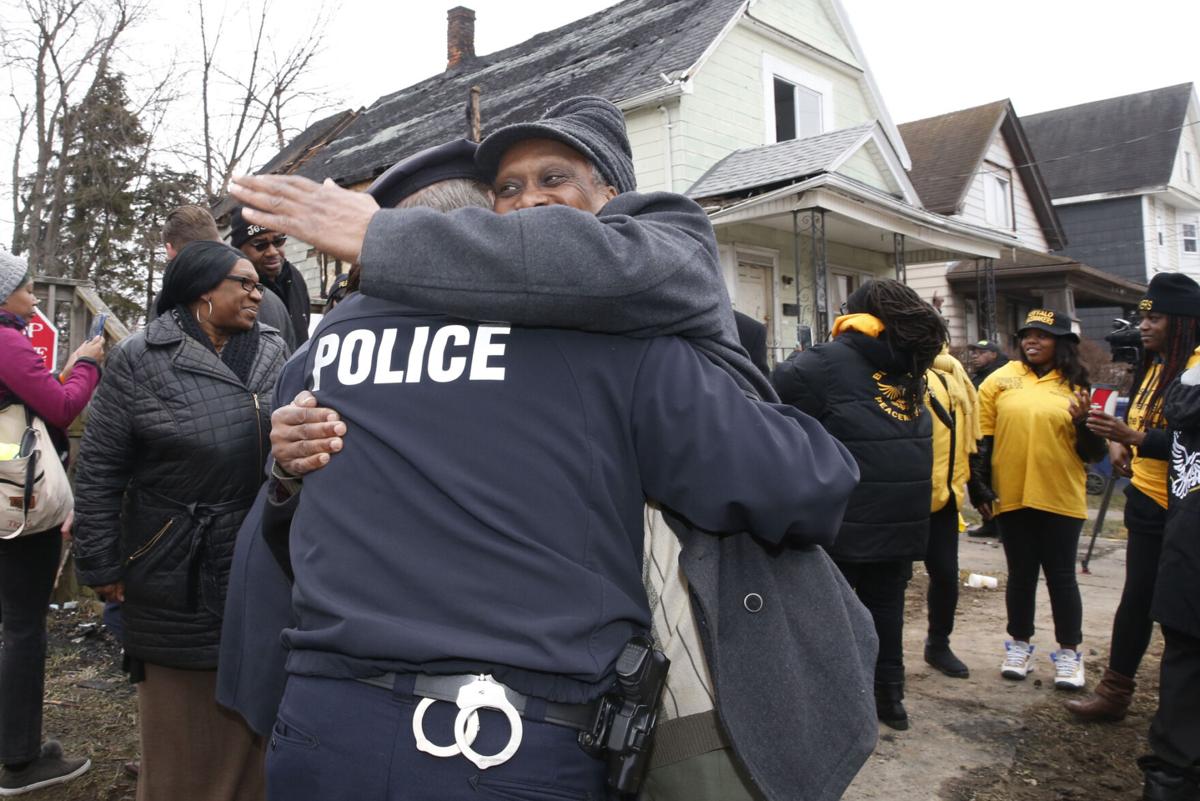 As Buffalo mourns the shooting death of a 3-year-old boy and the nation's cities grapple with an alarming rise in gun violence, politicians are increasingly aiming more dollars at community solutions, not just law enforcement.
On Wednesday, in what community leaders say is an unprecedented infusion of cash into community gun violence prevention, Rep. Brian Higgins announced that $5 million from the federal American Rescue Plan would be directed to community-based violence prevention efforts in Buffalo.
A day earlier, state lawmakers announced the Peacemakers and the Stop the Violence Coalition would receive $219,000 to allow them to increase outreach in hardest-hit neighborhoods.
On the other side of New York State, Gov. Andrew Cuomo announced a plan to provide 4,000 summer jobs for New York City youth ages 18 to 24 and renewed his vow to treat gun violence in the state's cities as a public health emergency.
"We're announcing a new partnership on gun violence … that is a holistic approach. We have targeted the hot spots – just like Covid – where you have the majority of the shootings," Cuomo said. "We're going to reach out to those youth in those hot spots with jobs, with prevention in those communities, with state resources."
And nationally, President Biden unveiled a plan in late June to combat gun violence.
In Buffalo, just like city after city, gun violence has exploded. The violence comes as the nation still grapples with the Covid-19 pandemic as well as a reckoning about race and the criminal justice system ignited by the murder of George Floyd last May by a Minneapolis police officer.
According to White House statistics, homicides in the U.S. rose 30%, and gun assaults rose 8% in large cities in 2020. The number of homicides in the first quarter of 2021 was nearly 25% higher than the number of homicides in the first quarter of 2020, and 49% higher than in the first quarter of 2019.
Community groups offer 'trusted messengers'
In Buffalo, 177 people have been wounded or killed in shootings in the first six months of the year. That's 64% higher than the average over the last decade.
Law enforcement-led initiatives are also underway. Last week, U.S. Attorney James P. Kennedy announced a new task force that brings federal and local law enforcement together for targeted enforcement focused on a small number of individuals believed to be responsible for most of the gun violence.
But politicians are also trying to bolster community efforts to address the socioeconomic factors that lead to violent crime.
The $5 million dollars announced by Higgins will be allocated to local community organizations who work as violence interrupters – people who aren't law enforcement who can mentor, counsel and mediate among young people at risk of violence.
"Trusted messengers, trusted messengers, trusted messengers," Higgins, a Buffalo Democrat, said.
The federal funding will be used by groups including Back to Basics Ministries, which oversees a network of violence interruption groups, the Buffalo Peacemakers and a program at Erie County Medical Center that provides shootings victims with an array of assistance at the hospital and as they continue their healing.
Higgins made the announcement outside the Back to Basics headquarters on William Street joined by Mayor Byron Brown and a couple dozen members of the anti-violence groups.
The scale of money being made available is far more than anything the organizations have seen.
"Never happened," Pastor James Giles told reporters after being asked if he'd seen this kind of attention or money on groups like his.
But he believes it's the key to bringing an end to the senseless violence in Buffalo that has already claimed 47 lives this year, among them Shaquelle Walker Jr., the 3-year-old who was fatally shot over the Fourth of July weekend. The city usually sees a total of 40 to 60 homicides in a whole year.
Giles said the money his program will receive will go toward putting "100 boots on the ground" – 100 more "trusted messengers" who will be properly trained and receive stipends for their community work over the next three years. 
"We cannot win this battle without the embracing of community and involving them in a very deliberate and conscientious way," Giles said. "And one of the ways to do that is to provide the resources. We believe we can eradicate violence that's going on in the community. We have some very skilled people at resolving conflict. We have some people that we call them credible or trusted messengers that can go speak to the people that are perpetrating this and say: Listen, we've got a plan for you. We've got some alternative plans. We've got alternative lifestyles for you. We got alternative objectives ... if you let us hold your hand."
Brown, who is waging a write-in campaign against the Democratic primary winner India Walton, said the city needs to combat gun violence from multiple angles. "We have to do a lot of things simultaneously. We need the community, the clergy, violence prevention groups, young people. That's what this announcement today was about – partnering with the community organizations that have been on the front lines of violence prevention and intervention."
But he also said the Buffalo police are increasing patrols, doing more community-oriented policing and conducting "shoot reviews" to fully investigate every shooting.
In New York City, Cuomo on Wednesday joined with Eric Adams, a former police officer who is on track to be the next mayor of New York City, to talk about the gun violence afflicting cities, especially Black and brown communities.
"Gun violence has not sparked the popular outrage that it should, because 77% of victims are Black and brown," Cuomo said. "Poorer communities have endured problems for much longer, which if they happened in other communities, I think there would be much less tolerance."
Adams said police can't be the only solution. "How do we do employment, youth engagement, making sure we put money into the hot spots, crisis management teams. ... How do we redefine the ecosystem of public safety so we can identify the police's role in that system," he said, "and treat gun violence like a public health emergency."
'All these murders in an election year'
In the neighborhood surrounding Ashley Street, where there was a triple homicide June 24, some residents say they feel forgotten by the city.
The area, across a set of railroad tracks from the city's Lovejoy neighborhood, has railroad tracks enclosing it on three sides.
Brian Welch, who has lived in the neighborhood about 35 years and on Mohr Street for about 10, said he hears gunfire every night.
There's some "riff-raff" in the neighborhood who cause a lot of the problems, Welch said.
"You take one away, two more come," he said.
Annette McCrayer welcomed the police department's outreach, but also wondered how much would really be accomplished with what she described as a day's worth of cutting the grass and handing out free hot dogs.
McCrayer, who has lived in a house on Swinburne Street for more than 10 years, said during last week's outreach event that her neighborhood "needs a total revamp" and won't see any improvement until "they get rid of the drug houses around here."
While there's been no shortage of people talking about what needs to be done, there's been a "lack of action" when it comes to addressing the neighborhood's problems, McCrayer said.
Crime is a huge issue, she said, noting she won't let her grandchildren leave her yard.
People who live in the neighborhood "are conditioned to this garbage," she said.
She said she's struggled to get police and city officials to help with various problems, including troublesome neighbors and shoddy sidewalks in front of her house. The unsatisfactory responses, she said, contribute to a sense of hopelessness.
"When you try to do the right thing, it doesn't mean anything," she said.
Children who go to Lincoln Park regularly encounter drug needles and people using the park to get high, said resident Annie O'Neill.
In addition to a lot of drug activity, there's also a significant amount of prostitution, as well, O'Neill said. Though she has seen an increased police presence recently and some people do feel safer, others are still scared to go outside because of the amount of crime, she said.
"It took all these murders in an election year for someone to sit there and understand that Broadway has been forgotten about," she said.
News Staff Reporter Keith McShea contributed to this report.