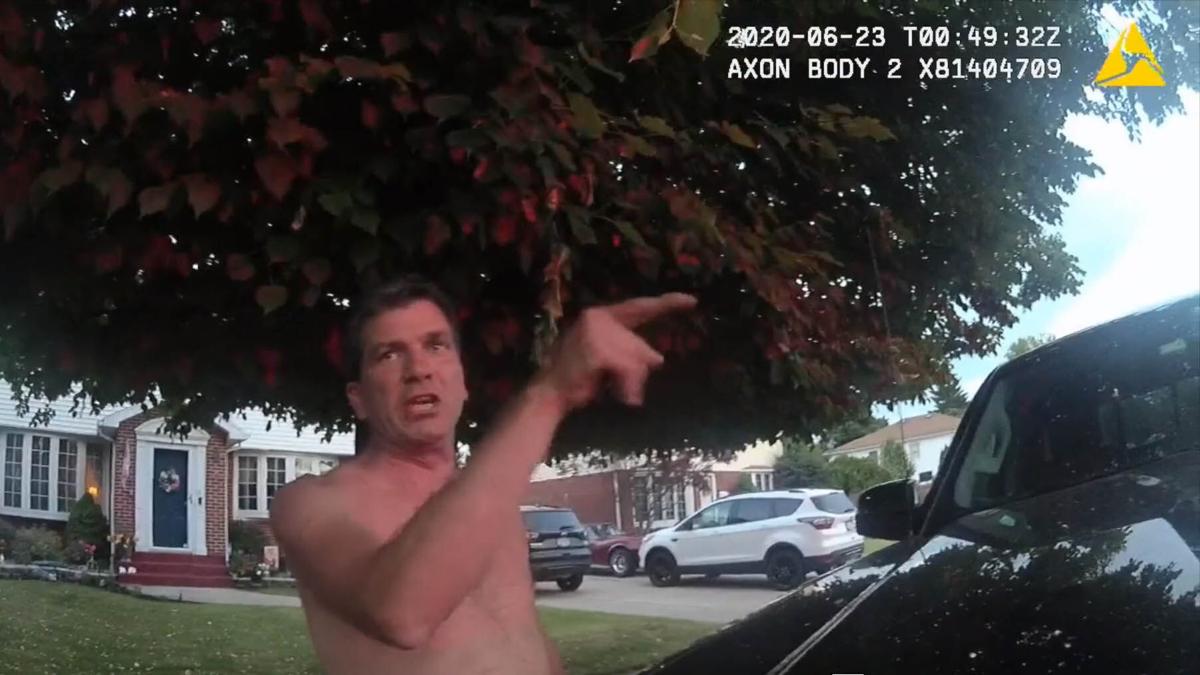 Seven judges in New York State have been disciplined in the past decade for making threats, hurling insults or asking for special treatment during encounters with police officers.
Three of those judges lost their jobs because of remarks they made to police.
Spouting profanities and dropping the names of highly placed people, the shirtless Grisanti, 56, argued with police and at one point shoved an officer who had grabbed the judge's wife, Maria, and put her in handcuffs.
No one was arrested after the fracas, which began when Grisanti called 911 about a dispute with some of his North Buffalo neighbors over street parking.
But the judge's actions and remarks were videotaped with a police body camera. The videotape was made public by a legal news wire called Law360 and several media organizations in Buffalo, including The Buffalo News.
To see what sanctions Grisanti might face, The News examined more than 200 Commission on Judicial Conduct cases, including seven against judges accused of behaving poorly during out-of-court encounters with police. 
The commission removed one of the seven judges from office. Two of them resigned under pressure.
Four of the seven judges were publicly reprimanded by the commission but allowed to keep their jobs.
If the Judicial Conduct Commission finds that Grisanti's actions constituted ethical misconduct, he could face a range of punishments, including removal from his job, which pays $210,900 a year.
Attorney Terrence M. Connors, who has represented many judges before the commission, confirmed that he represents Grisanti in connection with the misconduct probe. Connors declined to speculate on what the commission will do, but he described Grisanti as "an effective, hard-working judge with an unblemished record," who should be allowed to keep his job.
"I just hope that these few minutes, out of Mark Grisanti's entire life, do not destroy the career of a very diligent and productive judge," Connors said.
What happened to other judges
In its analysis of Commission on Judicial Conduct records, The News did not find any cases that were exactly like the Grisanti case.
But The News found seven disciplinary cases since 2010 that arose from remarks made by judges during confrontations or other interactions with police. Five of those cases involved judges who were facing arrests for driving while intoxicated.
State Judge William B. Rebolini of Long Island resigned in May, following an investigation into his actions during a 2018 DWI arrest. The commission said Rebolini "asserted his judicial office with the officer at the scene, in an attempt to avoid his arrest or other adverse consequences." The judge pleaded guilty to driving while impaired by alcohol.
A judge from Rochester City Court, Leticia Astacio, was removed from office in 2018. The commission said she was verbally abusive to the state trooper who arrested her for DWI. She was convicted of a misdemeanor DWI charge.
Astacio "aggravated the situation by her profane and angry reaction to the investigating trooper," the commission said.
"Nobody, including a judge, is above the law," added Joseph W. Belluck, the commission's chairman, after Astacio was removed from her $187,200-a-year judgeship.
In Livingston County, Nunda Town Justice James R. Mann resigned last year after admitting he intervened with police to help a former relative who was stopped for a possible DWI arrest. The driver was let go without being charged.
In Wayne County, Palmyra Town Justice William Abbott was censured last year for remarks he made to police while demanding that an officer help him get into his locked private vehicle. Abbott threatened that he would refuse to handle future arraignments for the Newark town police if the officer would not help him. Abbott admitted that he "lent the prestige of his judicial office to advance his own private interest."
Carl J. Landicino, a State Supreme Court judge from Brooklyn, was censured in 2016 for conduct during a 2012 DWI arrest.
Arrested after a trooper saw him "speeding and driving erratically," the commission said Landicino "repeatedly invoked his judicial office" in hopes of avoiding arrest. The commission said Landicino failed three sobriety field tests.
During and after his arrest he repeatedly identified himself as a judge, asking a trooper whether this is "how you treat a Supreme Court judge?"
Landicino pleaded guilty to a misdemeanor count of DWI. The commission said there was "no doubt that he was seeking favorable treatment simply because of his judicial position."
During Grisanti's videotaped altercation with police, he repeatedly dropped names in an apparent effort to persuade officers not to arrest him or his wife.
Grisanti repeatedly told officers that his daughter and son-in-law are city police officers. He also told officers that his cousin is a deputy police commissioner and that Mayor Byron W. Brown is his "good friend."
"Hey, you arrest my (expletive) wife, you're gonna be sorry," Grisanti bellowed at an officer who was handcuffing the judge's wife. "If you don't get the cuffs off her right now, you're gonna have a problem."
Although the judge was placed in handcuffs and put into a police cruiser, he was released with no criminal charges.
"You're dropping everybody's name with a badge, and you're expecting special treatment," one officer yelled at Grisanti.
Grisanti repeatedly apologized for shoving an officer, explaining that he was upset at the way his wife was treated.
There are several key differences between Grisanti's case and the seven other cases closely examined by The News.
None of the other judges was accused of shoving or touching a police officer.
The seven other judges all mentioned to police that they were judges. Grisanti invoked his connections with the mayor and others, but never told officers that he was a judge.
Grisanti's conduct was the only incident captured on a bodycam video, widely viewed by the public. 
The commission's investigators are reviewing the videotape evidence and interviewing witnesses to the altercation, two sources close to the case told The News.
If found guilty of ethical misconduct, Grisanti could be removed from his job, forced to resign, publicly sanctioned or issued a private letter of caution. If no misconduct is found, no action will be taken.
Grisanti, who handles civil lawsuits, is currently recusing himself from any cases involving Buffalo police.
Grisanti is a former state senator who was appointed to a judgeship by Gov. Andrew M. Cuomo in 2015. 
In this century, only two of New York's judges have successfully appealed an order of removal by the commission. One of those judges was a Lockport city judge represented by Connors in 2003.
Grisanti also faces scrutiny over another issue. The commission is also looking into a situation in which Grisanti handled a 2018 case involving a law firm that owed him $8,000 from the purchase of the judge's former law firm, a source close to the probe said.
Ethics regulations require judges to recuse themselves from such cases, or disclose any possible conflicts of interest to everyone involved.
Connors said he is aware of the case. "It was a case involving a default judgement that was uncontested by everyone involved," he said. "The judge was rubber-stamping a default order that was not in dispute."
Robert H. Tembeckjian, administrator of the commission, said he could not comment on Grisanti's case. Speaking generally, he said judges are required to act in an ethical manner, on and off the bench, and should always obey state laws and set a good example for others.
Tembeckjian called Connors a "tough, honorable adversary" who is one of the most experienced lawyers in the state in terms of dealing with the commission.
"When you represent a judge or a lawyer in disciplinary proceedings, there is a lot at stake," Connors said. "That includes the person's career and livelihood."