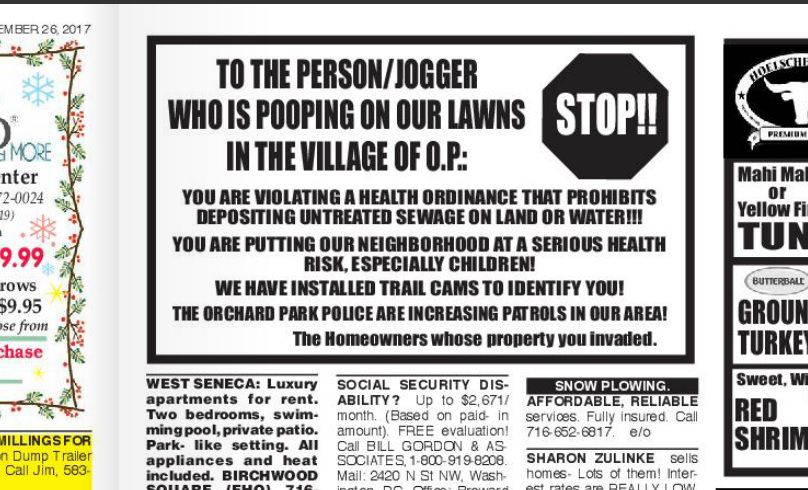 Call it a case of illegal dumping in Orchard Park.
A woman has complained to police that someone's been defecating outside her home.
And besides asking police for help, there's an advertisement in the Orchard Park PennySaver warning the culprit to stop.
"To the person/jogger who is pooping on our lawns in the Village of O.P.: STOP!!," the ad reads.
Police received a complaint Nov. 8 from a woman on Woodview Court who said she found feces and tissue outside her home, said Orchard Park police Lt. Jason M. Schiedel. The woman who registered the complaint believes the perpetrator may be a jogger and indicated that it has happened more than once, Schiedel said.
Woodview Court is a tiny street off Woodview Drive in the southeast corner of the village. There is a creek nearby but no running path in the area.
Police have only received only one complaint, though the ad in the pennysaver said multiple homeowners have been victims. The ad points to potential health code violations and claims the activity is putting people in the neighborhood, especially children, at risk.
"We have installed trail cams to identify you!" the ad reads.
A representative of RW Publications, the company that publishes the PennySaver, declined comment.
Police confirmed they have increased patrols in the area to deter anyone from the activity, but Schiedel said the threat of capturing something on camera is probably more of a deterrent in this case.
Orchard Park police occasionally respond to complaints of this nature, but it's usually associated with Buffalo Bills games at New Era Field, Schiedel said.
If someone is caught, possible criminal charges would involve public lewdness or exposure, but the person would likely have to be caught in the act, he said.
The police, he admitted, "don't have much go to on."