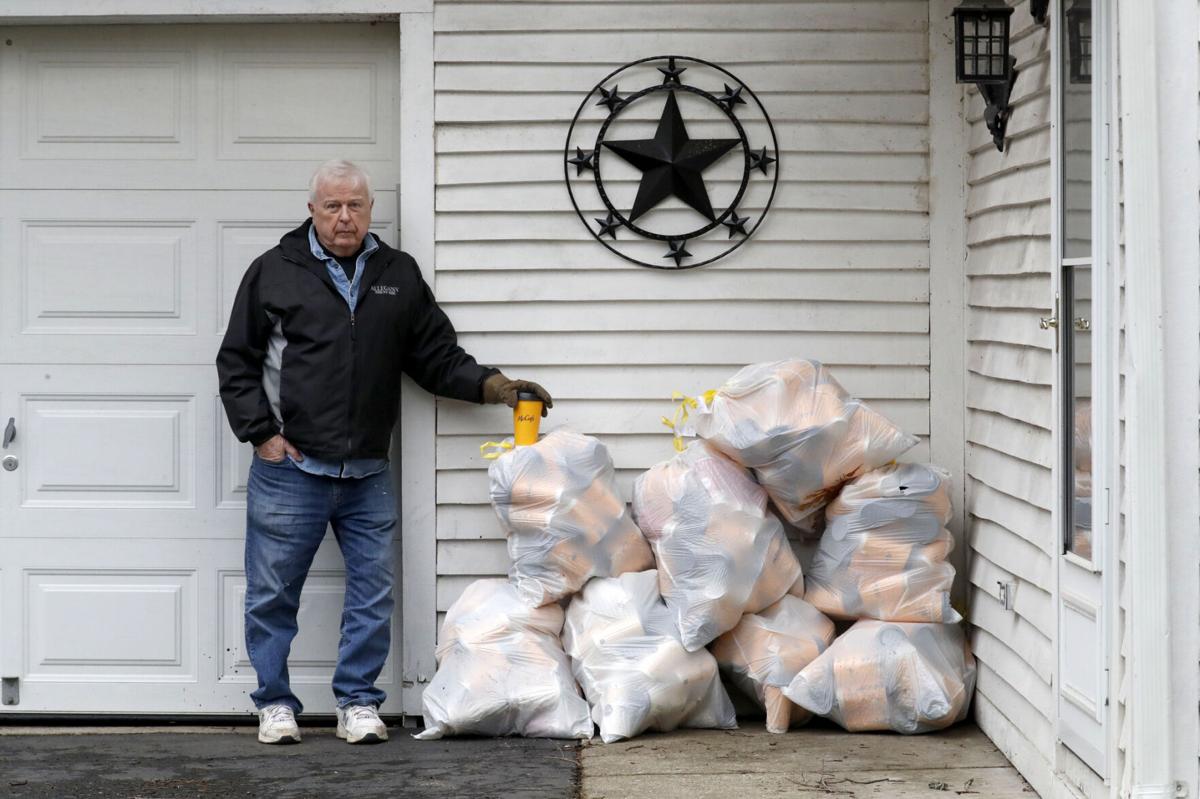 The odd case of the Lake View litterbug started three years ago. Someone driving past a home on Versailles Road in the dark of night slowed down to fling a used McDonald's coffee cup onto the edge of a front lawn before pulling away.
The driver did it over and over again, nearly every day since then, throwing one or two coffee cups, sometimes with soggy cigarette butts inside, out the window and onto the property of Edward and Cheryl Patton. The couple eventually filled 10 garbage bags with more than 300 of these coffee cups.
Edward Patton invested in security cameras and high-powered binoculars, and even waited out in the cold, to try to catch the trash-tosser in the act. But he never clearly saw the license plate number and the Pattons remained mystified at who was treating their home as a personal garbage dump – and why.
Earlier this month, some neighbors agreed to help the Pattons find out. They set up a stakeout and jotted down the license plate, which the Pattons shared with Hamburg police.
Officers set their own trap and, that night, pulled over a 76-year-old man moments after he deposited more trash at the Pattons' home.
The couple say they were shocked to learn his identity: The man cited for harassment was Cheryl Patton's former co-worker, Larry Pope, and, she told police, he had resented her for years.
"I'm flabbergasted," Edward Patton told The Buffalo News.
Edward Patton said he didn't know what to think when the first coffee cups were left on the edge of his property.
Bewilderment turned to concern as the pattern repeated itself over the days and weeks to come: Someone driving north on Versailles after sunset would swing onto the southbound side of the street to throw a used coffee cup, occasionally more than one, sometimes with a napkin, onto his front lawn.
It was almost always a McDonald's coffee cup, marked decaf, with some coffee left in it and with a stubbed-out cigarette butt or two inside.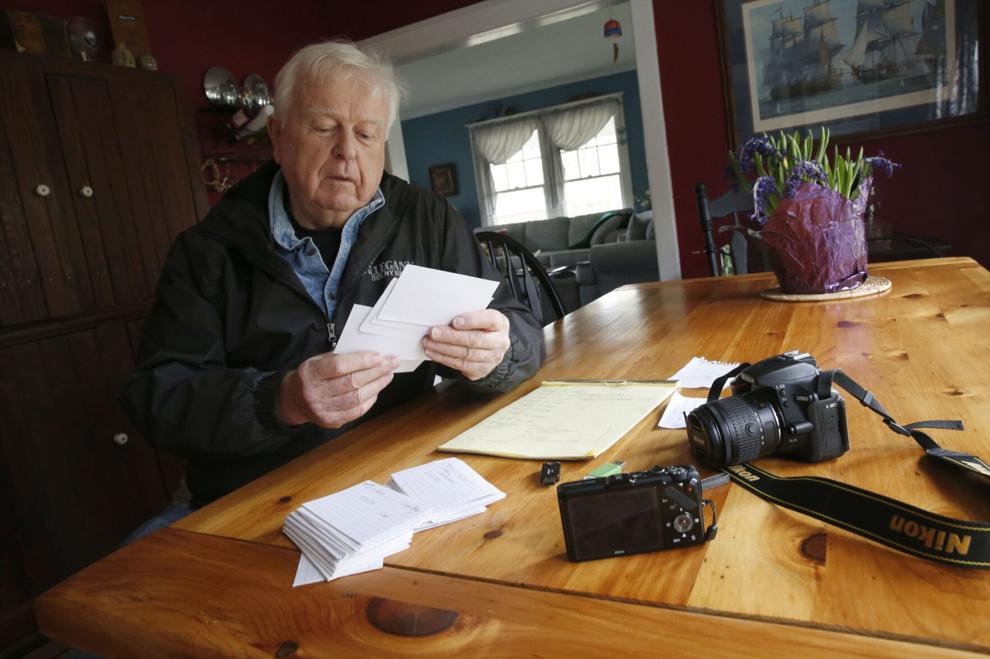 Edward Patton is 80 and has had surgeries and medical issues in recent years. His wife is 76. Their house is set far back on the property. It wasn't easy to walk all the way down to the edge of the street to pick up the cups every day, so sometimes they would build up, but he would try to do it regularly to avoid the wind blowing them onto his neighbors' yards.
Any thought that this was an attempt at a prank faded as time went by. The Pattons and their adult children couldn't figure out who disliked them enough to keep this up month after month.
He said neighbors began asking questions about the debris that Patton couldn't answer: "I had no idea what was going on."
Edward Patton sank money into binoculars and video surveillance systems – including one camera he tried to hide in the crook of a tree branch – and managed to get footage showing a man throwing coffee cups out of his driver's window. But he couldn't get a clear view of the license plate, even after spending part of a chilly night waiting outside.
Edward Patton logged in the images he obtained and kept track of what he found, and when, on index cards to organize his evidence. After a year or so, he started holding onto the debris he collected, eventually filling 10 garbage bags with about 30 or 40 cups in each bag.
Neighbor Chris Richardson and his father, Robert, started to keep an eye out for the vehicle in question, Edward Patton said. One night when they were waiting outside they saw the minivan as it passed the house and followed it in their car to record the plate number.
Edward Patton, who had never contacted the authorities about the littering, called Hamburg police on Sunday.
Patton showed Officer Dan McCarthy some of his cache of evidence and shared the license plate number. When McCarthy said the vehicle was registered to a man named Larry Pope, who lived a mile away, Edward Patton said the name didn't mean anything to him.
But his wife, sitting close enough to overhear the conversation, perked up.
"My wife comes off the couch, she was white as a sheet," Edward Patton recalled.
Cheryl Patton had worked for many years at Fisher Bus Service in Hamburg, where she also was a union officer. Pope was a former colleague, Cheryl Patton told police, describing him as a "nemesis" who was on the opposite side of union-related issues at the company and who regularly hurled insults and veiled threats at her.
Cheryl Patton said she couldn't reveal much about her interactions with Pope at Fisher Bus because some involved confidential work as a union representative.
"I found it very hard to believe that someone I knew would do something like that, especially at his age," she told The News.
McCarthy came back with another officer a few hours later on Sunday to see if police could catch Pope in the act.
At about 9:50 p.m., with two Hamburg police cars waiting on Versailles, someone drove a burgundy Chrysler Pacifica minivan with the same license plate down the street, threw something out the window and made it a short way down the block before police pulled him over.
Officers charged Pope with harassment, a violation, and ticketed him for throwing refuse onto a roadway, a vehicle and traffic infraction. The News' sister publication, the Hamburg Sun, first reported on the incidents in its police blotter.
Reached Friday for comment, Pope hung up on a Buffalo News reporter.
Hamburg Police Chief Kevin Trask said most charges and infractions of this type are pled out before going to trial, and often are dismissed in cases where the accused stays out of trouble and has no prior record.
He said the allegations at the heart of this case are unusual.
"We have neighbor disputes, but nothing like this kind of length," Trask said. "That's a grudge, right there."
Edward Patton said he's considering filing a civil suit to have his costs of buying camera equipment reimbursed.
He said he remains fearful that anyone willing to keep this up for three years won't just let things go.
"This is what scares me about a guy who would think like that," Edward Patton said.
Still, the Pattons reported, no one has left any garbage at their house since Pope was apprehended and warned by police Sunday night.
"It's a huge relief," Cheryl Patton said. "I can look out in my front yard and not see a dozen coffee cups out there."