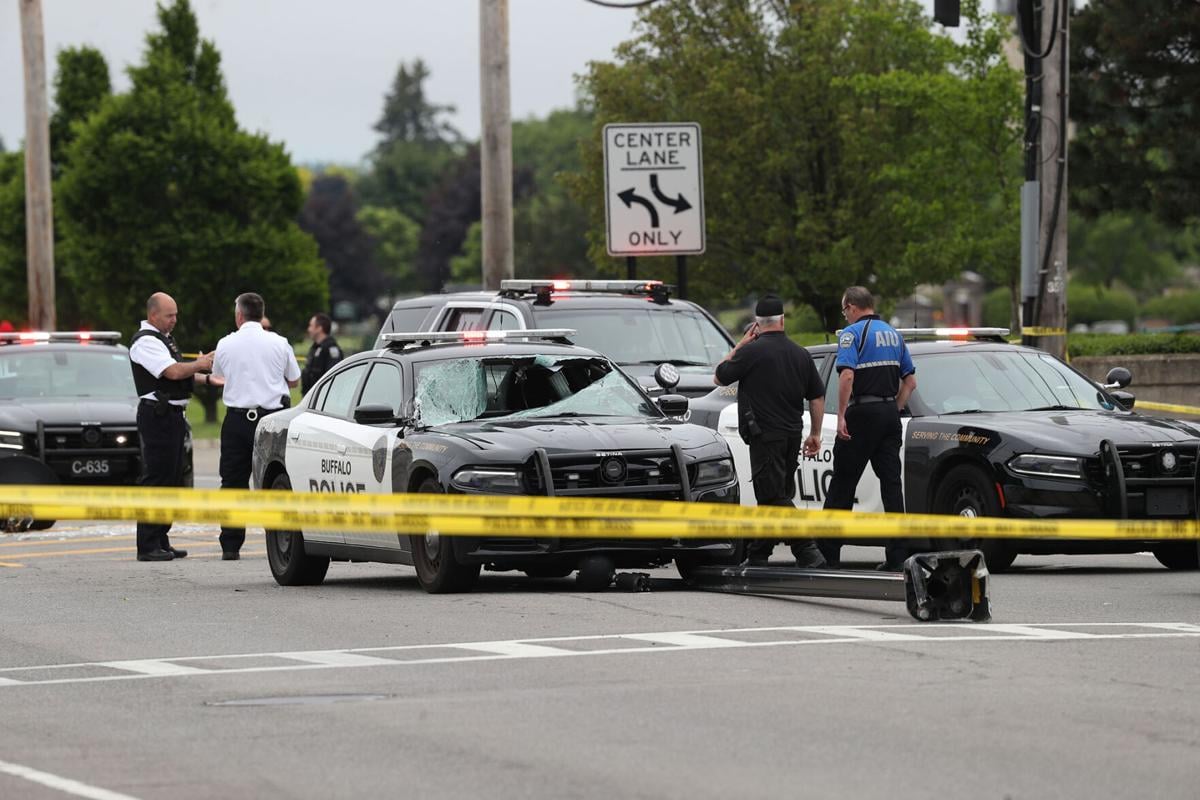 The teenager accused of being the driver who led police on a "milelong high-speed chase" that left a Buffalo patrol officer badly injured Thursday had run away from a juvenile facility in Rochester, prosecutors said Friday in court.
The 16-year-old suspect, who is from Rochester, was arraigned early Friday morning and then seen again at 11:30 a.m. under Raise the Age laws that require swift court appearances for people under 18. Authorities withheld his name because of his age.
Officer Jonathan Negron was driven by a fellow police officer to Erie County Medical Center, where he was listed in critical condition with a head injury.
Erie County Family Court Judge Kevin Carter agreed that the suspected driver should remain remanded to East Ferry Juvenile Detention Center. Carter also ruled that the case should remain in Youth Part, which is part of the traditional criminal court system for adults, instead of Family Court.
Meanwhile, Officer Jonathan Negron, a patrol officer with the Ferry-Fillmore District, remained in critical but stable condition at Erie County Medical Center. He suffered injuries to his brain and spinal cord and was in a medically induced coma Friday, Erie County Assistant District Attorney Ryan Haggerty said in the virtually held court hearing.
An hour and a half before the bail hearing was heard, Erie County District Attorney John Flynn gave details about the case to reporters.
About 1 p.m. Thursday, a woman called 911 to report that she saw four males inside a silver or white SUV who were all wearing masks and that there was a gun in the car. She said she saw them near the intersection of Crossman Avenue and Heminway Street near Schiller Park, Flynn said Friday.
Negron, who was alone in a patrol car, spotted a vehicle that matched the description of the SUV and pulled up behind it, Flynn said.
"At that point, the car allegedly sped off," Flynn said.
Negron pursued the vehicle north on Crossman to Genesee Street, then went east to Pine Ridge Road and into Mount Calvary Cemetery in Cheektowaga, Flynn said.
Other Buffalo police officers joined in the pursuit and at some point were joined by Cheektowaga officers, as well.
The SUV, identified as a 2004 Hyundai Santa Fe, exited the cemetery, then clipped a telephone pole, which fell through the windshield of Negron's vehicle, injuring the 29-year-old officer.
The four people inside the vehicle fled on foot and police involved in the car pursuit quickly caught them, Flynn said.
At the same time, fellow officers came to Negron's aid. Finding him unconscious, they performed CPR on him, put him into a detective's car and raced him to ECMC, Buffalo Police Benevolent Association President John Evans said Thursday.
The 16-year-old driver was charged with second-degree assault on a police officer and unlawful fleeing from a police officer in a motor vehicle.
Another passenger, who is 15, was charged in an unrelated burglary that took place about a week ago. He was charged with second-degree burglary, criminal mischief and petit larceny.
The two other passengers were not charged, Flynn said.
Police have not located a gun and searches were underway in the cemetery and along the pursuit route to find it, Flynn said.
"The investigation is continuing on the information that we have about guns in the car," Flynn said. "The 911 caller stated there was a gun in the car. ... We have information that we believe there may have been more than one gun in the car."
Police searched the SUV after obtaining a search warrant and did not turn up a weapon. Flynn also said police did not find guns on any of the four people accused of fleeing from the vehicle.