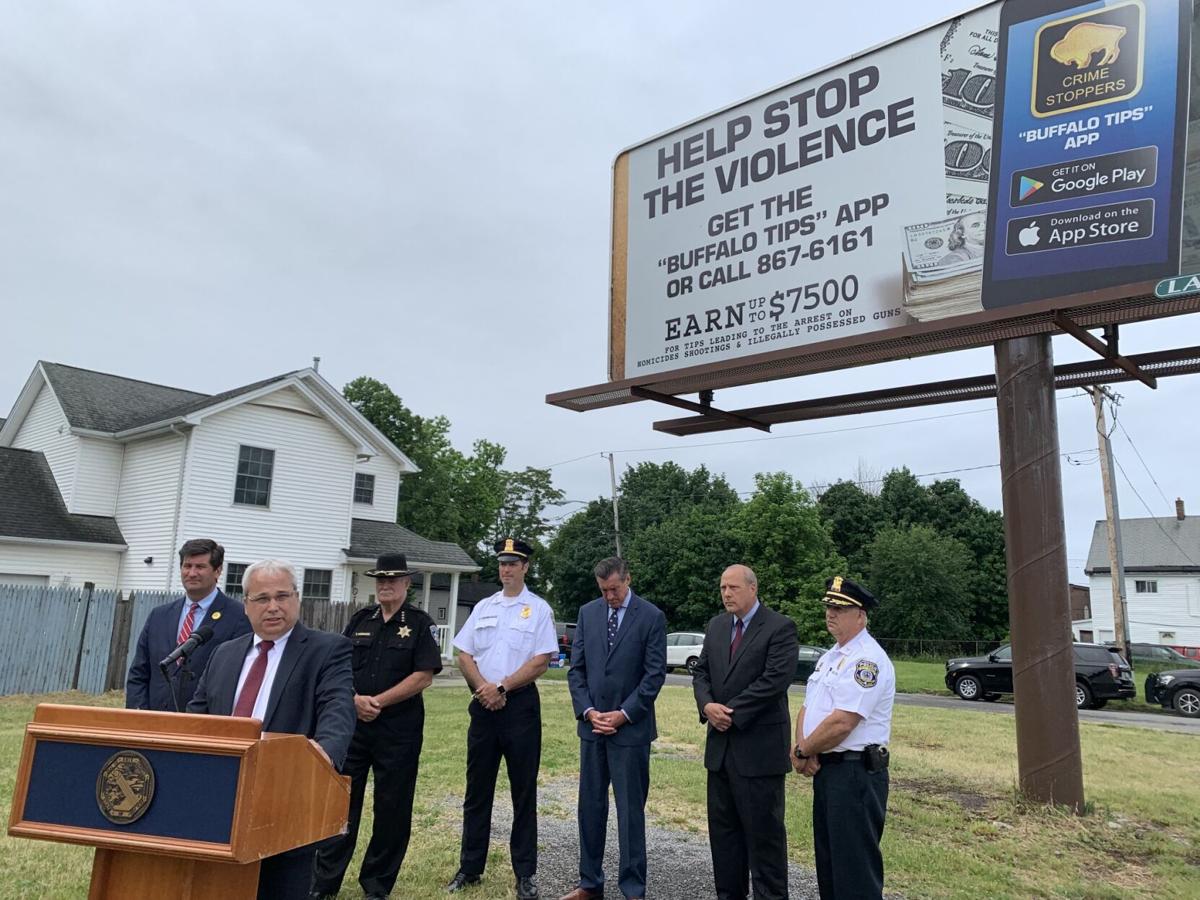 Gun violence has taken the lives of 32 people in Buffalo already this year. Another 112 people in Buffalo have been shot.
This past Sunday, four people were wounded by gunfire in three unrelated incidents – a woman grazed by a bullet across her back, another woman who was shot and two men who were hit when a man fired a round in the ground.
Two other people reported being threatened by someone with a gun.
With shootings on the rise and fears that the summer months will bring even more violence, Crime Stoppers Western New York announced it is offering monetary awards for anonymous tips related to gun violence that lead to a conviction:
• $7,500 for information about a homicide.
• $5,000 for information about a non-fatal shooting.
• $1,000 for information about an illegally possessed weapon.
To spread the word about the rewards, Crime Stoppers put up billboards around Buffalo, including one on the Kensington Expressway.
Standing in a vacant Genesee Street lot beneath one of those billboards, Crime Stoppers officials joined by Erie County officials and law enforcement emphasized during a news conference Tuesday morning that tips to Crime Stoppers are anonymous and that people don't have to be afraid to come forward.
"We know it's often difficult, that people don't want to talk about this. They're afraid of what may happen. It's often heard – the phrase 'snitches get stitches.' That's unfortunate because it is something that is a code that exists on the street," said Erie County Executive Mark Poloncarz. "But we know through this program you can anonymously let Crime Stoppers know, through a tip, information regarding crimes – and you can receive a financial reward that will be paid to you, anonymously. Your name will never be involved."
In 2019, a similar reward program paid out more than $20,000, Poloncarz said. "We got illegal guns off the streets and we got individuals who were engaged in homicides or attempted murders off the streets. So, we know the program works."
Tim Donovan, a narcotics detective with the Erie County Sheriff's Office and the law enforcement coordinator for Crime Stoppers, explained how the Crime Stoppers program works.
People who have information can either call a tip to 716-867-6161, go to the Crime Stoppers website at crimestopperswny.org or download the Crime Stoppers "Buffalo Tips" app through Google Play or the Apple App Store.
The tipster is asked to give information about the alleged criminal activity, such as names and locations, but are never asked to give their name. Instead, they're assigned a specific identification number which can be used later to claim the reward.
Law enforcement can reach back out to the tipster through the ID number for information. "Through our software, we can have two-way conversation where we still keep it anonymous," Donovan explained.
But he said it's really up to the tipster. He offered a recent example where someone submitted a tip about criminal activity in Lackawanna. The tip was shared with Lackawanna police, who then went to the U.S. Marshals with the information. A deputy asked Crime Stoppers to try to contact the tipster, which they did using the ID number, but never heard back.
"We do everything to make sure it's anonymous," Donovan said.