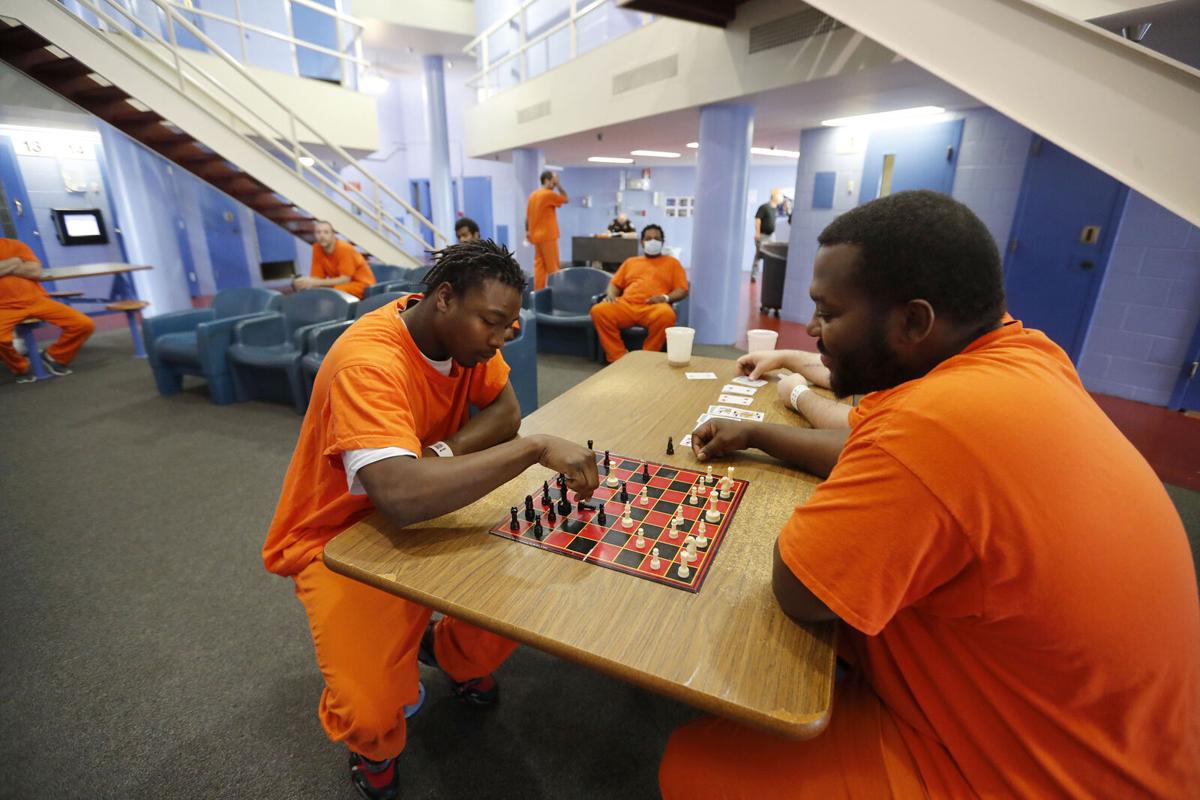 Michael Sapp of South Buffalo has been in and out of jail since he was 16.
When he got out Friday, he left with something he's rarely possessed: hope.
For the last several months, the 43-year-old participated in a program at the Erie County Holding Center called Project Blue, which helps inmates prepare for restarting their lives back on the outside.
The goal of Project Blue, which started last October and is run by Peaceprints of Western New York and the Erie County Sheriff's Office, is to reduce a person's chances of getting incarcerated again.
Inmates get help with a variety of needs before they get out of jail and once they're released. The support includes everything from help with securing housing to submitting applications to the Department of Social Services or the Department of Motor Vehicles. There's also job training and assistance with court proceedings, as well as getting connected with counseling and other services.
"They've never had anything like this before," Sapp said.
The program's aim is to combat a recidivism rate that Thomas Diina, superintendent of the Sheriff's Office's Jail Management Division, called "astronomically high."
A 2018 assessment by the Council of State Governments Justice Center found that in 2016, 81.6% of people who were booked at Erie County's jail had previous involvement in the jail system.
The national average is around 67%, said Lindsey Allen, director of Project Blue for Peaceprints, the Buffalo-based non-profit.
The 2018 report also found one in five who were booked at the county jail were likely to return to jail four or more times within three years.
"We weren't doing anything to kind of interrupt that jail to prison pipeline at the local level," said Diina, who runs the holding center and the Erie County Correctional Facility in Alden. Diina also serves as co-chair of the Greater Buffalo Racial Equity Roundtable's Re-entry Coalition.
So Peaceprints and the Sheriff's Office partnered on a federal grant application, and in September 2018 were awarded $1 million from the U.S. Department of Justice. The program is for persons held in county facilities.
Peaceprints already runs what are known as re-entry services for local inmates being released from state prison, Allen said.
Inmates being released in Western New York from local, state and federal facilities do not have access to "equal and equitable services," she said.
The county program is voluntary for inmates. In order to participate, an inmate must be identified during screening as medium- to high-risk of being incarcerated again.
So far this year, the program has served 125 clients. Over the course of about the last 10 months, only 5% of participants have been back to the holding center, though because of changes to the state's bail system and the Covid-19 pandemic, the number of people held at the jail is down to around about a third of its capacity.
"If we are able to identify somebody's needs and problems before they go back into the same environment that they were in before jail, the likelihood of them being successful goes way up," she said.
Peaceprints has transition coordinators who meet with program clients and develop individual plans, taking into consideration personal needs and goals. There's also a sheriff's deputy who works directly with inmates in the program. The deputy's duties include reviewing the records of individuals recently brought into custody and meeting with inmates to talk about getting into the program.
As part of the program, the Sheriff's Office created a dedicated housing unit for program participants on the sixth floor of the holding center. Most walls in the inmate areas of the jail are beige, but the walls in the pod where participants live have been painted blue.
The project got its color-oriented name because the Peaceprints logo includes the color blue, which is also the color associated with law enforcement.
Ultimately, Peaceprints would like to expand the program to be able to serve the entire jail population, regardless of an inmate's risk level, Allen said.
Sapp, whose latest stint in the holding center started on Easter Sunday, said even before drinking and drug use led to a life in and out of jail, he also spent time in and out of boys' homes and group homes.
There were times in his past when he got released from jail, but he'd be back two weeks later, he said. When he returned to the holding center in April, he saw poster about Project Blue. The deputy involved in the program approached him and got him to join, Sapp said.
In the days before he gets out, Sapp said he's usually nervous about what the future might bring. This time, "it's like I have a purpose, something to look forward to," he said in an interview earlier this week.
He said the most important part of the program, to him, is the support system it creates.
On Friday morning, Sapp was released from the holding center.
Sapp said he plans to participate in paid vocational training, which starts Monday. He wants to get certified as a painter.
"It's totally different this time," he said.