Cheektowaga strip club owner Peter G. Gerace Jr., who is the nephew of the man prosecutors claim runs the Buffalo Mafia, on Monday became the second person accused of bribing a Buffalo Drug Enforcement Administration agent to avoid arrest for drug dealing.
Gerace, 53, of Clarence, was arrested late Sunday night in Florida while he was on vacation and charged with paying bribes to Bongiovanni, his childhood friend. He pleaded not guilty at his arraignment in U.S. District Court in Fort Lauderdale on Monday.
"I expect him to be released under certain conditions in the next 24 hours and he will travel back here to Buffalo," said Joel L. Daniels, his defense attorney.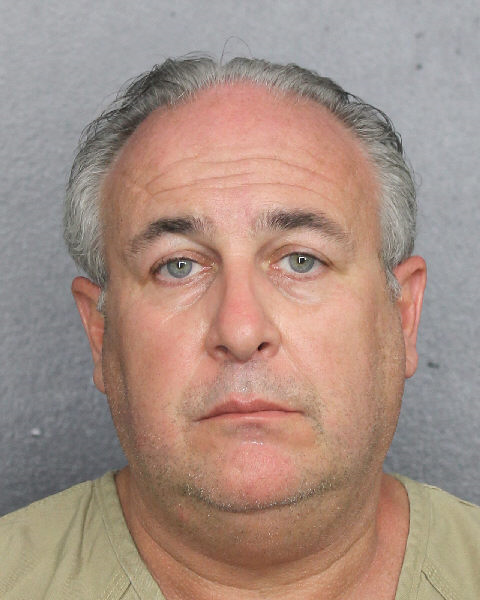 The superseding indictment against Bongiovanni and Gerace alleges that Gerace paid, from 2009 to 2019, some of the $250,000 in bribes the DEA agent is accused of pocketing. It describes Bongiovanni's alleged efforts to shield Gerace and his business, Pharaoh's Gentlemen's Club, from the scrutiny of other U.S. Drug Enforcement Administration agents and FBI agents for years. Bongiovanni allegedly coached Gerace and others on what to say if they were questioned by other agents, telling them to claim that they are confidential informants for Bongiovanni.
In 2019, Michael Masecchia, a Buffalo high school English teacher, was charged with bribing Bongiovanni. In December, when Masecchia pleaded guilty to drug trafficking and criminal possession of firearms, he admitted that he and unnamed "others" received sensitive law enforcement information from Bongiovanni to help them avoid arrest as he sold more than a ton of marijuana. 
The federal grand jury in Buffalo charged Gerace with conspiracy to defraud the United States; paying a bribe to a public official; maintaining a drug involved premises; conspiracy to distribute controlled substances; and conspiracy to commit sex trafficking.  
If he is convicted, the government will seek to forfeit from Gerace the Aero Drive building where Pharaoh's Gentlemen's Club is located and his four-bedroom brick house on Lexor Lane in Clarence, which is listed for sale at $969,000.
The indictment charged Bongiovanni, 56, of Tonawanda, with two counts of conspiracy to defraud the United States; two counts of conspiracy to distribute controlled substances; two counts of accepting a bribe; seven counts of obstruction of justice; and two counts of making false statements to a federal agency.
If convicted, the government will seek to forfeit from him the $250,000 it claims he took in bribes, two handguns and ammunition.  
Federal prosecutors are looking for organized crime activities in a widespread investigation, just four years after the special agent in charge of the Buffalo FBI office said, "Some of the individuals who were leaders of the Mafia are still around. But their organized crime activities don't exist anymore."
Feds: Gerace's uncle runs Buffalo Mafia
The arrests stem from an ongoing federal investigation into the Buffalo "Mafia" and "Italian Organized Crime," according to federal documents and statements made in court by prosecutors. 
Gerace is the nephew of Joseph A. Todaro, whom federal agents and Assistant U.S. Attorney Joseph M. Tripi have identified in court or reports as the head of the Buffalo Mafia.
Todaro has not been charged. He told The Buffalo News that any attempts to link him to organized crime are "nonsense." Todaro says he has nothing to do with his nephew and that it upsets him that authorities attempt to link him to narcotics. 
Gerace, during an interview with The Buffalo News at Pharaoh's last month, said he is insulted that the federal government is linking his name to organized crime.
"My grandfather was Joseph Todaro. He's dead," Gerace said, raising his hands in exasperation .
The FBI has alleged that Joseph A. Todaro's father, the late Joseph E. Todaro, was also a leader of the Mafia, which was also never proven.
Gerace told The News that he would be a fool to do anything illegal, since he is the owner of his successful club.
"I make so much money here that I'd be an idiot to do something illegal," Gerace said. "There's things going around with busts, but I do not know where they got my name. I have never been involved in organized crime."
Gerace also defended Bongiovanni's integrity.
"We all grew up along Hertel Avenue, and I'll say this about him: He was one of the straightest people I know. He was a sheriff's deputy and then a DEA agent. I'll never believe a word they say bad about him. I don't know anything about that," Gerace said during the interview prior to his arrest.
Shortly after Bongiovanni's arrest in the fall of 2019, federal agents raided Pharaoh's. They were executing a search warrant and looking for evidence of narcotics and racketeering violations, a prosecutor wrote in court papers. 
The indictment alleges that Gerace "facilitated prostitution," provided "drugs and money to Pharaoh's employees in exchange for sex" with Gerace and others, and facilitated "the distribution of controlled substances, including cocaine… and amphetamine also known as Adderall…marijuana and heroin."
It says Gerace employed members of the Outlaws motorcycle club at Pharaoh's. 
Attorney Steven M. Cohen, who represents Gerace in a civil case in State Supreme Court, said Gerace is an honest businessman. 
"He is one of the few businesses that has surveillance cameras on all of his cash registers who allows the government access to all of those videotapes simply at the asking," Cohen said during an interview last month. "He does all of his business transactions by checks or credit cards to make sure there is a paper trail."
Cohen explained that Gerace takes these steps to prove he is honest.
"It is a shame he has to do that because he has been lumped in with people or associated with certain of his relatives who have histories with law enforcement," Cohen said.
Cohen criticized the government on Monday for arresting him.
"It is disturbing to me that the federal authorities would arrest him while he is on vacation in Florida," Cohen said. "Each and every time the feds have wanted anything from Peter, in terms of records or access, he has been only too willing to comply. I consider this conduct to be entirely unnecessary and vindictive."
But Katrina Nigro, the ex-wife of Gerace, said she feels safer since federal authorities told her Monday that Gerace had been arrested . 
"I feel safer that he is arrested, and everyone should feel safer," Nigro said.
She has told The News that she has testified about organized crime before a federal grand jury, but she declined to comment on what she told the grand jury.
Gerace pleaded guilty in 2005 to telemarketing fraud and was sentenced to five months in federal custody and three years of supervised release. In a plea deal, he admitted to directing his telemarketers to make false statements about winning a new car or a $5,000 cashier check.
"That's not organized crime. That's not the Mafia," Gerace said, adding that he paid his debt to society. 
Tripi and Assistant U.S. Attorney Brendan T. Cullinane, who are prosecuting Gerace and others, declined to comment on the indictment against Gerace and Bongiovanni.
Gerace's brother awaits sentencing
Gerace's brother, Anthony Gerace, and a third unidentified person have also been identified by prosecutors as unindicted co-conspirators in the case against Bongiovanni.
Anthony Gerace, 40, has pleaded guilty to a federal weapons charge in connection with drug trafficking and is awaiting sentencing on March 12. 
Federal agents raided Anthony Gerace's Clarence home in 2019 and seized "substantial quantities of marijuana packed into two large hockey bags," other drugs, five handguns, nine rifles, ammunition and $103,360.