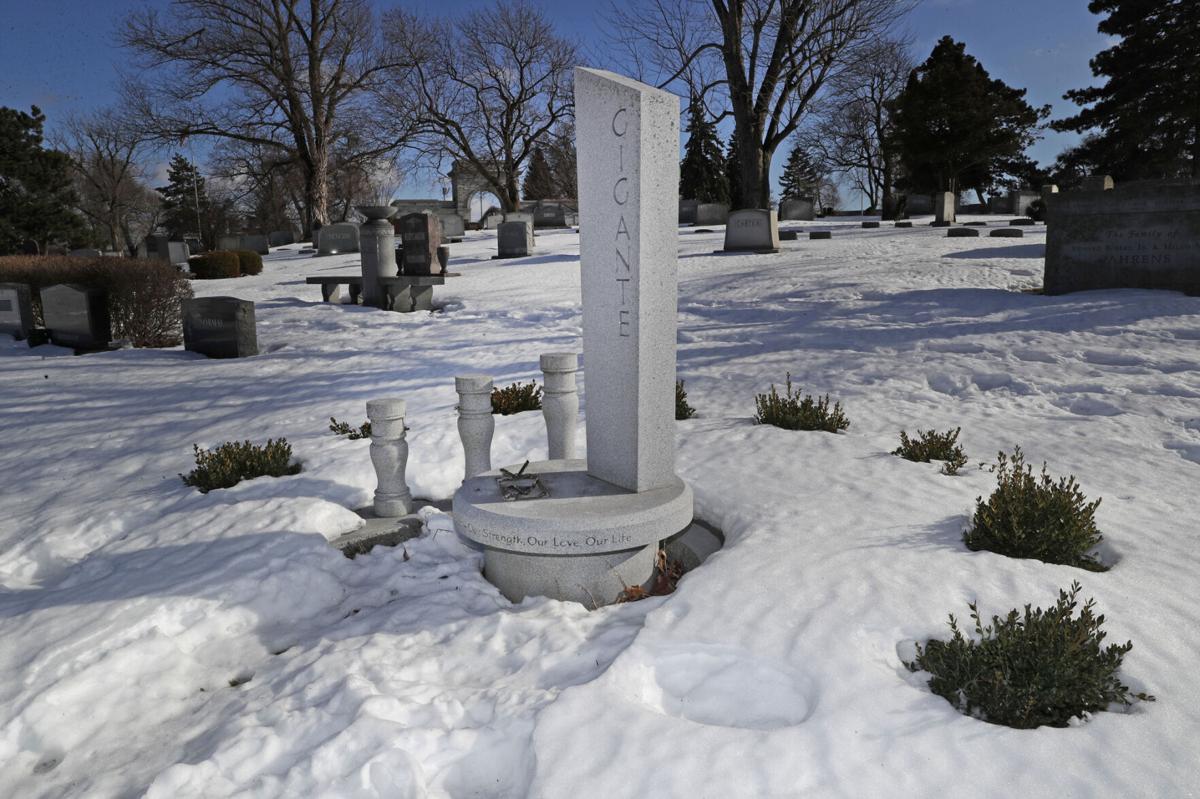 One statue represents the burning bush from the Book of Exodus in the Bible. Another shows three doves in flight connected wing to tail.
A third features a devoted couple dancing to music heard only by them.
They are three of the bronze sculptures stolen earlier this year from memorials on the grounds of Forest Lawn.
A statue that shows a couple dancing together is one of at least two taken in recent days from Forest Lawn.
The statues, with a combined value of more than $150,000, were recovered and Buffalo police say they arrested a Riverside man after he was caught selling the items at local metal scrapyards.
Family members say seeing the damage done to monuments that honor their loved ones is deeply painful, and they're still not sure how the thefts could have taken place. But they say they appreciate the efforts of investigators and sharp-eyed scrappers and hope to have the statues restored to their rightful places soon.
"It really does feel like a miracle and I am extremely grateful," said Michelle Gigante, whose family erected the statue of the bronze dancers at the grave of her father. "This is such a story of triumph and celebration."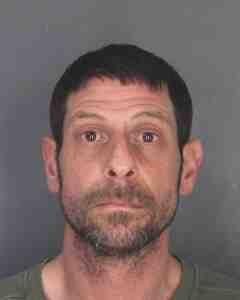 The same person is charged in all three thefts: Michael T. Piscitello, 41. 
Piscitello faces felony counts of criminal possession of stolen property, criminal mischief, grand larceny and cemetery desecration, according to the Erie County District Attorney's Office. He was arraigned in Buffalo City Court and must return June 9.
Cemeteries around the country have seen thefts of bronze grave markers, flower vases and other elements from gravesites going back decades. Thieves try to sell the items at scrapyards, often at a fraction of what it cost to produce the items.
The recent string of thefts at the historic cemetery along Delaware Avenue took place roughly between January and April, though authorities aren't sure precisely when some of the thefts occurred because they weren't discovered right away.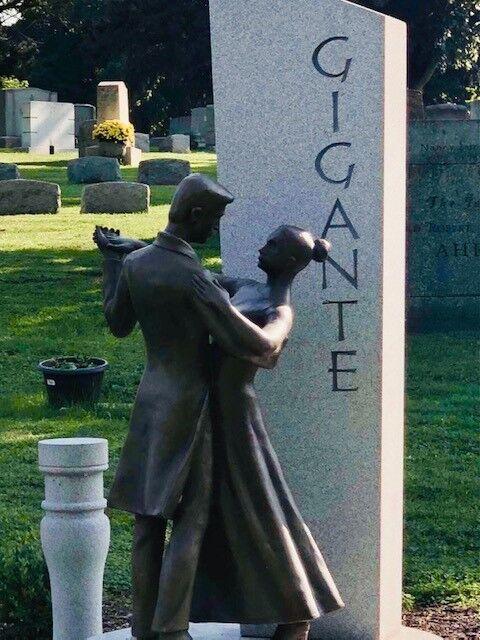 Gigante's husband noticed the missing statue when he visited the cemetery Feb. 21. The three- or four-foot-tall bronze statue, worth about $46,000, honors Joseph A. Gigante, who died in 2012, and his wife, Rozanne, who loved to go ballroom dancing together.
Though many people told Michelle Gigante that the odds of recovering the statue were slim, she reported it to police right away and called as many scrapyards as she could to ask them to keep an eye out for the distinctive piece.
Within days, Gigante said, someone from Niagara Metals called to tell her they had her family's statue. Someone had sold it at the Niagara Metals location on Hertel Avenue, she learned, but the shop had held onto the statue and retained a scanned image of the seller's driver's license.
Niagara Metals has extensive security features in place at all of its retail locations, including surveillance cameras and a computerized filing system, said Todd Levin, the founder and president.
"A person bringing stolen material to Niagara Metals is desperate," Levin said.
In this case, Levin said an employee had questioned the seller, who claimed the piece came from an estate sale.
Gigante was overjoyed to learn it wasn't heavily damaged, but said she couldn't believe it sold for just $150 – "a piddly amount of money for something that mattered so much for so many people."
Leon Komm & Son Monument Co. will try to reattach it to its granite base in a way that makes it harder to remove.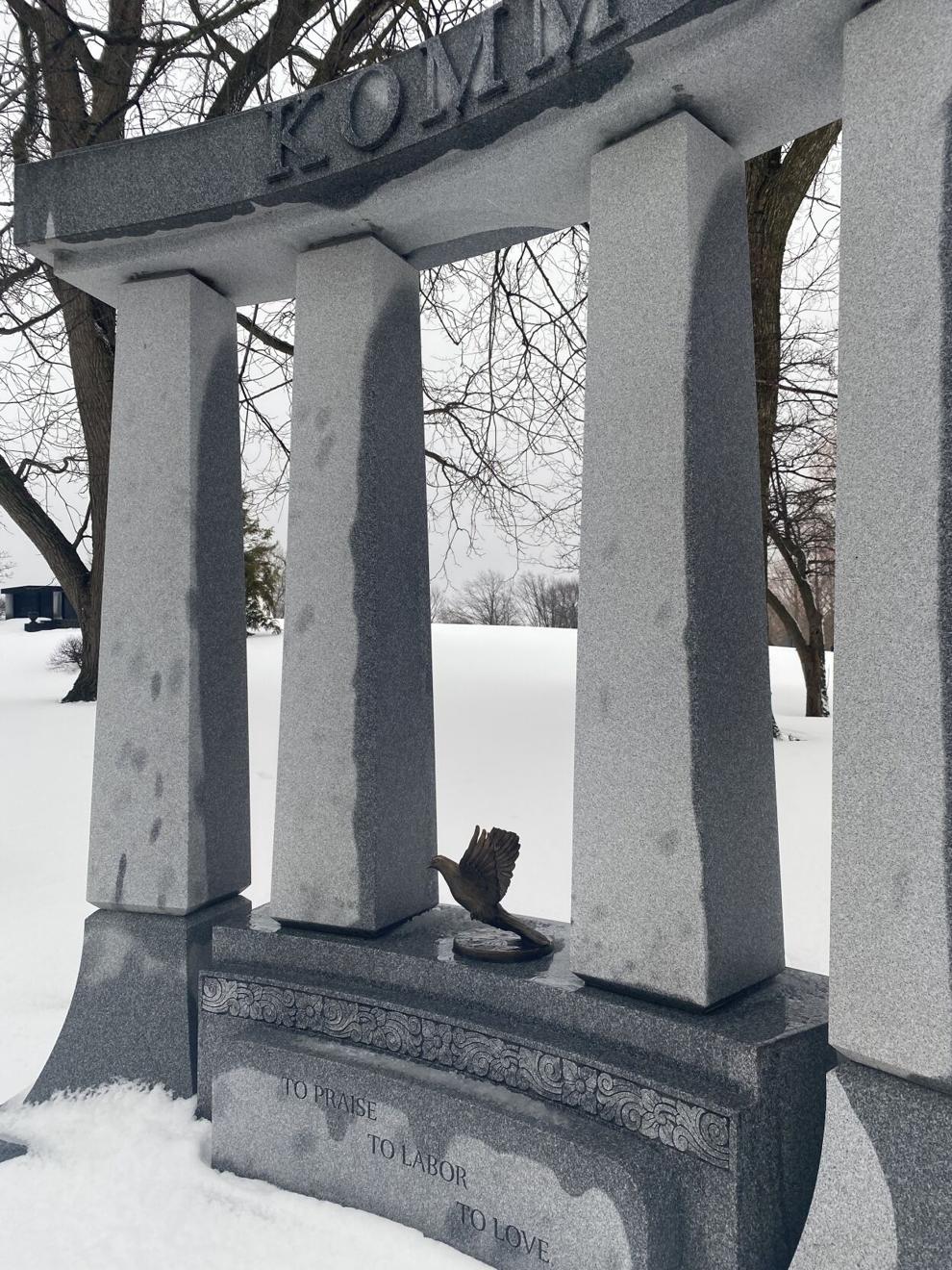 The Komms also are restoring the statue of three doves removed from the Komm family memorial at Forest Lawn around the same time as the Gigante dancers. Police put the value of this statue at $10,000.
A thief "very violently" bent the feature back and forth until the top two birds came off, but the bottom bird remained stuck in place, Michael Komm said.
The Komm family statue also was recovered from Niagara Metals, where it had fetched less than $200 for the seller, sometime in early March.
"It's really tremendous that they were able to locate them, and a lot of it has to do with the outstanding cooperation from the salvage yards," Michael Komm said.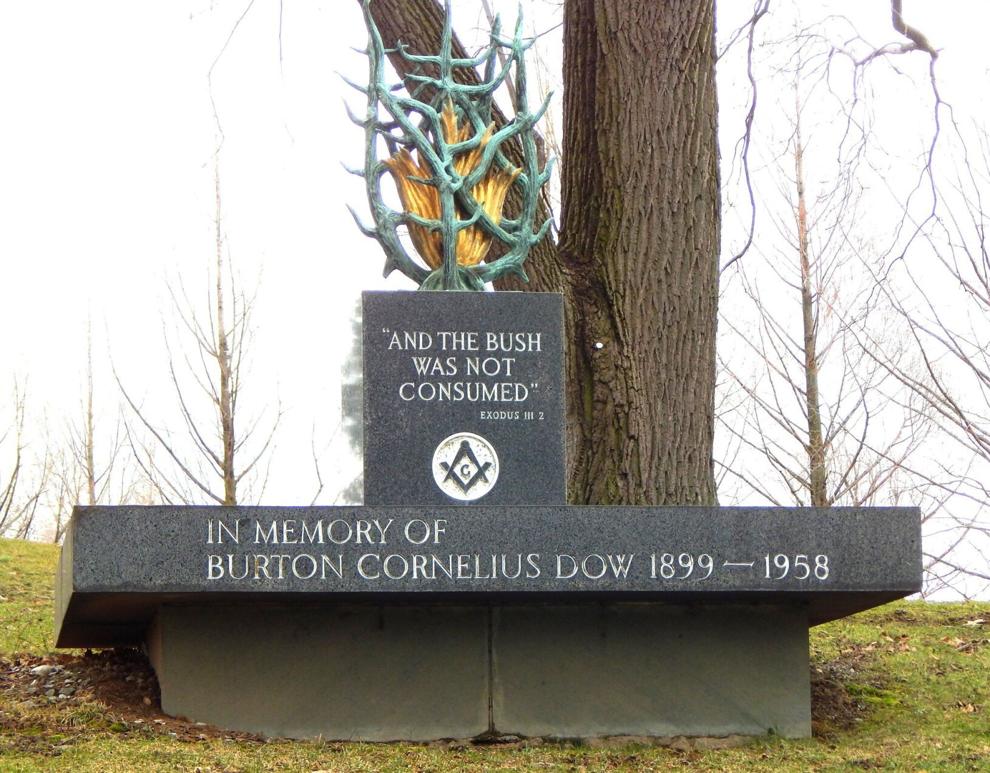 The burning bush statue sat not too far from the Komm family monument atop a memorial to Burton Cornelius Dow, an owner of Dow & Co., a major area construction equipment company for much of the 20th century. Dow's widow, Jane, had the memorial built in her husband's memory after his death in 1958.
It quotes from the Biblical story of God speaking to Moses, through a bush that was burning but not consumed in flames, urging him to lead the Israelites out of Egypt to the Promised Land. Jane Dow, who died in 1990, was a Christian Scientist and the statue reflects her belief in eternal life, said Peter B. Dow, a son of Burton and Jane, whose father-in-law, the Boston sculptor Joseph Coletti, designed the piece.
Buffalo police say the statue was stolen on April 1 and recovered on April 3. Peter Dow said he learned of both events at the same time.
The statue, which has an estimated value of $100,000, was discovered at a metal scrapyard and is in storage now.
"It just seems like an act of desecration that doesn't make any sense to me," Peter Dow said. "What kind of world are we living in?"
Buffalo Police Capt. Jeff Rinaldo said at least two other thefts, or attempted thefts, took place this past winter at Forest Lawn, but police haven't arrested anyone in those cases.
Forest Lawn officials declined to say what, if any, improvements they've made to prevent future thefts at the cemetery. Some victims have expressed frustration that Forest Lawn isn't doing more because, under state regulations, the statues are the responsibility of the families who installed them.
"I will say that we have been in contact with the families impacted by the thefts and are working with them to address their needs and wishes," said Mark DePalma, a Forest Lawn spokesman.