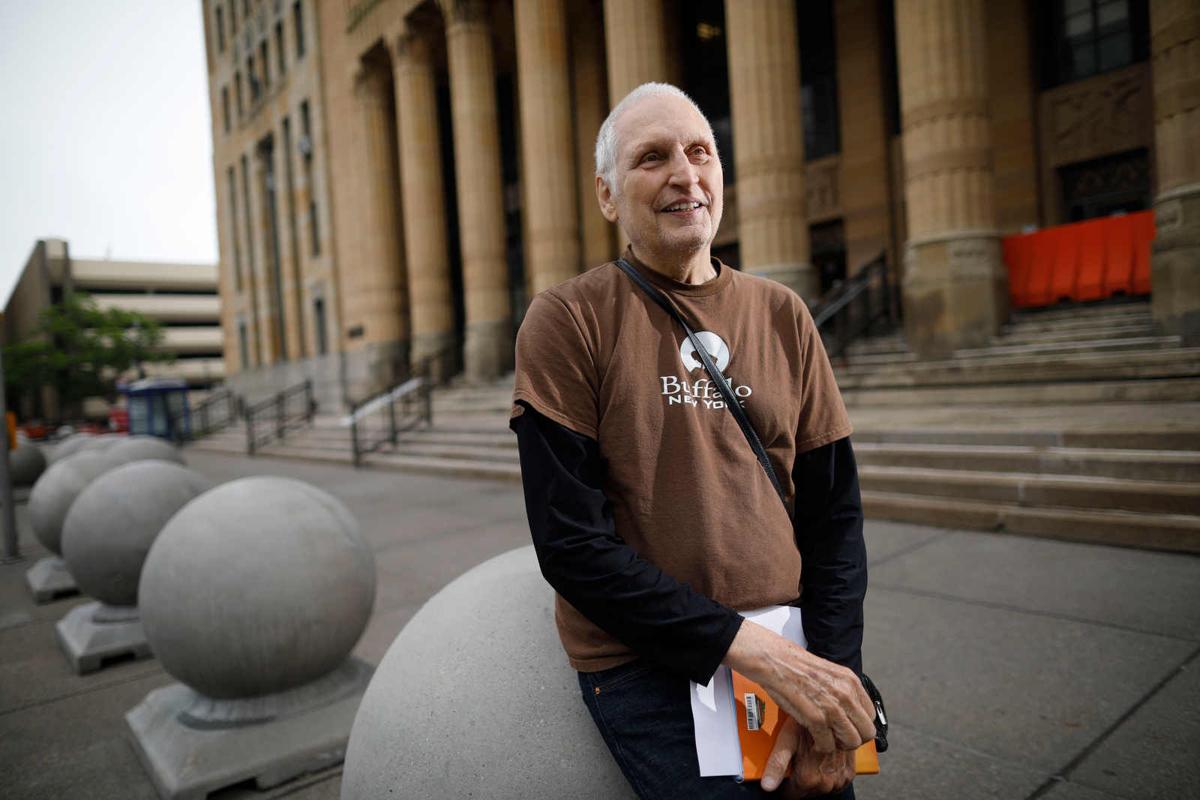 Martin Gugino says he didn't go to Buffalo City Hall one year ago today to cause a scene.
He wasn't there to get arrested, although given his experiences protesting around the country, he thought it might be a possibility.
He said he wasn't planning on getting hurt.
And he certainly had no idea that he would become the unwitting star of a viral video that rocketed around the world drawing millions of views and more attention to the question of what policing is supposed to be.
He went there, Gugino told The Buffalo News in an interview Thursday, to make a point. He believed the 8 p.m. curfew that Mayor Byron W. Brown had put in place after nearly a week of Black Lives Matter protests was unconstitutional. 
"The point was suppressing dissent ... a peaceful protest ... and you can't do that. So I went there to talk to the policemen," Gugino said.
It has been a year since a 39-second video shot by WBFO reporter Michael Desmond showing Gugino being pushed to the ground by a police officer made Gugino internet famous. Much has happened to him and to the police officers involved in that time, even as the debate about the issues of racial equity and violence that led to the moment go on.
Gugino, 75 at the time, walked quickly up to several dozen police officers in riot gear who were marching in formation across Niagara Square. With a motorcycle helmet in one hand and his cell phone in the other, Gugino approaches the officers, stops, and can be seen saying something to the police, the video showed. Someone yells: "Move." Then one officer can be seen holding his baton with two hands and shoving Gugino. A second officer reaches out his hand and pushes Gugino.
The video shows Gugino take a couple of steps backward and then fall, hitting his head on the concrete. A witness yells: "He's bleeding out of his ear." He was taken by ambulance to Erie County Medical Center where he would spend the next month. His attorney, in the fall, said he had suffered a fractured skull.
That June night, as the video went viral amid nationwide protests over the murder of George Floyd and police violence, Officers Aaron Torgalski and Robert McCabe were suspended without pay. Two days later, they were charged with felony second-degree assault.
In the meantime, the union representing Buffalo police officers told its rank-and-file members that the union would no longer pay for legal fees to defend police officers related to the protests, in particular members of the Emergency Response Team and SWAT team. That prompted all 57 members of the Emergency Response Team to resign from the unit.
And then-President Donald Trump questioned on Twitter whether Gugino was an Antifa provocateur.
There were other responses. The mayor met with local Black Lives Matter activists and announced a series of reforms to policing. And Buffalo police, along with other law enforcement agencies responding to Buffalo protests, began taking a less aggressive approach. They didn't show up in riot gear and generally kept their distance from protesters as they marched through streets.
The protester's federal civil rights lawsuit against the City of Buffalo and members of the Buffalo Police Department won't get to trial "any time before 2024 at the earliest," a judge said.
In February, a grand jury was convened and decided not to indict the two police officers.
In announcing the grand jury's "no bill," Erie County District Attorney John J. Flynn Jr. said he still believed that a crime occurred, but that whether the officers intended to cause harm to Gugino, or if their acts were reckless was "50/50 in my mind. That's not beyond a reasonable doubt."
Flynn placed some of the blame on what occurred on June 4 on Gugino himself. But, Flynn said, the police officers shouldn't have pushed him.
Gugino soon filed a federal lawsuit, accusing the city of violating Gugino's rights to freedom of speech, peaceful assembly, unreasonable seizure and due process, among other things. The judge assigned to the case said it could be 2024 before it goes to trial.
On Thursday, Gugino said he didn't initially know about the protests that had erupted in Buffalo starting on May 30, joining nationwide demonstrations over the killing of George Floyd by a Minneapolis police officer. He saw on the national news reports of police officers arresting and hitting protesters in other cities. He also saw local news reports about a Buffalo police officer kneeling with some protesters in Niagara Square. He thought that was a good thing and wondered if they might say a rosary with him. He also learned about the curfew.
Eight months after two Buffalo police officers were suspended and charged with felonies for pushing Martin Gugino to the ground in front of City Hall, a grand jury decided not to indict them.
The retired computer programmer, who had been to many protests around the country over everything from climate change to war and nuclear disarmament, decided to go to Niagara Square.
There were just a small number of protesters gathered around the front of City Hall and around Niagara Square. Earlier in the evening, four people had been arrested.
He said he spoke with several police officers before his fateful encounter and asked them what they thought of the curfew. One told him it's what the mayor ordered. A second told him to calm down and get off the sidewalk. A third said, according to Gugino, " 'I'm just doing my job.' And that actually makes a lot of sense, of course."
Gugino addressed rumors about him. He said he did not plan anything with the WBFO reporter and that he's not "Antifa."
"I'm against fascism," he said.
He recalled being in the hospital when his niece, a doctor, was allowed to visit him. "I saw you on the news," she told him. He had no idea that his story had become instant national news.
He heard about Trump's accusations.
While in the hospital, Gugino said he received hundreds of cards and letters from well-wishers, including from young people who simply said thank you. He also received a few threats.
Thursday morning, he had a doctor's appointment. He's still recuperating from the injury to his head. He's also battling cancer.
If he were to talk to the officers involved in the incident, he said, he would ask them, "What can they do? What can be done in their opinion to kind of turn the police force around?"
Early Thursday afternoon, Gugino returned to the front of City Hall and stood at the spot where he was hurt. It was a far different scene. The protests have long been over. Food trucks, not demonstrators, surrounded the McKinley Monument.
Today, on the anniversary, he said he'll spend his time working on an amicus brief supporting the rights of prisoners still being held at Guantanamo Bay.
Looking back, he said during the interview, he wouldn't do it again.
"No, I wouldn't," Gugino said. "It's like the guy who got run over by a nuclear train during a nuclear resistance. He was laying on the tracks and they didn't slow down or stop and he got his legs cut off. They were saying, 'Would you do it again?' 'Well, I don't have legs. Why would I do it again? I don't have legs.' "
But if he knew then what he know now, Gugino said, he'd do differently.
"I'd put my helmet on," he said.
Still, he believes his act of civil disobedience made a difference.
"It made a difference to me," Gugino said outside City Hall. "That counts. And a couple of kids wrote me to say it made a difference to them. That's all I want."