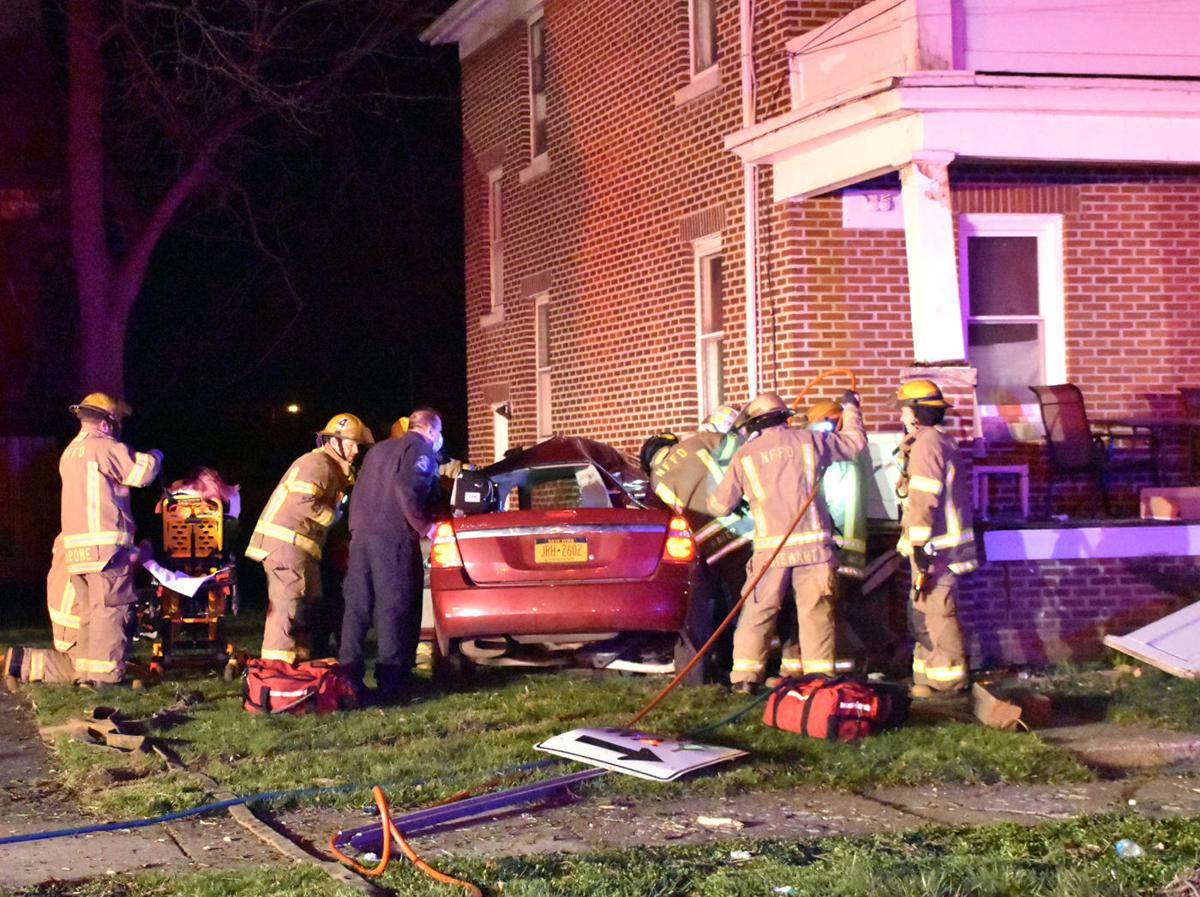 A woman whose car smashed into a Niagara Falls house at about 70 mph, killing one passenger and severely injuring another, will serve three to nine years in state prison.
State Supreme Court Justice Richard C. Kloch Sr. said an investigation showed that Hailey Jamieson Schultz, 20, was under the influence of marijuana and cocaine at the time of the crash on Walnut Avenue near 21st Street on April 22, 2020.
"We were out having a good night," Schultz said during Wednesday's tearful sentencing in Lockport.
"This was a night of debauchery," Kloch said. "This was a night of recklessness. This was a night of not giving a damn. You spent the whole night in a haze."
Shawntee Sanders, 23, of the Falls, one of Schultz's passengers, was killed in the wreck.
Another passenger, Seleste Bomberry, 25, said in a letter read by the prosecutor that she suffered severe injuries, including a fractured neck and fractured ribs, and still has fluid at the base of her brain and her spine.
Niagara County Assistant District Attorney John P. Granchelli said accident investigators concluded that Schultz's car was going 60 mph to 70 mph just before it ran off the pavement and struck the house.
Kloch said the report he received indicated the car had unsafe tires and that Schultz was driving with a suspended license.
"Since the day I woke up in the hospital and heard this tragic news, I thought I was having a really bad nightmare," a tearful Schultz read from a prepared statement. "It still doesn't feel real. I beat myself up over it every day."
"You're not sorry for what you've done. You're sorry you got caught," said Shaiquayle Maye, Sanders' sister. "You should be forgiven, but you should not have your freedom."
Maye asked for the maximum sentence, which would have been five to 15 years, while defense attorney Dominic H. Saraceno sought a "split sentence" – five years' probation beginning with six months in jail.
He contended that the only drug Schultz used that night was marijuana, and the attorney said she thought it may have been tainted.
"She's not an evil person," Saraceno said. "She's a lot more than immature. She suffers from mental health issues."
"Probation is not pain," Maye said. "Pain is me having a bag of bloody clothes that says, 'male, Shawntee Sanders.' "
The dead man's sister continued, "Ashes is all I have of him. I sleep with him every night."
After the crash, Schultz became pregnant and is now the mother of a 2-month-old son, whom she was feeding from a bottle outside the courtroom before learning her fate.