Like other cells at the Erie County Correctional Facility, inmate Keshon D. Thorpe's had a hatch in the door for passing meals and other items in and out.
On a morning in July, Thorpe refused to remove his right arm from the opening.
Corrections Officer Anil Kawal had to write a report about what happened next.
"This officer tried closing the trap door slowly," Kawal wrote. But the door, he continued, "inadvertently came in contact with inmate's right arm."
Footage from a camera mounted outside Thorpe's cell told a different story. It showed Kawal closing the door on Thorpe's arm with "a generous amount of force," a supervisor found.
Kawal's bosses didn't think the act was inadvertent at all. An unsigned Sheriff's Office narrative said the officer acted with intent.
The video, obtained by The Buffalo News, shows it was all over in a second or so. And Thorpe didn't appear hurt. While he howled in protest, he still refused Kawal's repeated order to "move your hand" out of the slot. (This portion of the video can be seen at around the 2:40 mark.)
Footage from the Erie County Correctional Facility shows Corrections Officer Anil Kawal close the hatch on a cell door on the arm of inmate Ke…
Sheriff Timothy B. Howard's team doesn't always discipline employees when video exposes a lie. For example, no internal charges were lodged when then-Deputy Kenneth Achtyl claimed a Buffalo Bills fan fought with him, though body camera video showed otherwise. A jury found Achtyl guilty of assaulting the fan, who ended up with a concussion and a broken nose.
Another deputy falsified his time sheets while facing a "last-chance agreement" signed after he was convicted of a crime. Further, the deputy's answers during the internal inquiry were "vague and nonresponsive," an official wrote. Still, Deputy Keith Capodicasa kept his job.
But slamming the door on the inmate's arm – and lying about it, in the eyes of his supervisors – got Kawal fired.
"Clear evidence showed that the officer acted inappropriately and below the standards of the Sheriff's Office," said Howard's undersheriff, John W. Greenan. He is the second in command for an administration that will end Jan. 1 because Howard has not sought re-election.
"The Erie County Sheriff's Office will continue to swiftly deal with any employee found to have mistreated an individual in our custody," he said. 
Because of the video, prison officials dropped the disciplinary case against Thorpe that was based on Kawal's version of events. The incident report to the state agency that regulates local jails was reclassified from an "individual inmate disturbance" to a "personnel/inmate assault." And the District Attorney's Office was notified.
Prosecutors doubt, however, that they can prove Kawal committed a crime. "We are unable to prove his intent beyond a reasonable doubt in a court of law," a spokeswoman there said.
Thorpe was not a model inmate. His prison record noted his "assaultive behavior." Figuring he might cause trouble, prison officials aimed a camera straight at his cell.
West Seneca police arrested him in November when called to a home on Bourbon Court, where an intruder was threatening a woman living there and taking items from the home. Thorpe was charged with grand larceny and criminal mischief, among other counts, and released after arraignment without having to post bail.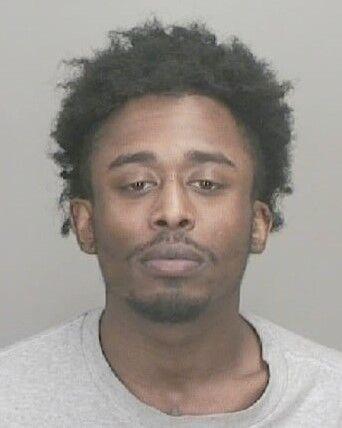 The next day, West Seneca police said, Thorpe returned to the residence and shattered a liquor bottle against the woman's face. This time, he was held on $150,000 bail. He's now in a state prison and eligible for parole in July 2023.
Based on prison records, Thorpe finished his breakfast on July 20 and shouted for Kawal to collect his tray. "Get your fat Black ass up and get my trash," Thorpe yelled, according to the Kawal statement that lodged disciplinary charges against the inmate. On the video, Thorpe can be heard shouting harsh insults and demanding that his trash be retrieved. An echo makes his words hard to distinguish, but those that do come through are not kind.  
Later, after Kawal "inadvertently" closed the hatch door on Thorpe's arm, the inmate threatened to kill the officer and his family, Kawal reported. If that happened, the video provided to The News under New York's Freedom of Information Law ends before the threats are heard.
Kawal said nothing about the threats during his disciplinary hearing Aug. 9.
When the correctional facility's second in command, Chief Christine Green, gave him the floor, Kawal doubled down on his written report, which his supervisors had already deemed false.
"I would like to go with what my pink sheet says," he said, according to a transcript.
A CSEA representative, John DiMartino, did most of the talking: "Kawal's statement that was submitted was truthful regarding what happened," DiMartino said. "He has cooperated with the hearing and all paperwork submitted with this incident. He has never been accused of lying in the past. He has never had any past incidents such as this."
A week later, the Jail Management Division sent a letter to Kawal, who had been a deputy for a little over two years and, according to records obtained by The News, had an unremarkable disciplinary file.
"Your employment with the Erie County Sheriff's Office is terminated, effective immediately," the letter said.
In March, a few months before the incident, the sheriff defended his agency's approach to internal discipline as Erie County legislators asked why he had not treated certain deputies with a firmer hand. Howard, along with Greenan, explained that firing an employee can backfire if their union takes the case to arbitration and the worker is reinstated. The employer usually wins back pay, which can be doubly costly to the employer if a replacement worker was on the job while the case was pending, they said.
The Sheriff's Office, under Howard or his successor, will face this potential scenario with Kawal. While the former deputy and his union representative did not return telephone messages seeking comment, Greenan told The News that CSEA Local 815 has filed papers to take the case to arbitration.