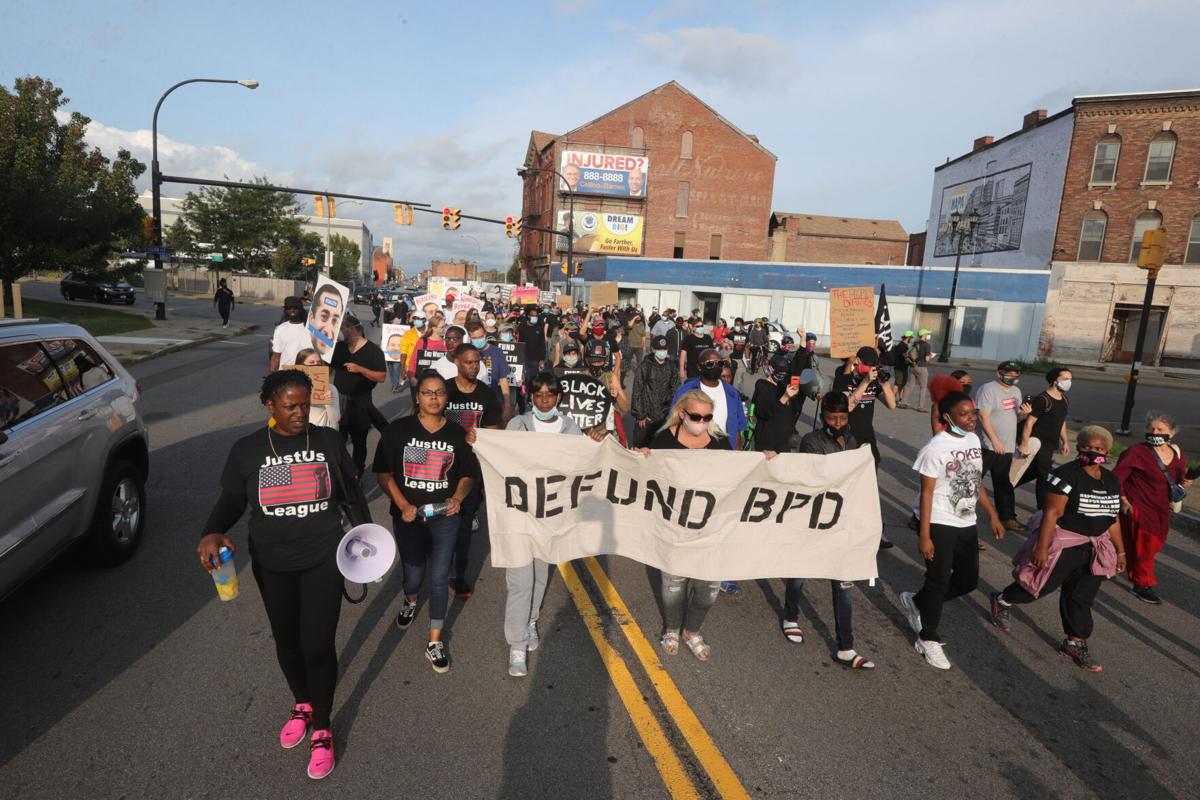 The mentally ill homeless man shot by Buffalo police Saturday afternoon carried his baseball bat wherever he went, slept with it on street corners at night, and lined up for meals every day with it at the Buffalo City Mission. Those who regularly interacted with him described him as "very quiet, very peaceful."
The man, who was identified to The Buffalo News as Willie N. Henley, 60, was upgraded to stable condition Sunday while his shooting prompted dozens of protesters to march through downtown Sunday night.
Henley was shot in the abdomen after swinging his bat and striking a police officer within a few blocks of where the City Mission is located.
He will face felony charges for assaulting a police officer, said Erie County District Attorney John Flynn. His office is still investigating whether the officer who shot the man could also face criminal charges.
"Basically it boils down to whether the shots fired by the officer were justified," Flynn said. 
Individuals associated with the City Mission said the man lined up three times a day for breakfast, lunch and dinner and was never a source of trouble for the staff there.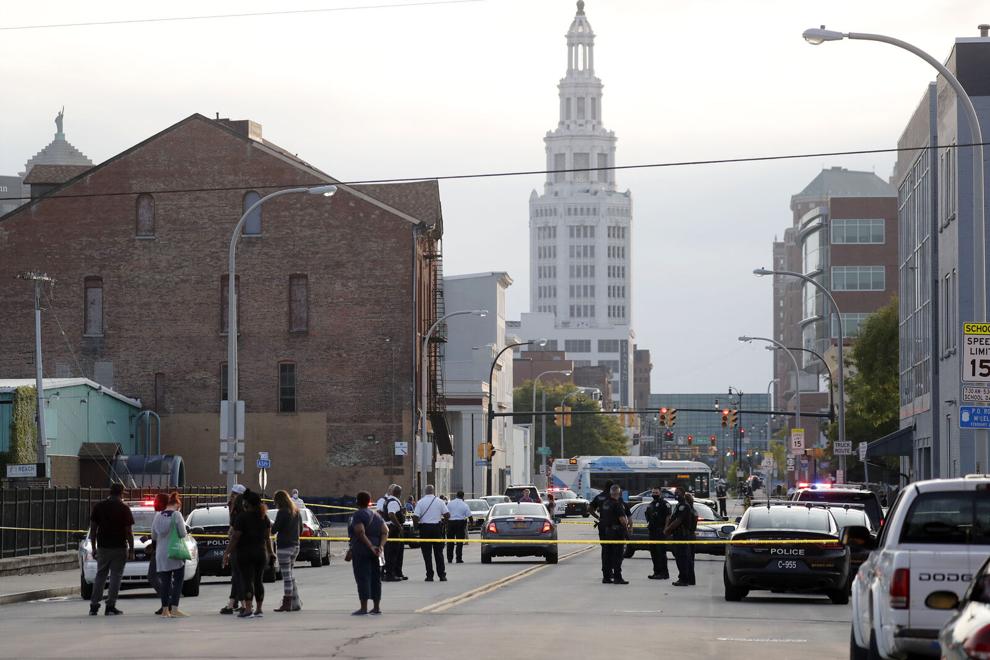 New video of the incident circulating on social media sparked outrage after the recording shows Henley attempting to walk quickly away from a group of officers, who were following him with their guns drawn, before the man was shot.
"I know what Mayor (Byron W.) Brown means to the East Side of Buffalo," said De'Jon Hall, a member of Free the People Western New York, at a Sunday news conference on the steps of City Hall. "I know the amount of jobs he has provided to people who look like us. But the time has come. Mayor Brown needs to step aside and resign. Commissioner (Byron C.) Lockwood needs to go, too. We need change, and we need the community to be the head of that change."
In an interview with WUFO on Sunday, Brown said community members are ignoring the police reforms that have taken place under his administration and he promised a new "major announcement" in the coming days.
"We will implement a comprehensive plan to do more," Brown said.
In the video circulating on social media, Henley is shown attempting to walk away from armed officers as they pursued him for several blocks.
"Put your bat down," calls out one officer with a gun trained on the man. "Nobody wants to hurt you."
Henley, who continues to try to walk away from the group of more than half a dozen officers, some of whom have weapons drawn, responds in the video, "I didn't call y'all! I wasn't doing nothing. I was by myself."
A woman heard in the video says, "He walks this neighborhood all the time and doesn't bother anybody."
The man shooting the video responds, "Ten cops for one guy?" before gunshots are fired and he starts running to the scene.
Henley is next seen on the ground and being assisted to a seated position where he remains for a few minutes before fire and other emergency medical personnel arrive.
Buffalo Police Capt. Jeffrey Rinaldo said Saturday that a police officer fired at him twice, shooting him once in the abdomen after the man swung a bat at the officer's partner and struck her. Police sources identified the officer who fired as Karl Schultz, who shot Henley after he allegedly struck Officer Alyssa Peron in the upper arm with a metal bat.
The incident has renewed calls by groups that have been pressing for police changes to defund police, redirecting money into the creation of a separate mental health intervention team.
About 200 protesters gathered Sunday evening at the site of the shooting at Genesee and Ash streets and marched to Police Headquarters carrying Black Lives Matter and Defund the Police signs and chanting "no justice, no peace." They were led by Henley's daughters, Monique Henley and Iesha Henley.
Phylicia Brown, with Black Love Resists in the Rust, said, "We don't know all the details of this situation, but we do know this man was walking away from police, and the police were chasing him." 
The mayor said Sunday that police were called to the scene to deal with a man behaving irrationally and wielding a baseball bat. Police said Saturday that the man had been threatening other residents.
Police spokesman Jeffrey Rinaldo said an officer fired two shots after his partner was struck with the bat, and the man was wounded once in the abdomen.
Rinaldo said when officers first encountered the man, he was holding the bat, acting aggressively and yelling at people on the street.
"A number of officers shadowed the individual up Genesee Street, attempting to plead with him to put the baseball bat down," telling him they wanted to talk to him and help him, Rinaldo said Saturday. "On a couple occasions, the individual became aggressive, made a striking motion toward officers with the bat."
Rinaldo said police attempted to use pepper spray on the man. When they attempted to stop him, Rinaldo said, he swung the bat and struck an officer.
Flynn said he was told the officer who was injured was struck twice. But even if she had only been struck once, that's enough for the man who was shot to be charged with second-degree felony assault of an officer because he was wielding a bat.
Flynn's office is now in the process of gathering all police body camera footage and statements from police at the scene, which will be reviewed to determine whether there are any grounds for a criminal charge to be levied against the police officer who fired his gun.
Mayor Brown said Sunday more than 125 Buffalo police officers have received mental health crisis training. He also said the city has met with dozens of community organizations and hundreds of individuals over the issue of city policing.
"Buffalo is a leader in reform," said Brown.
Community advocates who have been pressing for changes in policing policies stood in front of City Hall at noon and read off the list of names of individuals locally who have been shot or killed by police over the years.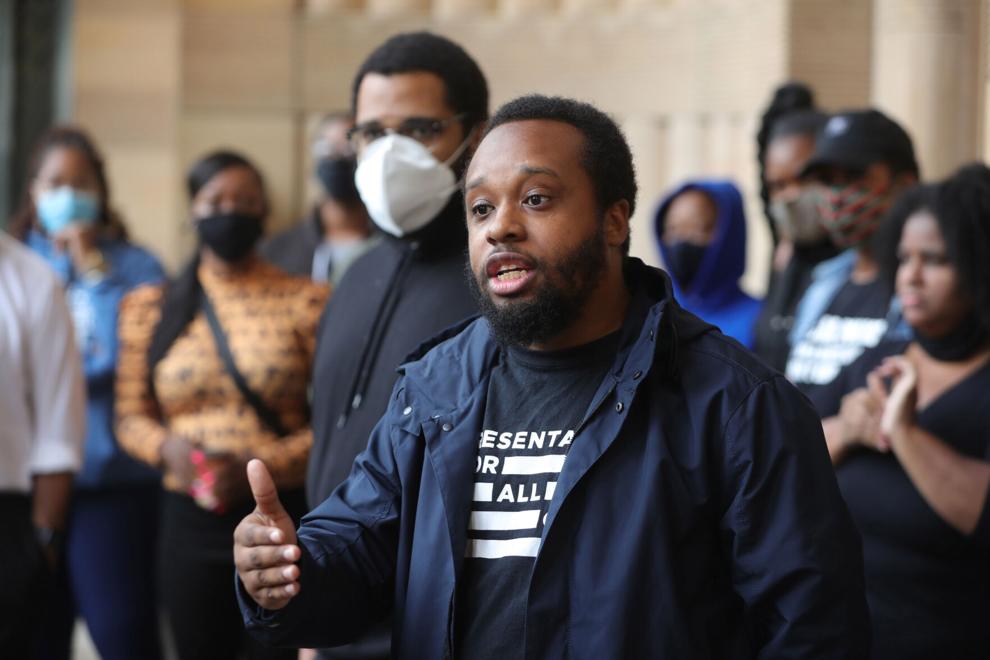 The citizens organizing the Sunday news conference described Saturday's incident as following a "chase, surround and shoot" model.
In response to the Buffalo Police Benevolent Association statement that officers on Saturday followed the proper protocol, Hall alluded to the fact that the homeless man is Black and said, "If that is the protocol, then that is a bad protocol, and it needs to be changed. How many people undergo that protocol when they're white?"
Jessica Pirro, executive director of Crisis Services, said Buffalo and Erie County already have the kind of emergency health response team described by community advocates. It's called Emergency Mobile Outreach Services and is staffed with social workers and other mental health professionals.
"There is definitely a need for reform, and we agree with that 100%," she said. "But we want to make sure those who are in the various positions to make that reform are truly informed of the services that already exist in our community."
No one from this mobile outreach team was on the scene Saturday when the shooting incident occurred. Pirro said she is checking how the call regarding Henley came into dispatch and whether her agency was contacted.
The shooting sparked a rally of Black Lives Matter protesters.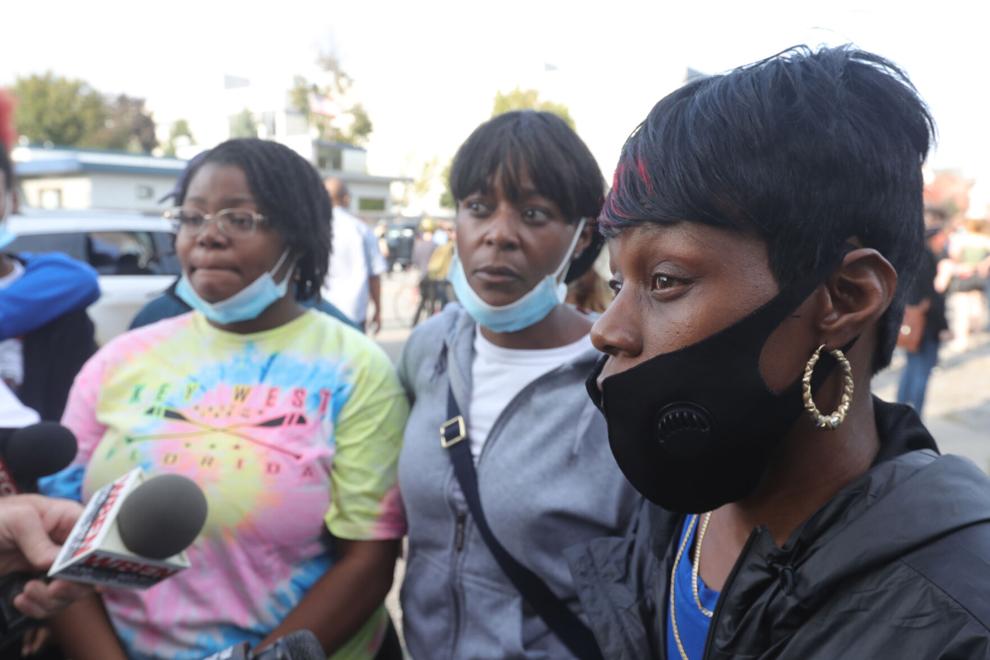 Around 5 p.m. Sunday, about 200 people gathered at Genesee and Ash streets, where Henley was shot, and began a loud, but nonviolent march toward downtown.
One speaker, India Walton of Buffalo, explained the chant of "Defund the Police," saying it is more about redirecting money from police budgets into important programs, helping the mentally ill being one such cause.
The march was led, symbolically, by the daughters of the shooting victim, Monique Henley and Iesha Henley. Iesha Henley said her father was still in rough shape, but doing better.
News Staff Reporters Maki Becker and Matt Spina contributed to this report.