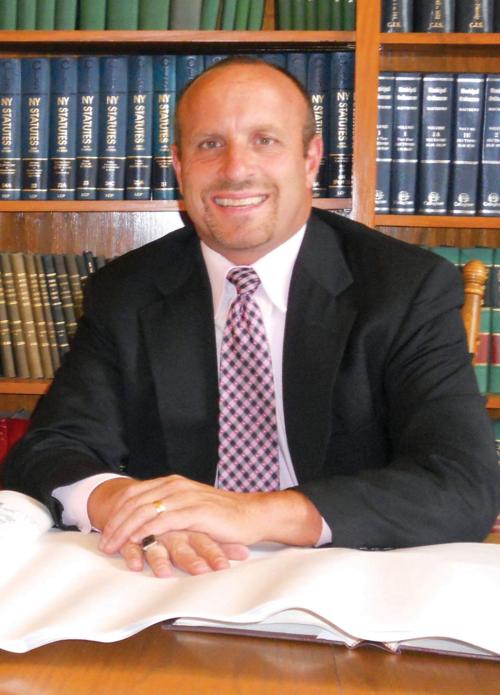 Lancaster Councilman Mark S. Aquino resigned his seat on the Town Board on Monday, a day after police charged him with driving while intoxicated and leaving the scene of a property-damage accident.
Aquino, 52, a lawyer who has served on the board since 2010, is accused of hitting a car that was legally parked in the 2000 block of Como Park Boulevard in the village, said Lancaster Police Chief Gerald J. Gill Jr.
The incident, which occurred shortly after 9 p.m. Sunday, was reported by someone who heard it and then followed Aquino's car as it continued eastbound on Como Park, Gill said.
Aquino was stopped within a mile of the scene and arrested without incident. He had a blood-alcohol content of 0.14 percent, above the legal limit for drivers of 0.08 percent, the police chief said. "He was cooperative at all times during the investigation," Gill said.
Both vehicles incurred damage, police said. Aquino was released on his own recognizance, pending a May 5 appearance in Lancaster Village Court.
Aquino, who previously served as Lancaster village clerk-treasurer and prosecutor, did not immediately respond to phone and email messages seeking comment.
He submitted his resignation, effectively immediately, to the Town Clerk's Office on Monday, according to Diane M. Terranova, deputy town clerk.
"It has been a pleasure working for the town for the past five-plus years and serving the residents of this great town," Aquino wrote in his resignation letter.
Aquino, a Democrat, was appointed to a vacant seat on the board in January 2010 and ran in November 2010 for the right to finish the last year of that term. He was elected in November 2011 to a full, four-year term that expires at the end of this year.
A secretary for Town Supervisor Dino J. Fudoli said he is not commenting on the arrest at this time. Aquino's resignation leaves the town with a four-member board – three Democrats and the Republican supervisor.
Town Clerk Johanna M. Coleman said the remaining members of the board can appoint someone to fill Aquino's seat or leave it vacant. In either case, whoever wins the seat in November would begin a full, four-year term Jan. 1.
Board members said that they have not yet made any decisions and that they will meet in the coming days to discuss their options for the vacancy.
"I'm still trying to digest the whole situation," said Councilman John M. Abraham Jr.
Aquino's fellow Democrats said they had not talked with him before he emailed town officials to inform them of his plans.
"He did the right thing, by resigning, to save the town a lot of grief and a lot of unneeded publicity," Councilwoman Donna M. Stempniak said. She added that the resignation also allows the healing process to begin for Aquino and his family.
A longtime attorney in private practice, as well as the Village of Depew attorney, Aquino was censured in June 2012 by the Appellate Division of State Supreme Court for misappropriating $2,500 that was part of a debt-collection matter forwarded to him by opposing counsel. He was accused of commingling the money in his law firm's operating account, and from June 2007 through August 2010, the balance for the account was consistently less than $2,500. "It certainly wasn't something I wanted to happen. I don't consider it baggage. It's one isolated incident in 20-plus years," Aquino told The Buffalo News in a 2013 article about his candidacy for town justice. "When you practice for over 20 years in any job, you make a mistake. It was an honest mistake.
"Once I found out about it, I clearly made amends," Aquino said. "I didn't give it to anybody. The problem was because my account dipped below $2,500 over five years, and they called it commingling. There was no intent to take the money. I didn't say 'bye-bye' and go build a house in Orchard Park."
Sign up for our Crime & Courts newsletter
Get the latest in local public safety news with this weekly email.