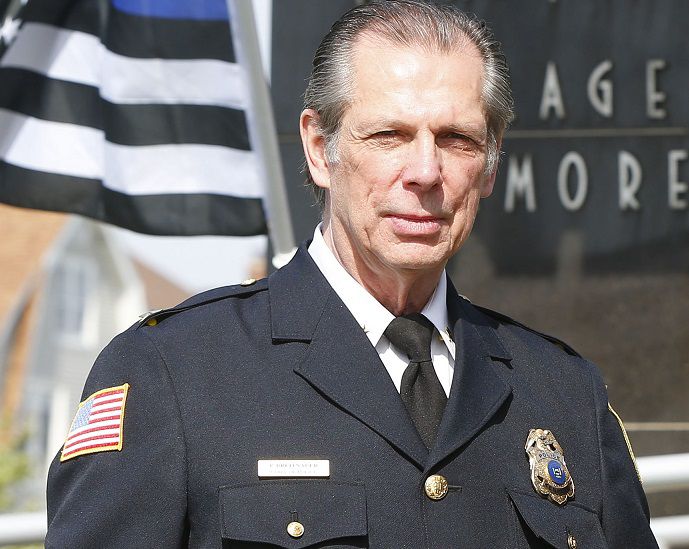 Kenmore Police Chief Peter J. Breitnauer admitted an addiction to painkillers after his arrest Friday, according to federal prosecutors.
Breitnauer, 68, also admitted taking pills from a medication drop box at the Kenmore Police Station and saving them for his personal use, the U.S. Attorney's Office said in a statement.
Prosecutors also said the chief showed FBI agents a closet in his office where he had more than 100 hydrocodone pills originally taken from the box.
The chief's admissions, according to the FBI, followed his arrest for possession of hydrocodone.
"It's a sad day," U.S. Attorney James P. Kennedy Jr. said in a statement. "Today's events certainly do not erase all the good that the chief has done during his tenure. Rather, they highlight the devastating and destructive power of opioids and underscore the fact that anyone can become ensnared in their allure."
Mayor Patrick Mang late Friday responded in the wake of the police chief's arrest.
"The village has received a number of inquiries about its chief of police. Chief Breitnauer has been placed on administrative leave while the village conducts a full investigation into the matter. However, because this involves an ongoing personnel issue, the village cannot make any further comment at this time," the mayor said.
Mang said that in the interim, Capt. T.J. Phillips will serve as the acting chief of police.
Phillips has been a member of the village police force since 1999 and was promoted to a lieutenant's position in 2007. He was promoted to captain in February 2013, according to Village Board minutes from Feb. 2, 2013, posted online on the village's website.
Breitnauer, a lifelong village resident, became police chief in 2012 after six years as assistant police chief.
When he joined the force in 1984, Breitnauer was Kenmore's fire chief. His son, Peter D., later became head of the volunteer fire department.
Prosecutors said the chief told agents he was addicted to hydrocodone.
"Chief Breitnauer has enjoyed a long and distinguished career as a respected member of Western New York's law enforcement community," Kennedy said in his statement. "There is absolutely no evidence suggesting that the Chief ever distributed any of the drugs he is alleged to have diverted."
As chief, Breitnaur presides over a department with 25 officers, and with the motto "Dedicated service, professional enforcement," according to the village website.
The Village Board eliminated the assistant chief's position five years ago. In an agreement with the Police Benevolent Association in 2013, the board eliminated the assistant chief's position and added a second captain's position to the force.
Breitnaur's son, Justin, joined the Kenmore Village Police in 2013. His father pinned a badge on him during the commencement ceremony.
The charge carries a maximum penalty of one year in prison and a $100,000 fine.
News Staff Reporter Barbara O'Brien contributed to this report.
Sign up for our Crime & Courts newsletter
Get the latest in local public safety news with this weekly email.