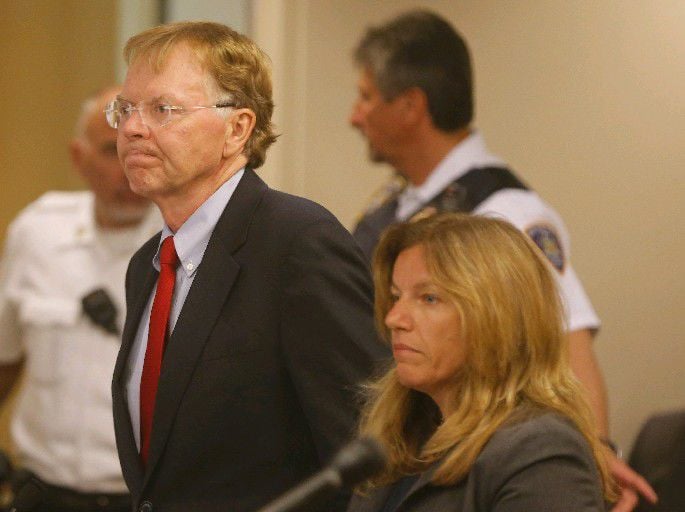 In November, a town justice near Albany was publicly admonished for posting "inappropriate" images and remarks on Facebook, including one image suggesting that former President Bill Clinton killed convicted sex offender Jeffrey Epstein.
These 15 judges either resigned or were removed from their positions.
In September, a state judge in Syracuse resigned from his $210,900-a-year post after admitting to "unwanted, unwelcome kissing" and other improper acts toward female court employees.
A state judge from Long Island resigned in March, after pleading guilty to attempted burglary. Police said the judge broke into the home of a 23-year-old woman he knew, intending to steal her underwear.
These are recent cases handled by the Commission on Judicial Conduct, a state agency that investigates claims of unethical conduct by more than 3,000 state, county and municipal judges throughout New York State.
The commission is currently investigating a June altercation involving Mark J. Grisanti, an acting State Supreme Court judge from Buffalo. Grisanti got into a heated argument with police officers who came to his North Buffalo home to investigate a dispute between the judge and his wife and some neighbors.
The CJC, as many lawyers call the agency, investigates a wide array of alleged misbehavior by judges, ranging from arrests for drunken driving to conflicts of interest, sexist behavior and rude remarks in the courtroom.
Two hundred and ninety-eight judges in New York – almost 30 a year – have been disciplined or cautioned since 2010. Eighty-two of those judges either resigned or were removed from their jobs for ethical violations.
But Robert H. Tembeckjian, the commission's administrator and lead counsel, said he believes the vast majority of the state's judges are ethical public servants.
"I've worked in this commission for more than 40 years, at many different levels. In my experience, the vast majority of judges in our state are capable, hard-working people who are sensitive to their ethical responsibilities," Tembeckjian told The Buffalo News.
There have been outrageous incidents of judicial misconduct – including some in Western New York – but those incidents are statistically rare, Tembeckjian said.
In 2019, 44 judges either lost their jobs, or were publicly sanctioned or privately cautioned as a result of CJC investigations. That number is less than 2% of the judges in the state's Unified Court System.
These 15 judges either resigned or were removed from their positions.
The number of annual complaints to the commission has risen in recent years, and Tembeckjian credits the Internet.
"We used to investigate about 650 complaints a year. We now investigate about 1,900 to 2,000 complaints a year," Tembeckjian said. "Thanks to our website, we reach a much larger audience. People know they can go online and file a complaint. We've demonstrated a willingness to publicly discipline judges who commit misconduct."
Tembeckjian believes publicity generated by colleagues who misbehave has made most judges throughout the state more concerned about ethical standards.
Roughly 50% to 60% of complaints each year come from people who feel a judge has made unfair decisions or rulings, Tembeckjian said.
"We follow up on every complaint, but we can only make a case if it involves ethical misconduct," he said. "We are not an appeals court. We cannot overturn rulings because someone feels the judge has been unfair or made the wrong decision."
He said many of the disciplinary cases made by the commission involve conflicts of interest – such as a judge making a decision in favor of a friend or political supporter.
Other frequent issues include judges using their positions to help themselves or people close to them, judges engaging in rude or inappropriate behavior, judges showing bias for or against certain groups of people, and judges violating the fundamental rights of citizens, including the right to have an attorney.
'Do you want a piece of me?'
Some of the disciplinary cases involve strange or inappropriate conduct in the courtroom.
In 2006, Albany County Judge William A. Carter was sanctioned for stepping down off his bench during a court proceeding, removing his black robe and challenging a criminal defendant with the words "Do you want a piece of me?"
And a few judges – as illustrated by the commission's case files – get into trouble by committing crimes.
In March, tax crimes led a town justice from Lewisboro in Westchester County to resign from the job he had held since 1997. The commission said Marc A. Seedorf pleaded guilty to tax evasion. He was sentenced to six months in federal prison. Prosecutors said Seedorf agreed to pay $207,219 in restitution after admitting he had not filed federal tax returns for 10 years.
State Supreme Court Judge Robert Cicale of Suffolk County resigned in March. He pleaded guilty to attempted burglary in a case described by police as an attempt to steal undergarments from the residence of a young woman he knew. His attorney said Cicale was dealing with mental health issues. Cicale was sentenced to a term of probation.
Incidents of outrageously bad conduct by judges are "outliers," said Rodney O. Personius, a veteran Buffalo attorney and former federal prosecutor.
"A few of these things have happened, but in my experience in 45 years as a lawyer in this community, those incidents are very rare," Personius said.
The commission's Rochester office, which has eight employees, covers 26 counties, including Erie County, Niagara County and all of Western New York.
Since 2010, investigations by the Rochester office resulted in two judges being removed from office, 30 resigning from office, 17 being publicly admonished, 21 being publicly censured and 82 judges receiving letters of caution, commission spokeswoman Marisa Harrison said.
Over the years, the commission has had some high-profile cases in Western New York.
Niagara Falls City Judge Robert M. Restaino was removed from office in 2007. The commission said Restaino behaved like a "petty tyrant" and abused his judicial powers during a 2005 incident in his courtroom. Restaino ordered 46 people to be jailed after a cellphone rang in his courtroom and no one would admit to owning it.
Restaino lost his $113,900-a-year judgeship, but was elected last year as the mayor of Niagara Falls, a post that pays $77,701. Restaino's attorneys argued that he had a previously unblemished record as a judge and was dealing with some stressful personal issues at the time of the incident.
Judges who resigned in recent years included two justices from Colden, one from Evans and one from Lockport.
"The Michalek case did not come before the commission because he resigned from office when he pleaded guilty in the criminal courts," Tembeckjian said.
Investigating judges since 1978, the commission now has 41 employees statewide and an annual budget of $6 million. Two Buffalo lawyers, Daniel C. Oliverio and Paul J. Cambria, who have represented judges investigated by the commission, called it tough but generally fair.
Oliverio noted that the commission's cases are rarely overturned in the appeals courts.
State records show that, in this century, the appeals courts have only overturned two cases in which the commission removed judges from office. One of those cases involved William J. Watson, a Lockport city judge who was represented by Terrence M. Connors, the same attorney who now represents Grisanti.
Because of some inappropriate remarks Watson made during a political campaign, the commission ruled in 2003 that he should be removed from office. Connors appealed to the State Court of Appeals. The punishment was reduced to a censure, and Watson remained in office.
"I think the commission can be a little too strict at times, but overall, I think they are good, fair-minded people," Cambria said. "They have a brutal job, because if you remove a judge from office, you're basically disenfranchising the voters who elected them. At the same time, there are some serious situations that absolutely need to be investigated."
"They have a difficult job," Connors said of the commission.