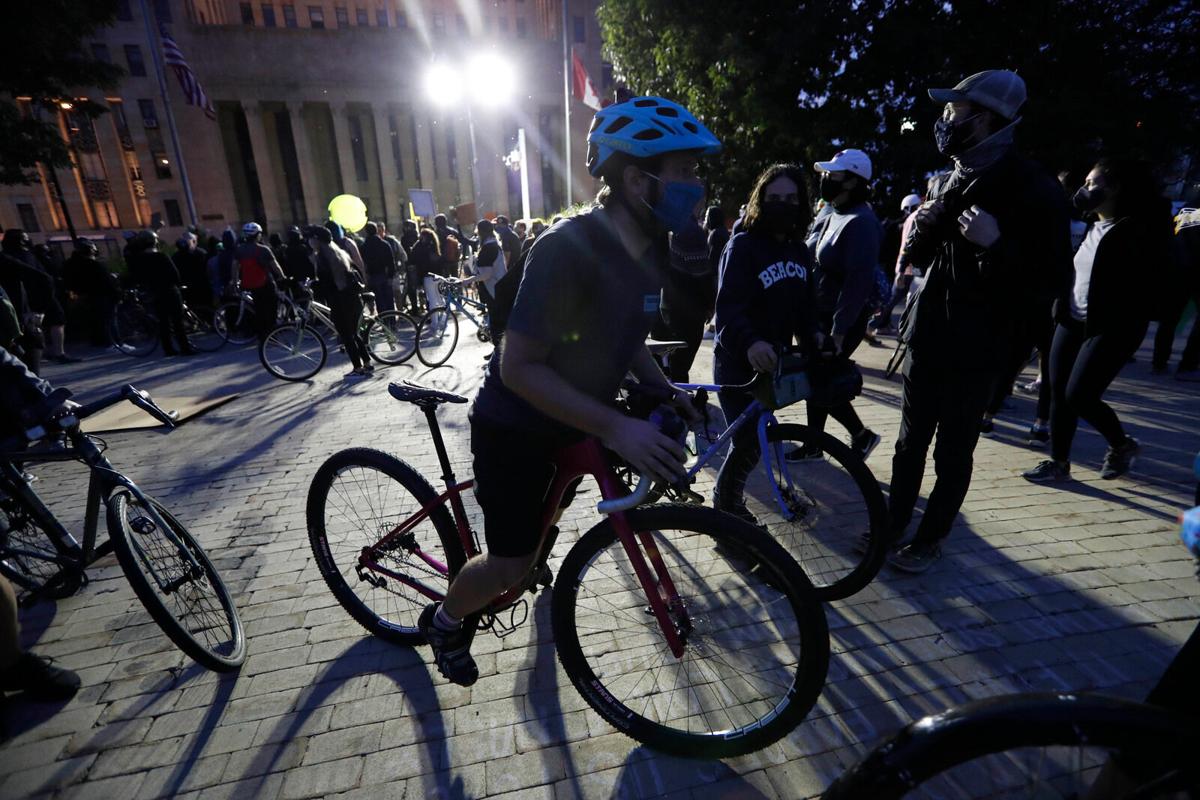 A judge today suspended the license of a Buffalo woman charged with hitting a demonstrator with a pickup truck in front of City Hall.
Joanna Gollnau, 25, was arraigned Wednesday before Buffalo City Court Judge Diane Wray on two charges: a felony count of first-degree reckless endangerment and a misdemeanor count of reckless endangerment. If convicted, she faces up to seven years in prison.
On the evening of Sept. 23, a protest of several dozen people gathered in Niagara Square and through downtown after news from Kentucky that a grand jury had decided to indict one former police officer on charges of "wanton endangerment" related to the death of Breonna Taylor. The grand jury did not indict the other two officers involved in a raid that resulted in Taylor's death.
Demonstrators were gathered around Niagara Square when about 8:45 p.m., prosecutors say, Gollnau, who was delivering food from a Niagara Street pizzeria, drove through the crowd.
Karen Huffman, 59, who was acting as a "bike marshal" and a legal observer at the protest was seated on her bike just off the curb when Gollnau's truck hit her. Her friends said she suffered a broken shoulder.
In a cellphone video that captured of the incident, people are seen chasing after the truck and surrounding it after Gollnau pulled over. The video shows her drive off.
Both prosecutors and her defense attorney said she called 911 and cooperated with police. Two days later she was given an appearance ticket on the two charges.
Gollnau's attorney, Jason DiPasquale, told the judge that video of the incident shows what happened in front of City Hall was a "tragic accident."
"My client found herself in the midst of a protest while she was delivering food," DiPasquale said. He said that Gollnau felt threatened by the protesters and that the roadway between City Hall and the McKinley Monument were not blocked off.
He argued against taking away Gollnau's license.
"She works as a delivery driver," DiPasquale said. "It would pose a very serious hardship."
But Wray ruled that her driver's license should be suspended.
"I don't think a hardship is pertinent here. Frankly, these are very, very serious allegations," Wray said.
After the hearing DiPasquale told reporters that Gollnau, a single mother of a young child, that the incident doesn't rise to the level of a crime.
"Certainly, she feels terrible that Ms. Huffman was injured in the process," DiPasquale said. But he said Gollnau's name has been "besmirched in the media."
Erie County District Attorney John J. Flynn Jr. said the charges reflect that prosecutors don't believe Gollnau intended to hit any protesters but that she showed "depraved indifference."
"She drove right through," Flynn said.
Gollnau's case, which is being handled by assistant DA Christopher McCarthy, is slated to return to court on Jan. 4.
The victim, identified as 59-year-old Karen Huffman, suffered a fractured shoulder and possibly a fractured wrist, according to protest organizers.