Christopher J. Belter Jr., who pleaded guilty to sexual assaults on four teenage girls in his Lewiston home in 2017 and 2018, is to be sentenced as an adult because he violated the terms of his interim probation by repeatedly viewing online pornography.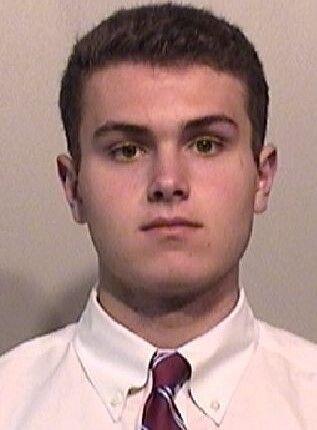 Belter, now 20, "does not hesitate to ignore the rules when they compete with his own carnal appetites," Niagara County Judge Matthew J. Murphy III wrote in a decision, issued Thursday, that denied Belter youthful offender status.
The ruling means that Belter faces a maximum of eight years in state prison and must register as a sex offender. However, another eight years of probation also is a sentencing option for the judge.
Had Murphy granted youthful offender status, Belter's sentence would have been capped at four years behind bars and he would not have had to join the state sex offender registry.
When Belter appeared before then-County Judge Sara Sheldon for sentencing in August 2019, Sheldon placed him on interim probation for two years, pending a final sentencing decision.
Sheldon said he could earn youthful offender status if he did well on probation, but she predicted it would be difficult for him to do so because of the numerous rules that apply to sex offenders on probation.
One of them was no viewing of porn, but Belter installed software on his computer to bypass a content blocker and had viewed online porn as recently as last month, according to Murphy's 18-page ruling.
He took over the case after Sheldon's retirement last year.
In August, Murphy barred reporters from using Belter's name because he was a possible youthful offender, even though it had been published before. Murphy didn't address the publication question in his ruling, but he did say that Belter would be sentenced "as an adult offender."
In a hearing Oct. 18, Belter's defense attorney, Barry N. Covert, conceded that Belter had violated the terms of probation. He declined Murphy's offer to withdraw Belter's guilty pleas, which would have meant taking the case to trial.
The hearing focused on whether Belter, who now lives in Lockport, should receive youthful offender status despite his violation of probation terms.
His probation officer, Ashley Kraska, wouldn't make a recommendation on that question. She told Murphy that Belter had been viewing porn since he was 7 years old and used it as a "coping mechanism."
Forensic counselor Dr. David Heffler, who specializes in sex offender counseling and who had been treating Belter for two years, testified that Belter presented an "above-average risk" to commit more sex crimes.
However, Murphy wrote that Belter seemed to have been affected by an emotional statement made in court by one of his victims on Aug. 25, when his sentencing was postponed.
The girl said she remembered focusing on a potted plant in Belter's bedroom as he raped her on Aug. 2, 2018. She cried during the attack and Belter told her to stop being such a baby and that if she stopped resisting, it wouldn't hurt as much.
"That 16-year-old girl trusted a bit too much that justice would have been served," she said. "She worried that if she spoke up louder, she would get hurt even worse and hurt other people along the way. She had just assumed that all rapists go to jail."
The victim urged Murphy "to not let this rapist walk away from two years' probation with a clean slate."
Heffler testified that he thought Belter had a good long-term prospect of rehabilitation, but it might take another eight to 10 years of counseling.
The psychologist testified that Belter "grew up in an environment where there weren't consequence for behaviors that probably should have been consequences."
Heffler said he prescribed Belter medication to reduce his sex drive and testified that Belter, in the judge's words, "had a lot of negative emotions and anger about his childhood and how his home was run."
Belter's mother, Tricia Vacanti, 50; his stepfather, Gary E. Sullo, 55; and a family friend, Jessica M. Long, 42, were charged in 2018 with assorted counts of child endangerment and unlawfully dealing with a child. They were accused of supplying girls with alcohol and marijuana at parties in the Mountain View Drive home, where Belter assaulted his victims.
A trial for Vacanti, Sullo and Long was to have been held in Lewiston Town Court in May 2020, but it was canceled because of the closure of courts in the Covid-19 pandemic. The case remains open, with a pretrial conference set before Town Justice Hugh C. Gee for Nov. 16, the same day as Belter's sentencing.
Parents of two of the victims also have filed civil suits against Belter, Sullo and Vacanti.
Covert and the prosecutor in the Belter case, Niagara County Assistant District Attorney Peter M. Wydysh, declined comment on Murphy's ruling Friday.