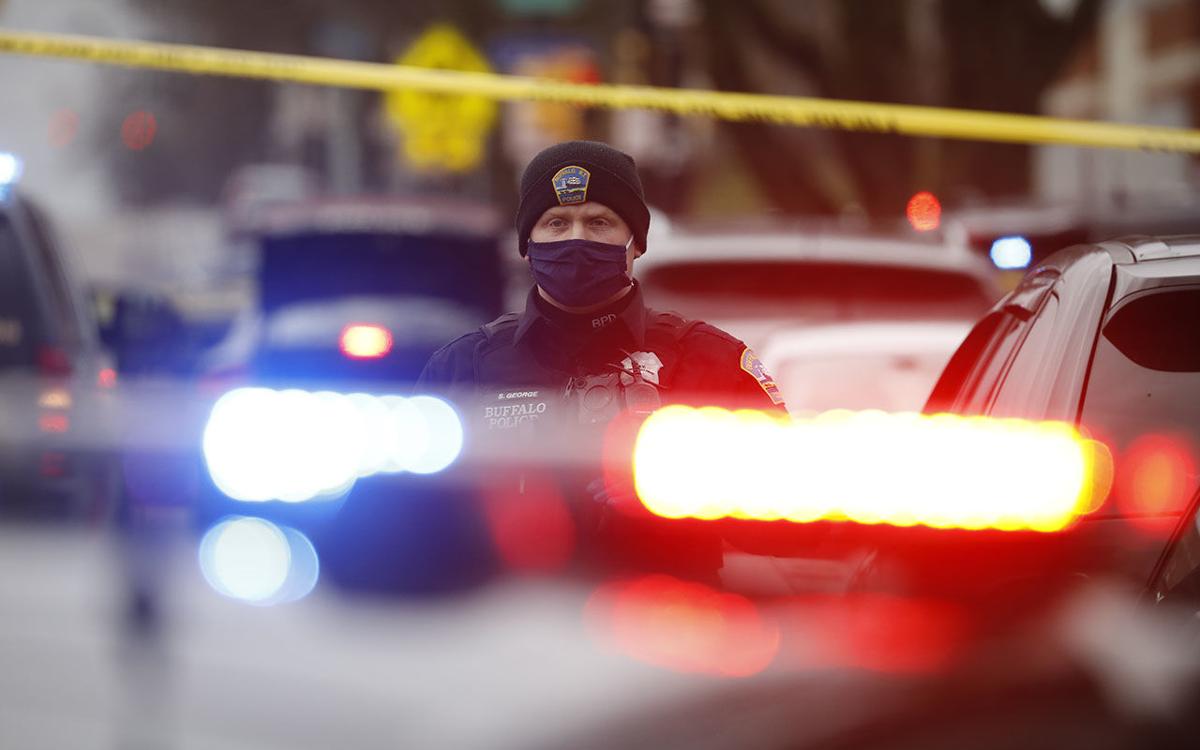 Last Monday night, a man and woman were found shot dead on Krupp Street. The next day at 2 in the afternoon, a man was fatally shot inside the Doat Express convenience store on Doat Street.
Already in January, seven people have been fatally shot, including a woman slain in South Buffalo as part of an apparent murder-suicide.
The first few weeks of 2021 have provided a violent start to the new year and follow a year in which gun violence in Buffalo, like in many other American cities, erupted.
The number of people shot in Buffalo in 2020 increased 90% compared to 2019, according to Buffalo Police Department statistics. Last year, 355 people were shot – either injured or killed – in the city. In 2019, 188 individuals were shot, according to department statistics.
While city and police leaders work to stem the violent tide, they also note that Buffalo is far from alone.
"It's happening all over the country," said Buffalo Police Commissioner Byron Lockwood.
A year-to-year comparison may not truly reflect the overall level of shootings in the city this year. That's because shootings were down overall in 2019 – fewer people were shot in Buffalo in 2019 than in any year since at least 2011, according to an earlier Buffalo News analysis of department data.
From 2015 through 2019, an average of about 241 people were shot each year in that five-year period.
Compare 2020's numbers to that five-year average and the number of people shot in last year was a 47.3% increase, according to a News analysis.
Of the 355 people shot in Buffalo in 2020, 87.6% were Black, according to police department statistics.
Homicides in Buffalo in 2020 increased by 40% compared to 2019, according to statistics provided by the Buffalo Police Department.
Of the 66 criminal homicides in Buffalo last year, 65 have been investigated by Buffalo police. The other – the fatal stabbing of a 17-year-old girl at the Ellicott Street bus station on May 29 – was investigated by the Niagara Frontier Transportation Authority Transit Police Department.
Homicides in Buffalo were up 41% compared to the five-year average from 2015 through 2019, according to a News analysis of police department data.
Of the city's homicides last year, 47 – or 71% – were shootings, according to department data.
Of all this year's homicide victims, 11 were age 20 or younger and 38 were between ages 21 and 40, according to The News' analysis.
In terms of race, a little more than 7 of every 10 victims were Black.
In order to make some headway with Buffalo's gun violence problem, there needs to be a change in the nature of the conversation on the issue, said Neal Dobbins, who founded and runs a parents group called Most Valuable Parents.
There should be a greater focus on illegal handguns and the amount of these firearms that have "flooded" the city, Dobbins said.
"I believe that how we've been approaching this thing is more of hacking at the leaves rather than going to the root," he said.
At the core of the issue are gun traffickers and some gun dealers, and that side of the issue has been largely ignored in dealing with gun violence in Buffalo, according to Dobbins.
Typically, efforts by law enforcement come after the shootings happen on city streets. Trying to make the community safer by finding and locking up the shooters is obviously needed, but collaboration among local, state and federal law enforcement agencies to address the flow of illegal handguns should be made more of a priority, he said.
"We can talk about the shooters and the shootings all day, but until we know in good conscience that we're doing something to stop the guns from getting to the shooters, we should be ashamed of ourselves," Dobbins said.
Lockwood blamed the availability of guns, changes in bail laws that have led to lower bail amounts for people charged with gun possession, and the pandemic's impact on the justice system for the rise in shootings.
Social distancing rules have also made police investigative work more difficult, he said. Also, courts have been impacted, including trials. "The court's aren't fully functioning," Lockwood said.
Covid regulations have made community policing initiative virtually impossible, Lockwood said.
The previous summer, Lockwood and Mayor Byron Brown would bring the police department's command center bus into neighborhoods identified as shooting hot spots as a way to discourage crime and build relationships with the public, he said.
"But we were unable to do that," Lockwood said.
One new initiative aimed at gun violence that will continue are the department's new "shoot reviews" where Buffalo police meet once a week with an array of agencies, from the Erie County Sheriff's Office, State Police and FBI to parole, probation, forensic labs, the Erie County District Attorney's office and the U.S. Attorney's office to discuss every shooting.  
"It's very helpful because you have all the agencies working together," he said.