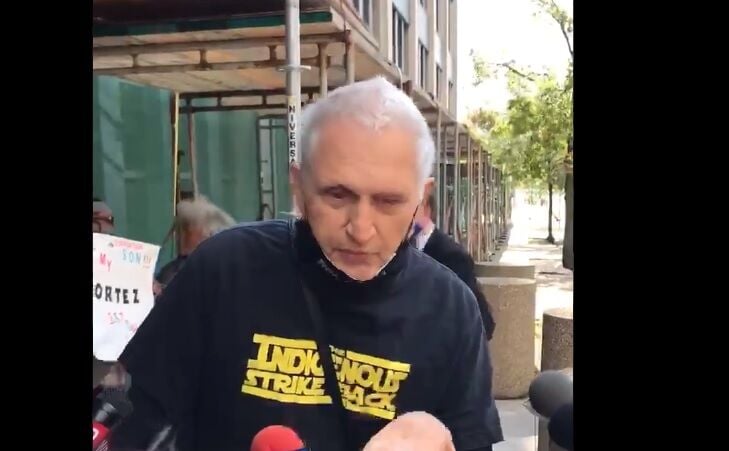 Martin Gugino, the 75-year-old protester who suffered a cracked skull after he was pushed to the ground by Buffalo police in June, spoke to reporters Wednesday while attending a protest against police misconduct.
Gugino, wearing a "The Indigenous Strike Back" sweatshirt, described his current condition.
"I have residual things. Probably this will never come back all," he said, pointing to the side of his head. "I've got a cane."
Martin Gugino, pushed to the ground by Buffalo police in a video seen worldwide, speaks out against brutality during a news conference urging prosecution of bad cops. pic.twitter.com/4MaA17qwXY

— Matthew Spina (@MatthewSpina1) October 7, 2020
He said what needs work is the City of Buffalo.
"The city is not good. I'm good. The city is not good," he said.
Two Buffalo police officers were charged with felony counts of assault and were suspended without pay for a month after the June incident that was captured on video by a WBFO reporter and viewed millions of times worldwide.
"The problem with that is any of the officers would have done the same thing," he said. "These were not two especially bad officers. It's the whole system is wrong. They're all taught to do the wrong thing. So that's the problem that has to be fixed."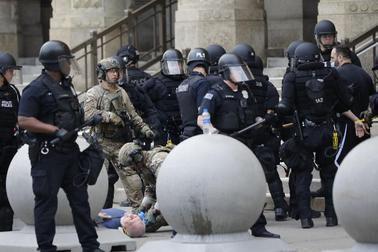 He also criticized the curfew that was in place when he went to Buffalo City Hall on June 4 and the Buffalo Police Emergency Response Team marched across the front of the building to clear it. That's when Gugino is seen in the video approaching them and then being pushed to the ground. He fell back hitting his head. Blood was seen coming out of his ears moments later. 
"The curfew was wrong," Gugino said Wednesday. "Mayor Brown has to be taught what the First Amendment means."
Gugino also criticized police leadership for their training.
"The chief of police – whatever training he gave these guys – it's not right," he said.
"You're allowed to protest on the sidewalk. Protest is the American way. That's the feedback that the government needs."
Gugino offered some details about the night he was injured.
Gugino said that he went to City Hall that night because he wanted to say a rosary with the police officers. A day earlier, several police officers had kneeled with protesters in Niagara Square.
"I got there late because the day before the people took a knee which was fine and I thought, well, I'll go and maybe we can say a rosary. Why not? Let's do that," Gugino told reporters.
"But they weren't into that," Gugino said.
It wasn't until a couple of days after he was injured that he saw the video of what happened – and learned how much attention it had received.
He said his niece told him he was on George Stephanopoulos' show.
"Forty police and 40 protesters, each one could take a guy," he said of the police response that day.
He said he agreed with Gov. Andrew Cuomo's assessment of what happened, that it was "just not reasonable."
An ardent supporter of First Amendment rights who has participated in numerous protests, Gugino said, "You can't suppress dissent. You cannot suppress dissent so you can't use a curfew to suppress dissent."
On Wednesday, Gugino was participating in a protest over the arrest of a Buffalo man, Morgan Eaton, who was charged with possession of cocaine, even though field tests showed the substance police found was not cocaine.