In the moments after a high-speed crash on a dark and rainy Seneca Street in South Buffalo, Antonio D. Brown's first concern was not the injured passenger from the other car thrown 195 feet from the point of impact.
Nor was it the other driver, a man dying behind the wheel of a Toyota sedan struck by Brown's sports car at 64 mph.
"This defendant made the decision to drive while intoxicated and speed down Seneca Street on a dark, rainy night," Erie County District Attorney John J. Flynn said of Antonio Brown, 35.
Brown's main concern, Acting Erie County Court Judge Caroline A. Wojtaszek said Tuesday at his sentencing, was his 2008 Maserati.
Footage recorded by Buffalo police body-worn cameras revealed Brown's focus was on his car immediately after the crash, the judge said.
A packed courtroom listened to two distraught relatives of the two people killed. Then Brown issued his own tearful statement and apology.
Last summer, a grand jury indicted Antonio Brown, 35, on charges of vehicular homicide and manslaughter in the Oct. 27, 2019, crash on Seneca Street involving a 2008 Maserati and a 2017 Toyota sedan.
Then came his sentence – three to nine years in state prison.
The judge told Brown she had difficulty understanding his response to the crash and found it hard to reconcile what he said in court with his actions from Oct. 27, 2019.
"I'm not quite sure who you are, Mr. Brown," Wojtaszek said.
Minutes later, a court officer handcuffed Brown, 36, and led him from the courtroom.
The crash, which happened at about 2:40 a.m. on Seneca, near Pomona Place, killed Kristin N. LaBruno, a 32-year-old mother of two who worked at a daycare, and Anthony J. Twentyfive III, a control room operator at Buffalo Niagara International Airport.
LaBruno was married to Twentyfive's cousin, Angelo LaBruno.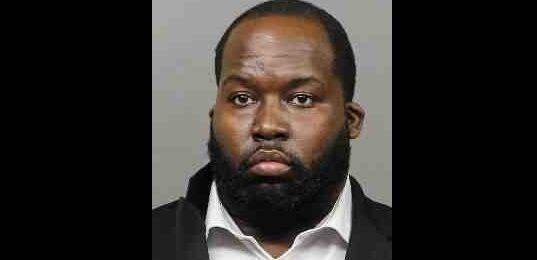 Brown, who had been out on bail, pleaded guilty in July to aggravated vehicular homicide, first-degree vehicular manslaughter and two counts of second-degree manslaughter.
On the night of the crash, Brown's blood-alcohol content was 0.18%, more than double the legal limit of 0.08%, the judge said.
Investigators found no skid marks at the crash scene, indicating that Brown's Maserati made no attempt to brake, according to the Erie County District Attorney's Office.
At the time of the plea, Wojtaszek indicated she would be inclined to issue a sentence of three to nine years, District Attorney John Flynn said. Brown faced a maximum sentence of 8 1/3 to 25 years.
Brown was driving from a West Seneca bar at the time of the crash, Flynn said.
The distance Kristin LaBruno was thrown by the impact at the scene is partially indicative of the speed, but with no broken windows on the Toyota, it's unclear exactly how she was physically configured in the vehicle at the time of the crash, he said.
The passenger door "had to be open" at the time, Flynn said, and it appears she was not fully seated when the Maserati hit. She may have been about to sit when the crash occurred, he said.
In addition to losing their mother, Kristin LaBruno's two children also lost their father about 14 months later, family members said. The children have since been adopted by Kristin LaBruno's brother, according to her aunt, Sharon LaBruno.
"She loved her babies so much," Sharon LaBruno said.
Sandra Twentyfive, Anthony's mother, told the court her son was raised to be kind and that Brown left her son to die "alone."
"My son was everything you are not," Sandra Twentyfive said.
More than 100 letters were sent to the court from friends and family members of the two victims prior to Tuesday's sentencing. Wojtaszek read excerpts, including one from a relative who used to call Kristin LaBruno's daughter "smiley girl."
But after what happened to her mother, and then later her father, "she said she's not 'smiley girl' anymore," the relative wrote.
Kristin LaBruno also was remembered for her "1000-watt smile" and her "contagious giggle."
Antonio Brown was arraigned Tuesday morning on a charge of aggravated vehicular homicide and manslaughter.
Anthony Twentyfive III was a "storyteller" who was creative, funny, kind and "a protector" to his sister and his friends.
There was no explanation for what Brown did other than "he made the worst decision of his life," Brown's attorney, Daniel DuBois, told the judge.
DuBois said his client "is not a monster," as many have tried to portray him.
During his statement in court, Brown apologized to all the families involved and said he was "truly sorry." He stopped several times as he read his statement to cry and said he hoped one day the victims' families would be able to forgive him.
"I will never forget what happened," Brown said. "I will think about it every day for the rest of my life, and I know you will, too."
Before issuing her sentence, Wojtaszek also read from a social media post written by Angelo LaBruno about the death of his wife and his cousin.
In it, he said he felt guilty about what happened, that he stopped wanting to smile or laugh and was angry with seemingly everyone he talked to, because their lives had not been shaken like his had.
He often wouldn't sleep for days, afraid something might happen that would further destroy his family.
He was left, he wrote, with the "sad reality of one person's choice."