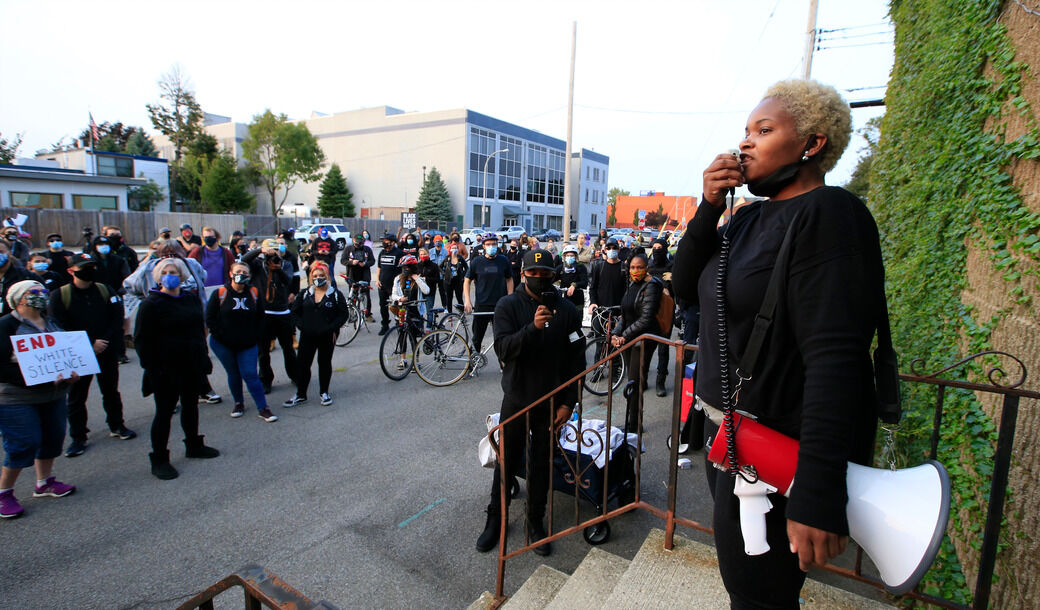 India B. Walton is not the first politician to note that community violence is at the top of the list of issues facing the city.
But Walton says her administration would focus on the underlying causes of crime rather than heavier policing.
Walton, who won the Democratic primary for mayor against four-term incumbent Byron W. Brown last week, according to unofficial election results, wants some funding currently allocated to the Police Department shifted to other areas, like job programs and affordable housing. She wants cops out of the business of responding to most mental health calls, unless safety is an issue. She wants to end enforcement of low-level drug possession crimes.
"She will prioritize addressing the root causes of crime such as concentrated poverty and lack of living-wage jobs," according to her platform on her campaign website, and she would emphasize "harm reduction and restorative justice programs rather than punitive measures."
A few things Walton says she wants to do already exist in some form in the Buffalo Police Department or are in the process of happening.
In recent years, the Police Department has boosted efforts at "community policing" and last year it created a team to respond to calls of mental health crises.
To deal with gun violence, Walton wants to bring in Advance Peace, a national group that has no connection with law enforcement that provides financial incentives to participants in the violence interruption program.
Pastor James Giles, president of the Back to Basic Ministries that oversees several violent interruption organizations including the Buffalo Peacemakers, and Murray Holman, executive director of the Stop the Violence Coalition, said Thursday they had not yet met with Walton.
Reporters on the scene of a triple killing inside a house on Ashley Street asked Giles and Holman – who often respond to scenes of homicides – about Walton, who has taken a strong stance on police reform and has indicated she wants to replace the Peacemakers.
"We'll have to sit down and see how we can engage with our organizations – our community-based organizations – and see what her direction is. That's what we're waiting on right now," Holman said.
Giles said he has worked with Walton in the past, when he was the president of VOICE Buffalo, a faith-based social justice organization.
"She does have heart and really wants to see change happening at the grassroots level," Giles said. "We certainly can say that about her. Her having the experience necessary to actually implement and execute that? That may be somewhat questionable, but we'll see. You never know until somebody is actually hands on in that process."
Walton is an advocate of the Black Lives Matter movement and participated in several of the protests that took place in Buffalo last year following the murder of George Floyd by a police officer in Minneapolis.
Walton's supporters include former Buffalo Police officer Cariole Horne and Martin Gugino. Horne was fired after she said she tried to stop a fellow officer who put a man in a chokehold during an arrest in 2006. Gugino was pushed by Buffalo police during a protest in Niagara Square last year in an incident that attracted global attention.
On her campaign website, Walton lists 14 short-, medium- and long-term goals under the heading "public safety."
Her proposals include shifting some functions performed by officers to others, including civilians; improving community input into police operations and oversight; and taking steps to make sure the city is utilizing its power within the disciplinary process for officers.
In an interview with The Buffalo News' Editorial Board earlier this month, Walton said "defunding" the police "is not a thing."
"I think that we get caught up in negative terms and it's not an effective way to communicate with people," she said. "Most folks appreciate hearing the positives. We're not defunding; we are reinvesting in communities, we are putting money in that places that we know naturally reduce crime," like jobs and affordable housing.
In a post-primary interview, Walton said she wants to remove police from responding to mental health calls, when that option is safe. She said she also aims to eventually remove police from traffic enforcement and other quality-of-life calls.
"We have a very robust social work and mental health community here in Buffalo, that, when appropriately resourced, is going to reduce the need for more policing," Walton said.
Walton said she's hoping to build on the efforts of the Buffalo Law Enforcement Assisted Diversion Working Group, which is coordinated by the progressive Partnership for the Public Good. Assisted diversion is a program that promotes offering alternatives to arrest.
"I'm looking forward to getting with that group of folks, and exploring our options of being able to fund that initiative, and make sure that the data that comes out of it is effective," she said.
Brown says he emphasized community policing
Brown said in a phone interview Friday that he "can't really speak to" Walton's policing platform, but he defended his administration's approach to policing.
He said he has placed an emphasis on community policing and has increased training for police officers in de-escalation and implicit bias, he said.
Amid last summer's protests against police brutality, Brown signed executive orders banning chokeholds, issuing appearance tickets at the scene of arrests for low-level, nonviolent crimes and stop receipts.
The Buffalo Police Department's 8-month-old Behavioral Health Team, which teams police officers trained in crisis intervention with clinicians from Endeavor Health Services, has responded to more than 800 mental health calls. "That's 800 individuals diverted from the criminal justice system that have not been arrested," he said.
"Change is an ongoing process, it's a consistent process," Brown said. "We've done a lot of things."
Brown said that he is against "defunding the police." "I don't think that is the right strategy," he said. "I think what that ultimately will do is make communities less safe."
Union views plans as unrealistic
The union representing Buffalo police rank and file weighed in on the mayoral race on the Friday before primary day, when it gave an "informal" endorsement to Brown, Buffalo Police Benevolent Association President John T. Evans said.
"We stayed out until that time when it became clear that I guess internal polling was indicating he may not win," Evans said. "We figured that we'd rather deal with him than her."
Evans said he sees much of Walton's platform as unrealistic, including eliminating police response to most mental health calls and civilian traffic enforcement.
Disciplinary procedures are established in the labor contract between the union and the department, and state law requires suspended officers go back on the payroll after 30 days, he said.
The union will assist in Brown's write-in campaign, Evans said.
Top Police Department leaders declined comment. 
The Police Department already plans to train officers in "trauma-informed care," or procedures for arrests and other duties that attempt to minimize the emotional impact of the interaction.
The objective of the training is to give officers the understanding of how to have a "neutralized interaction" with members of the public, said Susan Green, co-director of the Institute on Trauma and Trauma-informed Care at the University at Buffalo, which is a subcontractor for the Buffalo Police program.
Buffalo echoes national debate over changing policing
The discussion over the future of the Buffalo Police Department has taken place against a backdrop of national debate over how to change the way communities are policed.
Nadine Shaanta Murshid, interim associate dean for diversity, equity and inclusion at UB's School of Social Work, believes many of the changes Walton says she wants to enact are needed to address a "systemically racist" criminal justice system in the United States that "needs to be dismantled."
"In a world where the police are meant to serve and protect, a particular group of people – Black people – are not being protected," she said, adding that it also applies to other people of color, including those who appear to be Muslim as well as Indigenous. "And so I think we really need to start thinking about how do we protect Black people and people of color from police violence and if police can actually be a part of that. I don't think they can."
Changes to policing should be based on data and social-scientific analysis and evaluation, said James J. Sobol, chair of the Criminal Justice Department at SUNY Buffalo State.
Police are trained "in ways that are coercive and control-centered," and that model should be re-evaluated, Sobol said. Work should be done to "elevate" the profession, including raising hiring standards, more training and research on the effectiveness of police strategies and programming, he said.
And more training and evaluation takes resources, which may become harder to find if funding is moved from policing to other efforts, Sobol said.
Sobol said he likes Walton's stance in support of external or civilian review boards, which he also said need to be given "more than an advisory role." Research shows that increasing public participation in police oversight improves the perception of police in the community, he said.
Scott W. Phillips, criminal justice professor at Buffalo State, agrees that efforts should be made to "improve" policing and that such moves should be evidence-based.
"As I've mentioned to students, policing is not hard; digging a ditch with a shovel in the summer is hard work," Phillips said. "Policing is complex."
On her campaign website, Walton lists 14 short-, medium- and long-term goals under the heading "public safety."
"India will bring accountability, transparency and community-centered service to the Buffalo Police Department," the website promises.
In her first 100 days in office, according to her platform, Walton would:
• End the response of police officers to "most mental health calls" and, working with city police and Erie County leaders, create "a new response to crisis mental health calls that utilizes mental health professionals."
• Direct police "not to arrest people for simple possession of a small amount of drugs and paraphernalia, like syringes."
• Have the city's Law Department "conduct a full review of the city's ability to discipline and fire bad police officers, and to defend disciplinary decisions to the fullest possible extent."
• Release data on "racial disparities in stops and arrests, officer disciplinary records, the number of officers who live outside the city and an inventory of weapons and military equipment" in the police department.
Walton's platform for the next phase, to be accomplished between six months and a year, calls for:
• Amending the city charter to create an independent police oversight body that has investigatory and subpoena power.
• Increasing the number of "trained community-oriented officers."
• Creating a "civilian traffic safety division" that would be responsible for enforcing "routine traffic safety laws," while removing those duties from police officers.
• Training officers in "trauma-informed care" and implicit bias.
• Mandating unpaid leave for officers under investigation for using excessive force.
• Creating a task force "to investigate every police officer and fire or demote officers with consistently bad records."
Her long-term goals, to be accomplished by the end of a four-year term, are:
• Create an "unarmed public safety detail to address quality of life and social calls to 911."
• Fund and expand programs like Law Enforcement Assisted Diversion and violence interruption programs like Advance Peace.
• Invest in youth employment and other "crime prevention strategies," as well as crime prevention through environmental design.
• "Codify public participation in union contract negotiations" and "ensure meaningful ongoing public input into all police department functions and union contract negotiations." The promise extends to "cement this public right into the future by law."