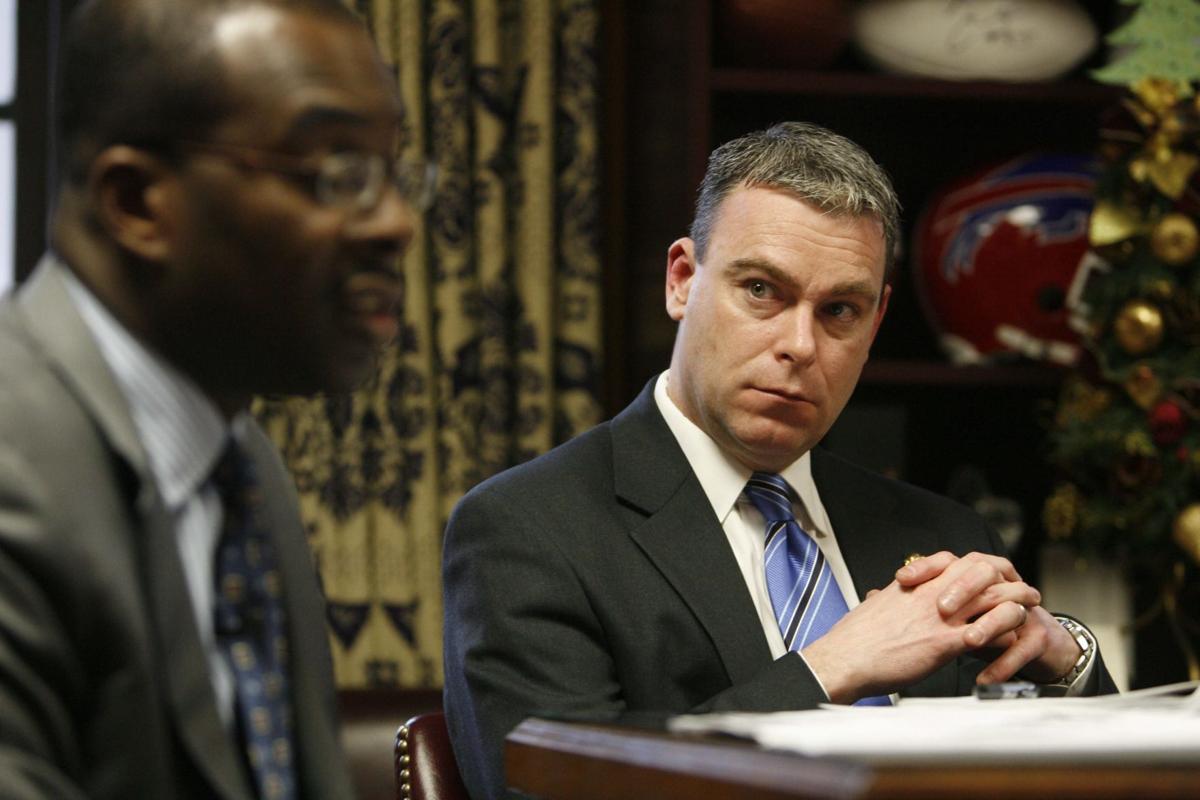 Former Buffalo Deputy Mayor Steven M. Casey's political consulting company is broke, so it won't have to pay a big fine, a federal judge ruled Wednesday.
Casey's LSA Strategies LLC was sentenced to pay $8,283 restitution, a $400 court fee, and a fine of $69 to settle a single count of wire fraud.
LSA Strategies, not Casey, is the guilty party. It must pay restitution to Swanick, and that requirement, along with the $400 court fee, nearly depletes the company's bank account, defense lawyer Rodney O. Personius told District Court Judge William M. Skretny in a court document a week ago and again in the courtroom Wednesday.
Casey's company went on to do more than $50,000 in business for candidates in 2014 and 2015, according to state Board of Elections records. Still, Personius reasoned that because LSA is now nearly broke, it should not have to pay a fine. And because it will go out of business after sentencing, it should not be placed on probation.
Casey signed a plea agreement in July that said a fine of $15,000 to $30,000 was on the table, along with up to five years of probation. No one disputed, however, the presentence report that confirmed LSA Strategies was scraping bottom. Assistant U.S. Attorney Paul E. Bonanno said the U.S. Attorney's Office would not seek a fine or probation.
"It's a sad case ... because it gives politics, if you will, a black eye," Skretny said before letting Swanick, who never dived back into politics after his loss in 2012, talk about his ordeal.
"I came here today because a good friend of mine of 25 years decided to steal from me," Swanick said. He insisted Casey never told him he would take a cut of the money his campaign fund paid for printed items. "If there was going to be a charge, I would have expected to be told." He said he had tapped into a retirement fund to help finance the Senate race, and the more than $8,000 will go back into retirement savings when received.
Swanick was even more blunt when talking to reporters afterward. People should now know "this man can't be trusted," Swanick said of Casey.
"There will be a fine," Skretny said. He set it at $69, the company's remaining balance after the court fee and restitution are deducted. He did not require probation because LSA will be defunct. The judge called the sentence "fair, just, reasonable and sufficient but not greater than necessary."
For almost a decade, Casey was Mayor Byron W. Brown's second in command, the deputy mayor who, critics would say, wielded even more power and control than the mayor himself. Some in City Hall dubbed him "the shadow mayor."
Years later, all they could prove was a misunderstanding between Casey and Swanick on whether Casey was to be paid for his campaign work, Personius said as he left the courthouse Wednesday.
In the years that followed the raid on Casey's home, federal agents sought information from Casey as they continued to investigate Brown's administration, and he answered their questions, Personius acknowledged. If the agents ask more questions, Casey "will continue to respond and tell the truth," Personius said.