For more than 14 years, fired Buffalo Police Officer Cariol Horne fought to have her dismissal overturned so she could get her full police pension.
Horne was terminated by the city after she said she tried to stop a fellow officer who put a man in a chokehold during a 2006 arrest.
On Tuesday, amidst a national reckoning over race and policing, a judge annulled her firing and ruled that she is entitled to her pension, benefits and back pay.
"Recent events in the national news, including the death last year in the City of Minneapolis of George Floyd, who died from unreasonable physical force being applied for over nine minutes, have sparked national outrage over the use of his practice," wrote State Supreme Court Judge Dennis Ward in his 11-page ruling. "One of the issues in all of these cases is the role of other officers at the scene and particularly their complicity in failing to intervene to save the life of a person to whom such unreasonable physical force is being applied." 
Now, police officers who intervene are considered heroes, Ward wrote.
"To her credit, Officer Horne did not merely stand by, but instead sought to intervene, despite the penalty she ultimately paid for doing so," Ward said.
The ruling is a stunning turn of events for the Horne, who became a fixture at least year's Black Lives Matter protests in Buffalo. Her case drew national attention and she appeared on CNN wearing a "George Floyd needed Cariol Horne" T-shirt.
On Tuesday, she celebrated her vindication.
"I never wanted another police officer to go through what I had gone through for doing the right thing," Horne said in a statement to The Buffalo News.
Horne was represented by high-profile lawyers Ronald S. Sullivan Jr. of Harvard Law School and Neal Eggleston, a former White House counsel to President Obama who is now with Kirkland & Ellis LLP.
Her lawsuit sought to overturn a 2010 ruling that upheld her termination.
"She saved a life that day, and history will now record her for the hero she is," Sullivan said of Horne. "This is a significant step in correcting an injustice that occurred 15 years ago when Officer Cariol Horne intervened to protect an unarmed civilian." 
"We are gratified that the court recognized that former Buffalo Police Officer Cariol Horne did the right thing in 2006 when she intervened when a fellow police officer had a chokehold on an arrestee," Eggleston said.  
Michael J. DeGeorge, spokesman for the City of Buffalo, said Tuesday: "The City has always supported any additional judicial review available to Officer Horne and respects the court's decision."
Ward said his ruling is based in part of the city's adoption in 2020 of "Cariol's Law," a series of laws that make it a crime for a law enforcement officer to fail to intervene when another officer is using excessive force and also protects whistleblowers.
Included in Cariol's Law was a provision – "Retroactive Protection for Officers" – which allows an officer "found to have been terminated for reporting the objectively unreasonable use of force against a civilian or intervening to stop the use of objectively unreasonable force by a fellow officer within the 20-year period preceding the adoption of the law" to have that finding reviewed by a court.
That provision was among those passed by the Common Council and signed into law by Mayor Byron W. Brown last fall.
"The City of Buffalo, through its legislative and executive branches, has thus already determined that Officer Horne intervened to save the life of a civilian," Ward ruled.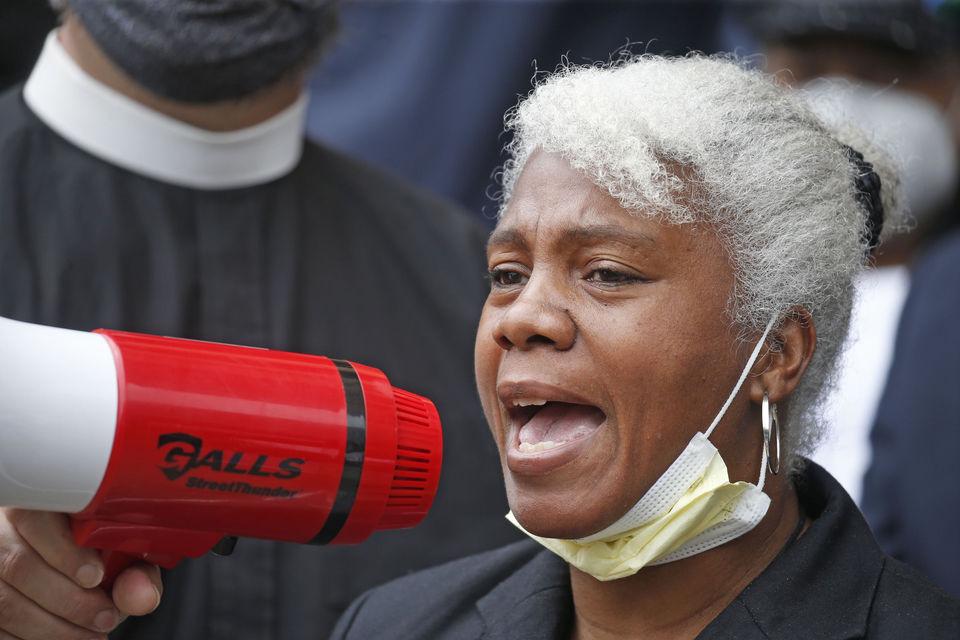 On Nov. 1, 2006, a postal worker flagged down a patrol officer to report an argument between a man and a woman at a two-unit house on Walden Avenue. Among the Buffalo police officers responding was Horne.
As the officers attempted to push the man out of the house, Horne said she saw Officer Greg Kwiatkowski put the man in a chokehold and she fought Kwiatkowski to stop him.
After the incident on Walden Avenue, the Buffalo Police Department opened an internal investigation. Kwiatkowski was cleared of all charges. Horne was offered a four-day suspension, which she turned down.
Two years later, after a hearing before an arbitrator that Horne insisted be held publicly, the arbitrator found Horne guilty on 11 of 13 internal charges. She was fired, with 19 years credited toward her job. That was one year shy of what the city police officers must accrue in order to retire under the state system and receive a pension. However, she would still qualify to receive a partial pension from the state at age 55.
But Horne wanted her full police pension.
Tuesday's court determination doesn't mean Horne is a police officer again. But it means that her termination has been vacated and she should have continued working as a police officer until she hit her 20-year mark.
Horne said Tuesday in her statement that her vindication "comes at a 15 year cost, but what was gained could not be measured. ... The people in the community want accountability and that is what Cariol's Law does."
She said she hopes future legislation will include a national registry of police officers who have been found guilty of misconduct. She also wants to see Cariol's Law spread beyond Buffalo.
"The battle is not over," she said, "so anyone can still help take Cariol's Law nationally."