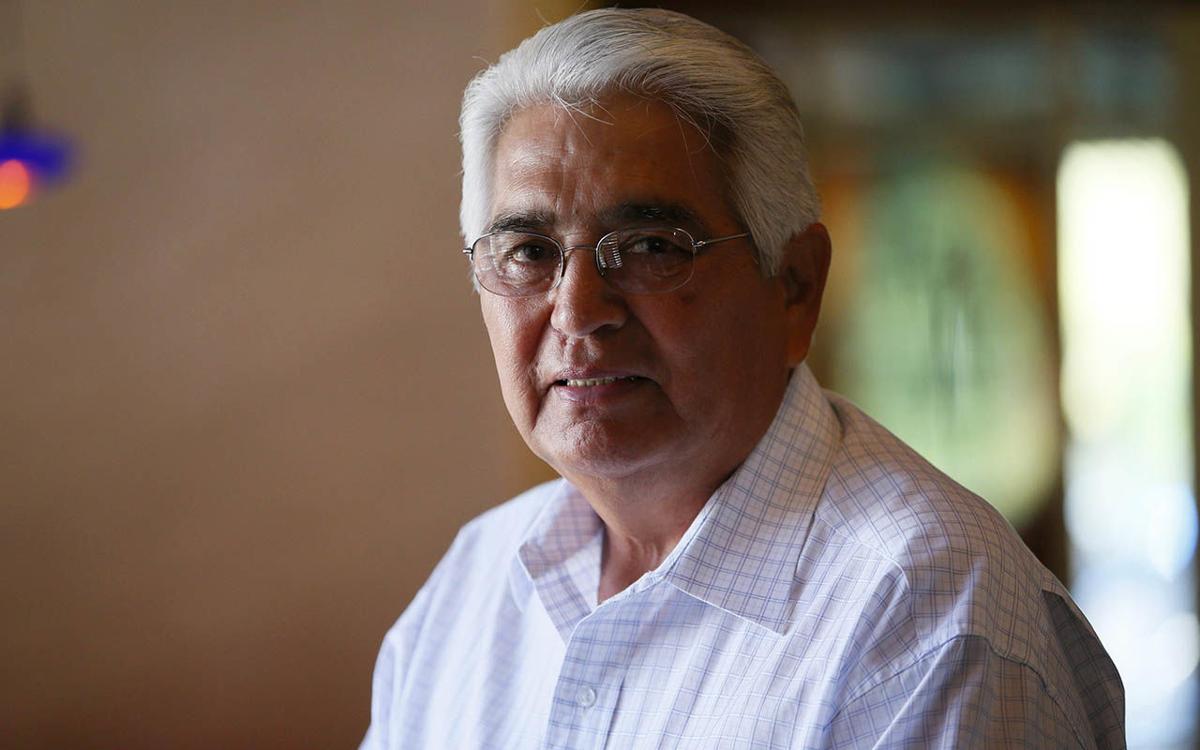 Almost a year after the death of five-time Seneca Nation President Barry E. Snyder Sr., his two surviving sons are waging a bitter court battle over the family's financial affairs and care of Snyder's ailing widow.
Ryan and Scott Snyder each claim the other is unfit to handle decisions regarding the family business or the health care of their mother, Deanna Snyder. 
According to documents filed in State Supreme Court, Deanna Snyder, 81, suffers from dementia, requires around-the-clock medical care and is no longer able to run the Seneca Hawk, the family's gasoline and cigarette business. Her husband died last Oct. 1 at age 79, leaving all his possessions and property to his wife. His estate is believed to be worth millions of dollars, according to sources with close knowledge of the case.
Ryan Snyder, 43, has asked a state court to appoint him as his mother's guardian. Scott Snyder, 57, said he has already been named as his mother's conservator, in a ruling issued last November by the Seneca Nation's tribal court.
Both brothers agreed on one thing Friday in interviews with The Buffalo News – that their father was a devoted family man who would be "heartbroken" if he knew about the court fight.
Barry Snyder Sr. was one of the most powerful businessmen and government leaders in Seneca Nation history. He became one of the tribe's first tobacco and gasoline millionaires and was one of the prime forces behind the casino gambling ventures that made the Seneca Nation one of the biggest employers in Western New York. 
"I'm not doing this for myself. I am doing it for my mother. I always promised my father that she would be cared for in her own home after he passed on," Scott Snyder told The News.
Ryan Snyder said it is also his goal to take care of his mother.
"My brother cannot be trusted to handle his own affairs. How can he take care of my mother's?" Ryan Snyder said.
In court filings, Ryan Snyder called Scott Snyder an unscrupulous businessman and pointed out that he served federal prison time for selling fake Marlboro cigarettes and owes at least $5 million to a tobacco company and government agencies.
Ryan Snyder said he has been running the day-to-day operations of Seneca Hawk for many years. He said his older brother has had little involvement with the business.
"I fear that if Scott is appointed guardian or co-guardian of my mother, he would seek to use Deanna's cigarette and gasoline businesses to further his own self-interested aims," Ryan Snyder said in court papers.
Lawyers for Scott Snyder responded that Ryan Snyder has not been a "good steward" of his mother's business interests.
Ryan Snyder has failed to make sure Seneca Hawk's debts were paid and ran up "an astounding" bill of $1 million that is owed to a gasoline supplier, according to attorneys for Scott Snyder. They accused Ryan Snyder of "incompetent management" of Seneca Hawk.
Scott Snyder is the co-chairman of the Seneca Party, a political organization that has dominated Seneca Nation government and selected most of its government leaders for decades. His attorney, Lee M. Redeye, argued that the Seneca Nation's own Peacemaker's Court last November named Scott Snyder as "conservator" of his mother's affairs.
The state courts should respect the Peacemaker's Court's ruling and should not interfere with the tribal court, Redeye said in court papers.
In a ruling filed in early August, State Supreme Court Judge Catherine Nugent Panepinto agreed with Redeye, saying the Snyder case should stay in the Peacemaker's Court.
Ryan Snyder's lawyers appealed her decision, and it is now under consideration by the State Appellate Court in Rochester.
"This is a straightforward matter of where the action was filed first," Redeye said in court papers.
"Our Seneca courts are sovereign and New York should not be infringing on the actions of our courts," Scott Snyder told The News. "Ryan's lawyers had the opportunity to appeal in our courts. They didn't."
But Ryan Snyder and his attorneys insist that he never got a chance to tell his side of the story in Peacemaker's Court.
Those attorneys, Daniel J. Bobbett and Joseph E. Zdarsky, said they are concerned that Scott Snyder's political power could have influenced the tribal court proceedings in his favor.
"We do have respect for the Seneca Nation and its court system, but obviously, that is a concern," Zdarsky said. "We think it is wrong for the state to defer to the Peacemaker's Court without making sure that their proceeding was conducted in a fair way, with notice sent to everyone involved and everyone involved receiving their due process rights."
A few weeks after his father's death, Scott Snyder went into Peacemaker's Court, where two judges agreed to make him his mother's conservator "at a purported hearing that only Scott attended," Zdarsky said.
The attorney said Peacemaker's Court officials never told Ryan Snyder that his brother had asked to be named conservator, informed him about the hearing or gave him an opportunity to be heard.
One of the Peacemaker's Court judges who rendered the decision, Sylvia L. Patterson, sent a letter to State Supreme Court, stating that Zdarsky was told about the ruling soon after it was rendered and was informed that he had the right to appeal on behalf of Ryan Snyder. Patterson said Ryan Snyder's attorneys never appealed the ruling.
Patterson's description of what happened is incorrect, Zdarsky said.
In court papers, Zdarsky said he called Peacemaker's Court last Dec. 13 – about six weeks after the ruling in favor of Scott Snyder – to ask if there had been any filings or rulings related to Deanna Snyder.
Zdarsky said a Peacemaker's Court clerk declined to tell him whether any ruling had been made, and also told him he could not receive any court documents in the matter because his client was "not a party" in the case.
"If I had been served with Scott's petition, I certainly would have opposed it," Ryan Snyder said. "The Peacemaker's Court should have informed me, my mother and the executor of my father's will that Scott had filed these papers. None of us received any notice."
"Scott is a convicted felon," Ryan Snyder added. "He is not the type of person that should oversee the affairs of my mother."
"Yes, I am a felon. I served my time," Scott Snyder told The News in response. He said his criminal record does not stop him from caring about the welfare of his mother and other family members.
Attorney Michael P. Caffery, who represents Barry Snyder Sr.'s estate, said he was aware of the legal dispute between the two Snyder sons but could not comment on it.
The News unsuccessfully tried Thursday and Friday to contact Julie Brant, who is described in court papers as the executrix of Barry Snyder Sr.'s will and a family friend who oversees Deanna Snyder's care. 
Barry Snyder Sr. was elected to two-year terms as Seneca president in 1980, 1992, 2004, 2008 and 2012. He also served as the Seneca Nation treasurer, eight terms in the Seneca Nation Council, and for many years as chairman of the corporation that oversaw the Senecas' casino operations.
A soft-spoken but fierce advocate for tribal rights, Snyder was also one of the founders of the Seneca Party, the political organization that has dominated the tribe's elections for five decades.
He opened the Seneca Hawk in 1983. He was later joined by other Senecas who set up their own smoke shops, gas stations and huge Internet sales operations that sold bargain tobacco products all over the United States.
After his death, The News reported that he and the former Deanna Jimerson had been married for 59 years. The couple also had 12 grandchildren, 24 great-grandchildren and one great-great grandson.
"This case is not just about me and my brother," Scott Snyder said. "A lot of other people in our family are also affected."
Sign up for our Crime & Courts newsletter
Get the latest in local public safety news with this weekly email.