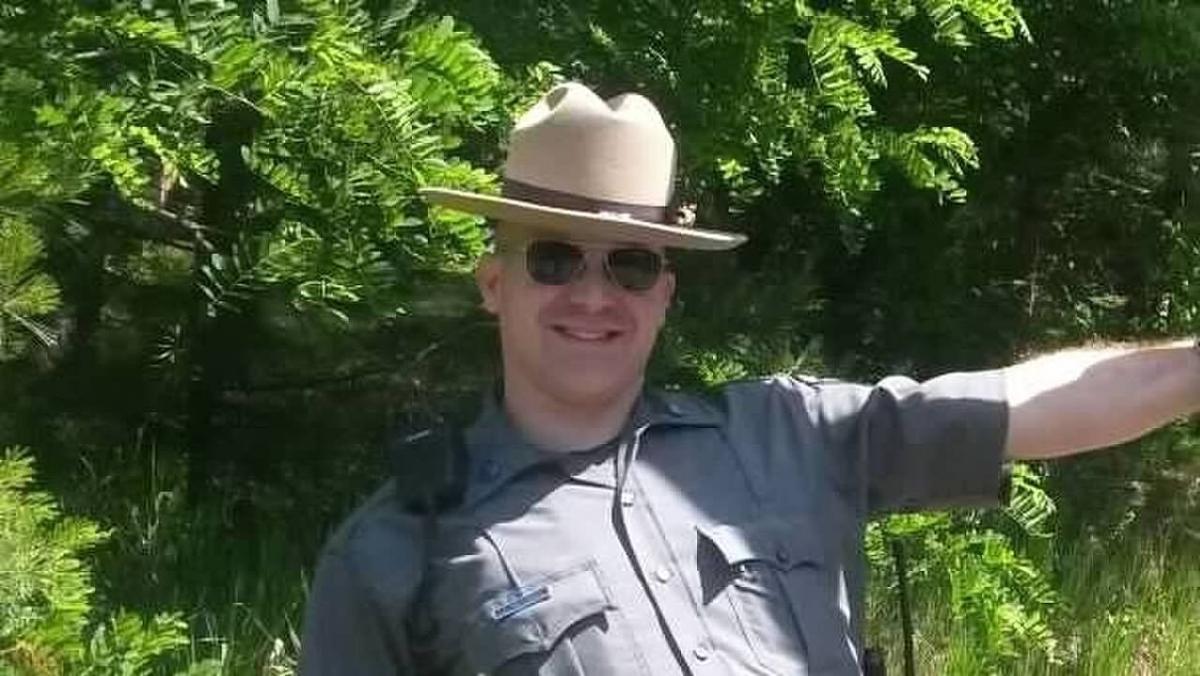 Seven days before Christmas in 2017, State Trooper Joseph J. Gallagher pulled up behind a stopped car on a two-lane overpass to the Long Island Expressway. He turned on his flashing lights and got out to help the driver. He put flares down around the disabled vehicle to close one lane of traffic.
The trooper suffered a traumatic brain injury from which he would never recover. He never talked or walked again. He could never return home, requiring 24-hour care in a nursing home.
On March 26, more than three years after the devastating crash, the South Buffalo native and married father of two young children, died.
Today, Gallagher is back home in Buffalo. A funeral Mass, led by one of his brothers, will be offered Wednesday morning in Our Lady of Victory Basilica in Lackawanna.
"We knew Joe's quality of life would be greatly diminished," said his brother the Rev. Martin Gallagher. "So we knew he wasn't going to live to be 95. We figured we still had more time with him."
Trooper Gallagher, a 2000 graduate of Bishop Timon-St. Jude High School, was 38.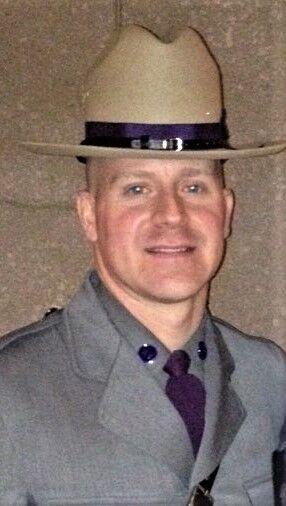 His brother, speaking to The News as a family spokesman, recounted getting the terrible news about the crash. Gallagher is the parochial vicar of Our Lady of Charity in Buffalo. Starting next week, he will be the pastor of Blessed Sacrament Church in the Town of Tonawanda.
The priest was having dinner before a penance service at SS. Peter and Paul Church in Hamburg when his sister and father both called. Their mother flew to Long Island that night. The next day, troopers drove the priest and other family members from Buffalo to the Long Island hospital where doctors were trying to save Gallagher's life.
"We weren't sure what we were going to see," Gallagher said. "There was a concern that he was not going to survive the accident, that he might pass in the hospital."
The family members arrived at the hospital and were taken straight to Joseph's bedside.
"Joe was very badly beaten up," his brother said. "You see the bandages. The bruises. The tubes."
They started learning about what had happened. The driver had been distracted while texting when he hit Joseph Gallagher. He pulled over and cooperated. The overpass was a notoriously narrow one with a 40-foot drop. "There really was nowhere for him to go," his brother said.
Doctors told the family that Gallagher had suffered a severe traumatic brain injury. It wasn't clear if he would survive. His brother administered the Catholic sacrament,  the anointing of the sick.
After several months at the hospital, Gallagher was transferred to the Kessler Rehabilitation Center in West Orange, N.J., for specialized treatment of his brain injury. He later came back to Long Island to stay in nursing facilities closer to his home.
He wasn't paralyzed. He could move his arms and legs somewhat. But it took a tremendous amount of effort.
"The wiring had been damaged between his brain and muscles," his brother said.
The doctor would ask him to try to move his arm. "There could be 15, 20, 30 seconds before there was any slight movement," his brother said. "There was a delayed reaction."
The doctors – and Gallagher's family – believed that while he couldn't talk, he did seem to understand what was going on and it was frustrating for him to not be able to communicate that.
Gallagher's family members took turns accompanying him to procedures. They would notice that when doctors would talk to the family members, but not Gallagher himself, he would make noises or try to move his body. "He would get very agitated," his brother said. "... I don't know how else to describe it – he was trapped inside of his own body."
A patient during a pandemic
Last March, the priest went to visit his brother at the Gurwin Jewish Nursing Home and Rehabilitation Center in Commack.
He remembered telling his brother about the coronavirus and how the City of New Rochelle had just been put under lockdown because of an outbreak.
Soon after, every nursing home in the state would shut down to visitors. That meant Gallagher was the last in the family to visit his brother in the nursing home. Joseph Gallagher's wife, Laura, was able to see him in person only when he was being taken to doctor's visits. That meant the only way for the family to see him was through video calls.
In July, the driver of the car that hit Joseph Gallagher pleaded guilty to third-degree assault. He was sentenced to 30 days in jail, three years on probation and 1,000 hours of community service. 
At the sentencing hearing in October, Laura Gallagher told the court about how their children, William, 6, and Catherine, 3, have few memories of their father, Newsday reported.
Gallagher's sister, Jaime Hitz, told Cohen: "Be a helper. Go out into this world and do some good."
Cohen tearfully apologized, according to the Newsday account. "There is not a day, an hour or minute that goes by when I don't feel responsible for causing this tragedy, which was caused by my poor judgment. I am so sorry."
Two dozen troopers in uniform and masks lined the hallway of the courthouse building to show their support for Joseph Gallagher as Cohen walked out a free man, having already served the 30 days, according to a report on NBC New York.
Despite easing of restrictions on visitors at nursing homes, the one where Gallagher was a patient couldn't reopen because of some positive cases in other wings of the facility.
Late last month, Gallagher became ill. That wasn't unusual, his brother said. About once a year, he would come down with pneumonia and end up hospitalized. "We thought it was his yearly tradition of getting pneumonia," the brother said.
The family doesn't know what happened, but Gallagher needed oxygen and was being transported to the hospital for emergency treatment when he went into cardiac arrest.
"They couldn't bring him back," his brother said.
The family made the decision to hold his funeral in Buffalo. A wake was held in Long Island last week and on Monday, dozens of troopers on motorcycles formed a motorcade to accompany his hearse back to Western New York.
The reverend said the support by the State Police throughout the family's ordeal has been extraordinary.
"Words cannot express how grateful we are to the New York State troopers," he said. "They were so dedicated to being there for us."
He will preside at the Mass.
"I always thought this is the funeral I would offer one day," he said. "Not at this point."
Joseph Gallagher's loved ones hope a lesson can be learned from their tragic loss.
"When you're on the road, it's not just you," his brother  said. "... When you hit somebody, you're not just taking away that person's life. You're taking away, in some way, the life of their spouse, the life of their children. It's not fair to have to put a child through the loss of a mother or father because he was texting."