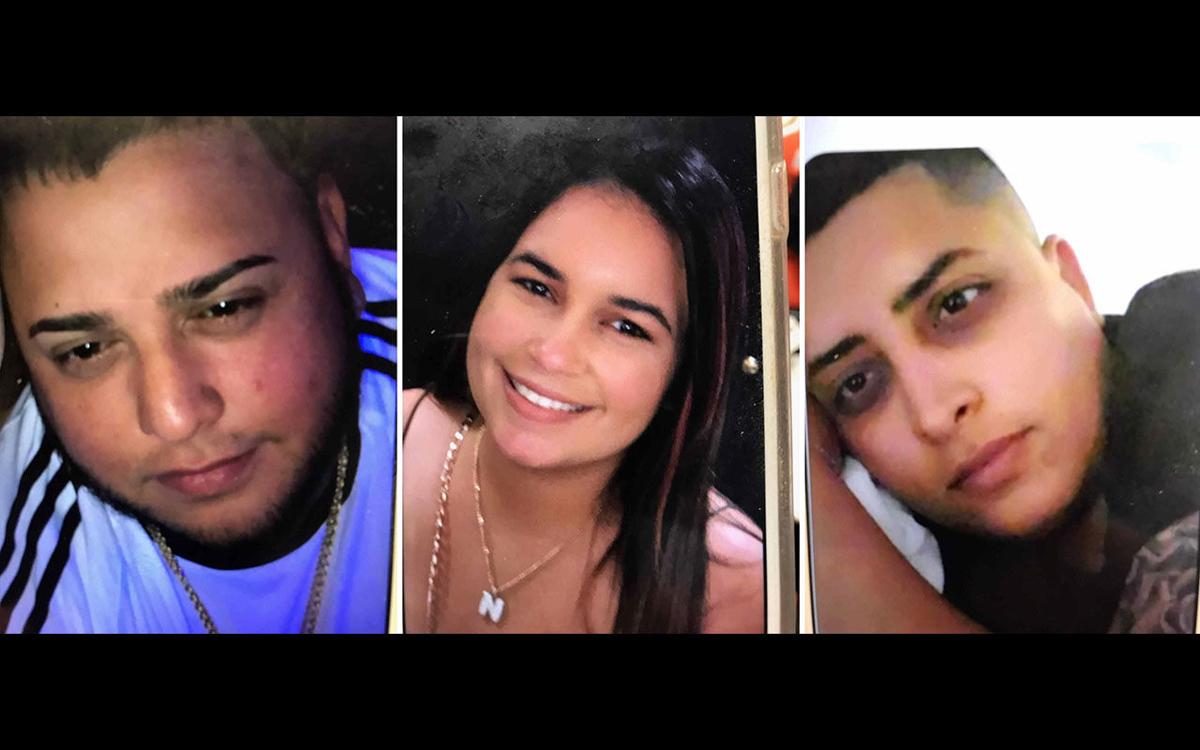 On a September morning a year ago, a 3-year-old boy, wearing only a diaper, was found curled up on the porch of a Potomac Avenue house on Buffalo's West Side.
In the hours and days that followed, the horrors of what happened to the little boy and his family would come to light.
His parents, Miguel Anthony Valentin-Colon and Nicole Marie Merced-Plaud, and their friend, Dhamyl Roman-Audiffred, who had driven from Florida with the little boy, Noelvin, were killed. The parents' bodies were driven in their van to an open lot behind a warehouse where they were torched beyond recognition. The friend's body was also set ablaze behind a home on the other side of town.
Video from a surveillance camera captured the moment the killers led the toddler away from the burning van before dropping him off on the porch.
Just shy of a year later, prosecutors say the killers in that video now face federal murder charges. A third person is charged with burning the bodies to destroy evidence. And three more are charged with being part of a yearslong conspiracy to sell illegal drugs in Buffalo.
Jariel Cobb, 47, and James Reed, 38, were identified as the suspected killers. 
U.S. Attorney James P. Kennedy said his office is consulting with the U.S. Attorney General's Office over the possibility of seeking the death penalty against them.
The six defendants have been in federal custody since last fall, held on drug charges. Cobb, Reed, Jahaan McDuffie and Destenee Bell were arrested on Sept. 26 of last year. Two other suspects, Deandre Wilson and Deshema Clark were arrested Oct. 9.
While not revealing specifics about the investigation, Kennedy said the trio from Florida were killed as part of a drug robbery. Court records show that cocaine, cellphones and their van were stolen when they were killed.
The six defendants are also charged with being part of a conspiracy to possess and distribute large amount of drugs: 5 kilograms or more of cocaine, 1 kilogram or more of heroin, 100 kilograms or more of marijuana and an unspecified amount of the synthetic opioid fentanyl.
The investigation began as a found-child case.
Buffalo police posted a photo of Noelvin on their Facebook page shortly after he was found in an effort to locate his parents.
Normally, an embarrassed parent often shows up within minutes.
But as the day stretched on without anyone coming forward, the police grew increasingly concerned. Then at about 6 p.m., Buffalo firefighters were dispatched to the scene of a burnt vehicle found deep in a lot behind a warehouse on Tonawanda Street. When they arrived, they made a gruesome discovery: the charred remnants of two bodies.
Meanwhile, Buffalo police were contacted by a Florida woman – Valentin-Colon's sister – about the missing boy. She had seen the posts on Facebook. That sister was believed to be the last person who was in contact with the family before they disappeared, and she had grown worried when she couldn't reach them anymore.
Police soon identified the van as that of the vehicle the family had rented in Florida before heading to Buffalo. They also released video from a surveillance camera near where the van was found that shows two men walking down a driveway. One is leading the little boy down the road. The other holds what appears to be a gas can. In the corner, the flare of fire can be seen.
Buffalo police, particularly the homicide unit, teamed up with members of other law enforcement agencies in the days that followed, including the Erie County Sheriff's Office, members of the FBI's Safe Streets Task Force, prosecutors with the Erie County District Attorney's Office and the U.S. Attorney's Office and the Erie County Central Police Services Forensic Laboratory.
"We assembled a team that worked relentlessly to crack this case," Kennedy said.
A series of raids followed, and the body of the third missing person was found in a pit behind a house on Box Avenue.
"Evidence has literally been recovered from the depths of Lake Erie to the cloud of Google and just about every place in between," Kennedy said.
Sign up for our Crime & Courts newsletter
Get the latest in local public safety news with this weekly email.