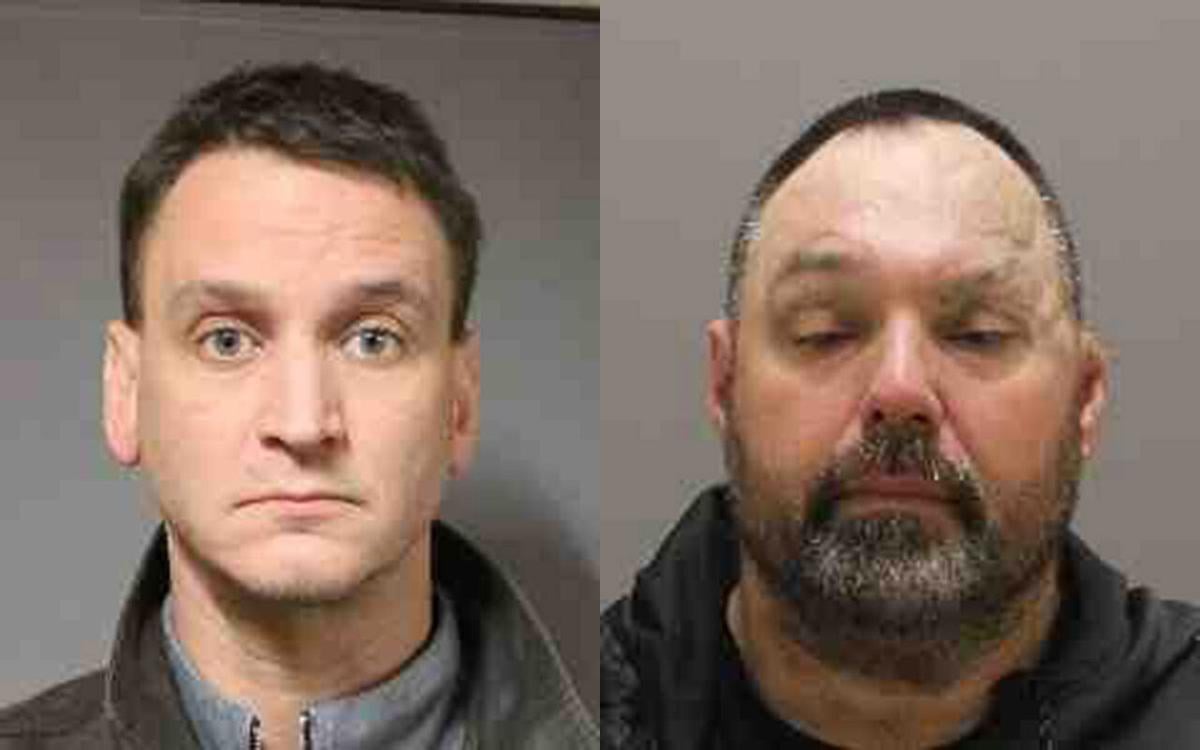 A correctional officer and a jail deputy with the Erie County Sheriff's Office spent the night behind bars as inmates Tuesday and are each facing criminal charges as well as internal investigations.
Both men have been suspended without pay.
The two cases were announced at a news conference Wednesday afternoon by the new sheriff, John C. Garcia II, and District Attorney John J. Flynn Jr.
Jason Stachowski, 48, the correctional officer from Buffalo, was already suspended on an unrelated internal disciplinary charge when an anonymous tip was made that he may have provided a cell phone and charger to an inmate at the Erie County Correctional Facility in Alden, where he was employed.
Deputies pulled him over Tuesday evening on I-190 near Clinton Street to arrest him. Stachowski was allegedly "confrontational" with the deputies and tried to flee, at which point a deputy used a Taser to subdue him, Flynn said.
Just a couple of hours after that arrest, deputies responded to a 911 call to the Eden home of Robert M. Dee, 40, a jail deputy at the Erie County Holding Center in downtown Buffalo. In December, Dee was arrested on a domestic violence charge after he allegedly hit and put pressure on a woman's neck. He was ordered to stay away from the woman, but deputies allegedly found Dee with her Tuesday night, which led to his arrest on a criminal contempt charge.
Both men were taken to the Niagara County Jail due to their positions in Erie County. Dee was released Tuesday on $25,000 bail.
"These are not the people that represent the Erie County Sheriff's Office, nor do I want people like Mr. Stachowski representing the Erie County Sheriff's Office in the future," said Garcia, flanked by his new undersheriff William J. Cooley, Tim Donovan, chief of Professional Standards Division, which handles internal investigations, and Chief of Narcotics D.J. Granville.
Garcia wouldn't say Wednesday whether he wants to see Stachowski or Dee fired.
"I have to be respectful of the collective bargaining agreement job," he told reporters. "We don't want to have a misstep where we've got to terminate someone and then later on, we have to reinstate that person with back pay. That's going to cost the taxpayers dollars. Now, with that being said, we will do an internal investigation and follow up with that."
Flynn said the investigations and charges against the sheriff's office employees show the kind of integrity Garcia's administration intends to bring to the office.
"Today just goes to show that there's a new sheriff in town," he said. 
The county jails have come under intense criticism following the deaths of 32 inmates during previous sheriff Tim Howard's 16-year tenure.
Both Stachowski and Dee have come under scrutiny before.
In the summer of 2020, Stachowski was seen in a video posted by WNYmedia.net getting out of a pickup truck and waving a baseball bat at a group of protesters. Garcia confirmed that was indeed him and that he was suspended for seven days for the incident. He was again suspended in December 2021 for not following a supervisor's orders, Flynn said. He was already serving a suspension for that second incident when the tip about the cell phone came in. Investigators reported finding a cell phone, charger and a small quantity of marijuana in the inmate's possession.
Wednesday afternoon, Stachowski was arraigned in Alden Town Court on one felony count of promoting prison contraband. He was also given an appearance ticket on charges of resisting arrest, obstruction of governmental administration and disorderly conduct. He was released following his court appearance. Garcia said more charges may be filed against him.
Dee denied to internal investigators with the Erie County Sheriff's Office that he ever touched a female inmate inappropriately. Internal reviews by the department closed the cases and deemed the accusations "unfounded."