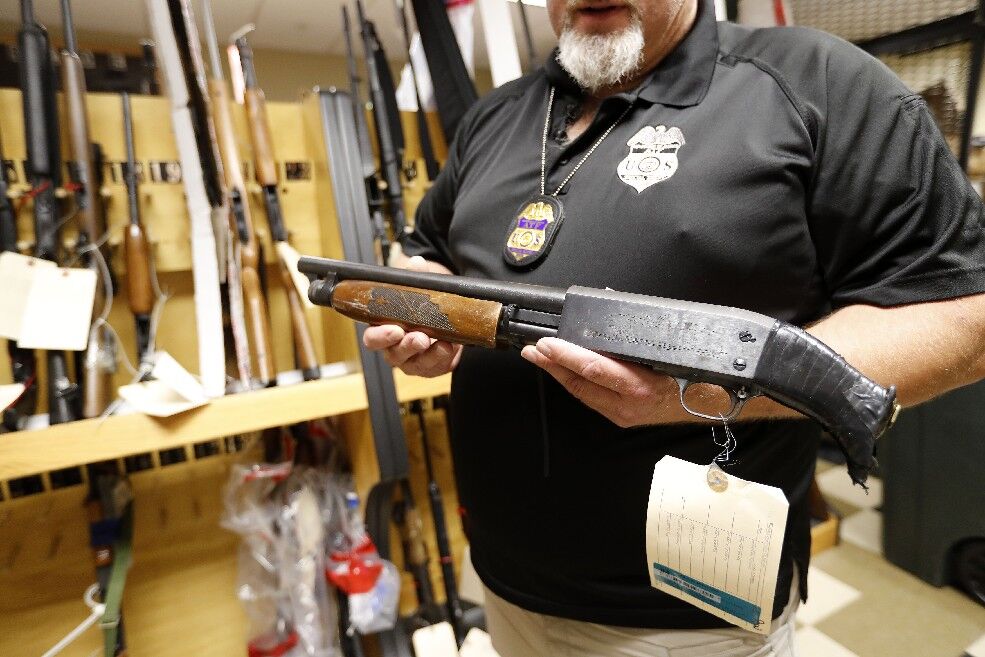 More than two dozen people watched as two men stopped their fistfight and picked up shotguns just over a week ago. When the dispute  on Carl Street ended, one of them was dead and four others were wounded.
But even with all those witnesses to the shooting,  police have had a hard time getting people to cooperate and provide information.
Such silence is nothing new. Yet the lack of witness cooperation emboldens others to pick up weapons and makes the streets more dangerous for everyone.
To date this year, 139 people have been wounded or killed in shootings in Buffalo. That is 24 percent fewer than the 182 gunshot victims at  this time last year. But despite the improvement, police, prosecutors and others in the criminal justice system aren't celebrating. As carnage from firearms repeats itself year after year, those who pursue and prosecute shooters agree something has to change.
As a result, they are embracing "best practices" help from the U.S. Department of Justice. They also are hoping to persuade state legislators to provide money for rewards and to safeguard witnesses who supply information, as well as to get  illegal weapons off the street.
In the coming months, the Justice Department will send experts here to work with authorities in adopting new strategies to halt the gun violence and address issues that contribute to criminal behavior.
"What we're going to see are management consultants for law enforcement, teams of practitioners, specialists in gang culture, forensic psychologists, experts in why people get involved in crime or opioids," said acting U.S. Attorney James P. Kennedy Jr.  "There will be fresh sets of eyes on how we do business here and suggestions on what works in other cities, best practices."
Securing more money to pay for information and the surrender of guns represents an expansion of what has been happening for years. Authorities say they are willing to expand this practice because of the persistent lack of cooperation from witnesses, particularly in homicides. While several homicides from previous years have been solved since Jan. 1, only three of this year's 30 homicides have been solved.
"We've learned that out in California, police get money directly from the legislature. They can pull up on a shooting scene, get information and give money right away so a person can get out of a neighborhood," Kennedy said, referring to the need for witness protection.
"Obviously there has to be checks and balances," he added, "but to have the ability on a scene to provide witness assistance would allow us to develop witnesses and address other issues such as the low solvability rate in homicides."
Amounts that would be paid to witnesses has not yet been determined because authorities don't know yet if the state will put up the money.
One thing that is known is that the lack of witness cooperation even extends to gunshot victims who survive. They sometimes refuse to tell police who attacked them.
In citing the Carl Street shooting as emblematic of what homicide detectives face on a daily basis, Erie County District Attorney John J. Flynn says video from a residential surveillance camera shows more than two dozen people watching as the July 29 fistfight escalates into a gun battle.
"There must be 25 people out on the street who witness the initial fistfight; and then when the gunfire starts, the people scatter but they are all still outside. You have a pool of 25 to 30 people who know exactly what happened and so far we are getting very little cooperation," Flynn said, adding that witness participation "is hugely important in solving this gun violence issue."
Flynn also wants to duplicate West Coast gun buyback programs, which often pay more than is offered here.
"They are pretty generous. In Los Angeles, they were giving $100 for handguns, rifles and shotguns and giving $200 for all assault weapons. It comes in the form of gift cards," Flynn said.
Over the years, Mayor Byron W. Brown has conducted several one-day gun buyback programs that have collected more than 5,000 guns.  For rifles and shotguns, $50 cash cards are given; for handguns, it's $75 and for assault weapons, $100.
Flynn says he will ask area state legislators to provide funding to enhance the buybacks and to secure information from witnesses who may need money to relocate.
The state, in the last four years, has provided Erie County and Buffalo with more than $7 million in a grant program that targets gun violence. That money has been used to increase the number of prosecutors, pay police overtime for special details in gun hot spots, and bolster staffing for the operation of crime-fighting technology.
It has also resulted in a more unified approach with Buffalo Chief of Detectives Dennis J. Richards leading monthly meetings between local, state and federal law enforcement where intelligence is shared. That includes keeping tabs on those who use firearms in the drug trade and gang life.
"We have this phenomena of displacement, where the people using guns move to another area because they know they are being looked at," Kennedy said.
These suspects become a high priority, according to Steven E. Dickey, resident agent in charge of the local Bureau of Alcohol, Tobacco, Firearms and Explosives.
"You have to realize some of these people, all they think about is how to sell drugs and guns. They are very smart and sometimes three or four steps ahead of us. That's why we target these people, the shooters, the traffickers and the burglars who steal the guns," said Dickey, whose agents work "mainly with Buffalo and Niagara Falls police  24-7."
The ATF, in contributing to the expanding partnership with local authorities, is in the process of assigning additional personnel to speed up getting results from a computer system that can tell if a gun has been used in previous crimes.
Erie County's Central Police Services also uploads three dimensional images of shell casings collected at crime scenes or from guns seized by police into the National Integrated Ballistics Information Network. When a match occurs, it gives investigators additional leads.
That tool that has grown in importance with the increasing number of guns entering the region from elsewhere in the state and from neighboring states that have fewer restrictions on guns. Last year, CPS forensic gun examiners obtained 49 "hits" on guns involved in past crimes, according to CPS Commissioner James A. Jancewicz.
Nationally, the Integrated Ballistics Network has provided 93,266 hits in the last 15 years, while in Erie County there have been nearly 700 hits during that time.
And that's just one area where cooperation is increasing.
When it comes to reducing gun violence, Kennedy says he wants to repeat the same success that law enforcement partners achieved by working together in dismantling violent street gangs on the West Side.
"I think we have seen a glimpse of what can be accomplished through our Seventh- and 10th-street gang prosecutions. They pretty much don't exist," he said, adding that the Justice Department has issued a memo directing U.S. attorneys to enforce the most serious and provable crimes.
"In the previous administration if we wanted to enforce the most serious crimes, they wanted us to tell why you're going to do that. Now it's only tell us if you're not. We have discretion and that's the way I think it should be," Kennedy said.
Flynn cites a section of the state's SAFE Act that has given him "more of a hammer to bring down on individuals who are caught with guns." Before the tougher law was enacted in March 2013, individuals caught with an unloaded gun could only be charged with misdemeanor criminal possession of a firearm.
Under the SAFE Act, that was upgraded to a felony carrying a prison term of up to four years. There have been 278 SAFE Act arrests in Erie County and the majority of them – 216 – have been in Buffalo. Of that number, 101 involved charges of felony possession of an unloaded firearm.
Overall, gun crime prosecutions by the district attorney have steadily increased since funds from the state's Gun Involved Violence Elimination grant started in July 2014. Last year, there were 467 felony prosecutions, and so far this year 244 felony gun cases have been opened. Before the grant began, there were 396 prosecutions in 2013.
The number of guns taken off the street by police also continues to increase.
In 2013 and 2014, police removed 747 and 740 guns, respectively. In 2015 and 2016, officers confiscated more than 800 guns each year and the number of guns seized so far this year is approximately 400.
Police Commissioner Daniel Derenda says that the department's Strike Force unit responds to "hot calls" involving shots fired and robberies, where guns are often recovered.
But with so many guns on the streets, he and Mayor Brown say it is repeat offenders who are causing the gun violence problems.
"Police made 61 gun-related arrests from July 1 to July 31 and of those 61 individuals arrested, approximately a third had prior gun-related arrests," Derenda said.
As for the 20-year-old man killed in the Carl Street shootout, police said he had been arrested the night before on a warrant. What police want to know is how he got out of jail to get involved in a street fight and how he obtained a shotgun he should not have had.
What it all adds up to, police say, is another example of revolving door justice that ended tragically.
If there are to be substantial reductions in gun violence, Derenda says tactics going forward need to focus on repeat offenders who have behaved violently in the past.
"We know it's a small number who commit the vast majority of violent guns crimes," the commissioner said.