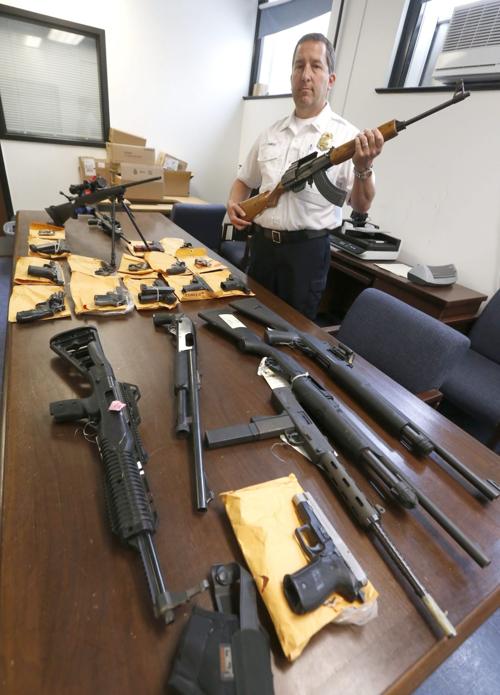 It could have been a scene from the Wild West.
On a late afternoon earlier this month, witnesses reported gunfire on the first block of Sumner Place.
Two men were shooting at each other.
A quick response by police ended in three arrests and the confiscation of five loaded handguns.
Buffalo police have been busy so far this year in removing guns from the streets. In the first four months of 2016, 261 guns were either taken from criminals, found or turned over to police. That compares to 198 for the same period last year.
Handguns make up the biggest category of firearms taken out of circulation. There's been a nearly 50 percent increase so far this year, with 165 handguns in police custody. That's 54 more than the 111 handguns for the same four months in 2015.
"Sometimes there are more guns out there. It seems to go in cycles," Police Commissioner Daniel Derenda said. "More than 50 percent of the guns that come into the city are from within New York State. They're stolen, taken in burglaries, and some come from out of state."
But not every gun is snatched from the hands of criminals. Relatives of deceased gun owners will sometimes turn in a gun and police will often find guns hidden in vacant houses or overgrown lots, according to Chief of Detectives Dennis J. Richards.
And yet the supply of guns seems endless. By the end of 2015, police had collected an arsenal of guns – 823.
Warren K. Galloway, a prominent community resident, says it is easier to buy a gun on the East Side's Fillmore Avenue than it is to buy a basketball or a football.
"The police need to find out who is supplying the guns," he said.
Arlee Daniels, program coordinator for the Stop the Violence Coalition, agrees and offers a grim assessment:
"Guns are continuously finding their way into our community through some underground source and I think until we find out where these guns are coming from, we will be taking guns off our streets forever."
The willingness to resort to extreme violence with guns in disagreements that were once worked out by other means, according to acting Erie County District Attorney Michael J. Flaherty Jr.
"A fistfight or angry words might have settled a dispute, but too often now it gets settled with guns," he said.
And there's also the abundance of guns, Flaherty said.
"Anything we can do to deprive gun access to someone with ill will may save a life," the prosecutor said in praising police for their efforts. "Most of our gun crimes are committed by those who are not in lawful possession of the weapon in the first place."
Just after 4 p.m. May 3, complaint receivers at 911 started getting calls of a shootout on the first block of Sumner, a short distance from Scheu Park and Bailey Avenue.
One of the shooters fled toward the park and another ducked into a house. A car also was spotted fleeing the scene. But a tip led Ferry-Fillmore police to 24 Sumner, where they found the five loaded handguns and 24 bags of crack cocaine. Police arrested a young man and two young women who said they lived at the residence.
Matthew Keating, 18, was charged with felony criminal possession of weapons. Traykir Moore, 18, and Treshanique Moore, 20, were charged with felony weapons and drug possession.
The serial number on one of the handguns, a black 45-caliber Hi-Point, was defaced, but was turned over to the Erie County Central Police Services crime lab with the other guns for examination to determine if they were used in previous crimes.
Twenty officers responded to the call and Derenda commended them, adding that all of the department's officers are working hard to remove guns from city streets.
Yet even with the increased number of firearms confiscated so far this year, there has been more deadly gun violence than in the same four months last year. From January to April 2015, there were six homicides and two involved gunfire. At the end of this past April, all but two of the 12 homicides involved guns.
Crime is often unpredictable, with violence spiking at different times of the year. Sometimes it involves disputes between gangs, other times it can be spurred by domestic incidents or unknown factors, according to police.
But Mayor Byron W. Brown says lives are being saved when illegal guns are removed by police.
"That is one of the reasons why the Buffalo police have been so focused on apprehending people with illegal guns, illegal drugs and those who are gang members in our community," Brown said. "We are confident that this focus has helped to reduce violent crime in the City of Buffalo and our police officers know that by getting illegal guns off the streets we are contributing to saving lives."
Paying close attention to parolees with histories of gun possession and violence is another means of tamping down on gunfire, the mayor said.
"We have found that those individuals are more prone to be involved in gun violence or victims of gun violence. The police keep an eye on them because monitoring and holding people to the requirements of their parole is also very important in keeping the community safe," Brown said.
The mayor also has sponsored several gun buyback days over the years, resulting in the purchase of 5,399 guns from citizens at a total cost of $240,490.
Too often, citizens complain when there is violence, but refuse to cooperate when police come looking for leads, according to the Rev. James E. Giles, pastor of Back to Basics Outreach Ministries and executive director of Buffalo Peacekeepers.
"Law enforcement is addressing violence in a comprehensive way, but with a handicap, and that handicap is a lack of strong support from the community," Giles said. "I'm concerned with that. The community itself is quick to finger point. However, when it is time for someone who saw something to say something, everybody clams up and yet they still want to point fingers."
If there were greater cooperation, he says, there would be fewer illegal guns in the city.
"Not only will it lead to more guns taken off the street, it also is going to lead to reductions in violent crimes," Giles said. "The reason we have as many crimes as we do is because the assailants believe that nobody is going to say anything regardless of what it is they see."
In calling for greater cooperation, Daniels, of Stop the Violence Coalition, said it is unrealistic for citizens to complain and then expect results.
"People are reluctant to get involved. They want someone else to do the dirty work. The police are doing a good job, but there needs to be a real partnership," he said. "People need to come to the table and have a dialogue and it needs to involve every profession and perspective in the town, from the boardrooms to the political circles and the courts. They are all stakeholders. Nothing stops a bullet better than jobs and equal opportunity."
The mayor also said citizen cooperation is crucial.
"Tips from the public are critically important in helping our police get the information they need to reduce crime and to solve crime," Brown said. "The more information on criminal activity that comes to police from the public, the safer our community will be."